Special "quarantine packages" on sale for Indian workers as travel bubble continues amidst concerns
By Namini Wijedasa
View(s):
There's growing concern about continued arrivals in Sri Lanka from pandemic-stricken India, particularly of workers availing themselves of 14-day "quarantine packages" sold by some travel agents.
The worker category is confined to hotels, thereafter travelling to a third country in violation of the India-Sri Lanka travel bubble agreement published by the Indian Government which clearly states: "Only such passengers should be carried from India who are destined for Sri Lanka. Similarly, passengers originating from Sri Lanka only should be carried from Sri Lanka to India."
Meanwhile, neither the Ministry of Aviation nor the Civil Aviation Authority of Sri Lanka has issued guidelines for the travel bubble. The only statement on the subject was released on April 9 by India's Ministry of Civil Aviation. The Sri Lankan travel industry or authorities, therefore, have no official rules or directives to enforce, sources said.
Tourism officials maintained this week that they are powerless to bar any visitors from India unless the Government led by the health sector takes a policy decision, like several other countries have done, to do so. Some arrivals have tested positive for Covid-19, they confirmed, but did not disclose numbers or where they were transferred to. Local hospitals, including intensive care units, were brimming over this week with patients.
On April 29, Sri Lanka Tourism (SLT) said there was a total of 3,812 arrivals–without specifying nationality or type of traveler– in April of which 41 or 1.08 percent tested positive. By contrast, there were 13,441 "tourist" arrivals between January and April of which 112 or 0.83 tested positive.
Quarantine packages started being advertised soon after the launch of the India-Sri Lanka travel bubble, industry sources said, adding that even the Sri Lanka Tourism Development Authority (SLTDA) was caught unawares. They were launched by two companies considered to be industry leaders. Smaller agencies quickly followed.
After the packages were flagged, SLTDA on April 25 quickly drafted guidelines governing "international arrivals for the purpose of 14-day quarantine en-route to other countries". It also designated Safe-and-Secure (SS) Level 2 hotels to house these travellers.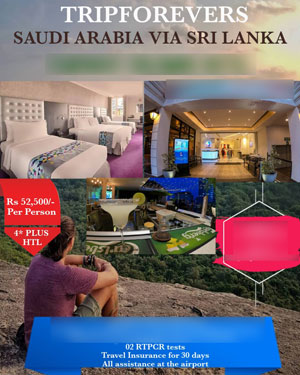 The accommodation list quickly expanded from seven to 13 to 20, as at yesterday. It includes bungalows, tourist hotels, boutique hotels and villas and guest houses in Galle, Wathurugama in the Gampaha district, Kibissa in the Matale district, Nuwara Eliya, Tangalle, Negombo, Kandy, Ahangama, Colombo, Sigiriya, Tangalle, Dadella in the Galle district, Bentota, Nakulugamuwa in the Hambantota district, Tissamaharama and Deniyaya.
Additional health and safety guidelines have been introduced. The hotels will be exclusively for quarantine packages and guests will be confined to their rooms, without permission to use common facilities at any stage. They must leave the country immediately after their stay. And meals will be delivered to the rooms with any drivers, guides or staff interacting with the guest being in full PPE.
Tourism officials said the quarantine packages were also valid for nationals from Bangladesh and Pakistan. Flights arrived last week from Pakistan and India. Meanwhile, Indian tourists are also making use of the travel bubble to complete quarantine in Level 1 hotels and then travel around the country, travel agents said.
The quarantine packages vary widely in price. A Sri Lankan company called Comfort International advertised a 15-day sojourn in a three-star hotel for US$ 690 (around Rs 136,232). An Indian travel agent called Akbar Travels flogged a 16-day stay starting on May 3 for Indians en-route to Saudi Arabia for 105,621 Indian rupees (Rs 281,440). Another, White Whale Holiday, offered a 16-day "specially designed quarantine package"–India to Saudi Arabia via Sri Lanka–at 44,762 Indian rupees (Rs 119,275) per person.
Meanwhile, an agency named Sazy Lanka Tours has advertised "quarantine customized package" for those wishing to travel to Singapore via Sri Lanka. This was picked up by a South East Asian website which flagged it as a "loophole" and said these offers have "become a cause of concern for locals" in Singapore.
But the Singaporean Health Minister did not oppose the mechanism, stating that, by moving from high-risk country to a lower-risk country and remaining Covid-negative before coming to Singapore, the travelers have already taken measures to lower the risk of virus transmission.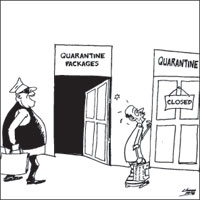 The 'Times of Oman' reported that travel agents are rolling out plans for passengers who wish to fly in from India, Pakistan and Bangladesh to quarantine in a third country before arrival. Sri Lanka has been cited as the "most viable" option. The others are Qatar, Nepal and Bahrain. Travellers are also likely to prefer Sri Lanka because of frequent flights between Muscat and Colombo.
The article cited the 15-day packages as costing US$ 980 (Rs 193,489) per head for a single room, US$ 585 (Rs 115,501) for double, and US$ 505 (Rs 99,706) for three-person sharing. Rates for children between five and 12 reportedly begin at US$ 245 (Rs 48,372).
Representatives of the local travel industry are worried, however, about a change in the country's risk profile among Europeans–a key target market–because of the arrival of Indian workers. Others were concerned about foreigners taking up vital hospital beds. With capacity running out, the Government is turning still more hotels (such as Cinnamon Red in Colombo) into intermediate treatment centres in collaboration with private sector hospitals.
"Under the travel bubble between India and Sri Lanka, passage was only to be provided to passengers destined for Sri Lanka and returning to the source of origin, which is India," said Ajeet de Soyza, Chief Marketing Officer of Lanka Travel Mart. "An Indian coming to Sri Lanka cannot technically go to another country."
But Indians looked for opportunities to use Sri Lanka as a transit point and "some parties here took matters into their own hands and now there is an issue because of the risk". Moreover, when the travel bubble was finalised, the pandemic situation in India was not so dire.
"This situation (with workers) has caused a high alert with other international travellers," Mr de Soyza said. "We didn't even know until the packages started being advertised." The travel bubble was created purely to attract Indian tourists of a certain calibre who would spend money in Sri Lanka. The return on investment of pushing Sri Lanka as a quarantine hub–given the added peril–was likely to be low.
Mr de Soyza has been in the travel industry for 29 years but was reduced to "nothing" last year, because of the pandemic. "I sat on the roadside and sold rice packets for a profit of Rs 20-30," he said. But when tourism was re-launched, he worked hard to recover while also helping others. He does not want the sector falling again and is worried about the larger impact of Europeans abandoning Sri Lanka.
"There are two factors here," he pointed out. "One is the local situation. Second is, when you have a local situation, and your neighbouring country is much more ravaged than yours, why are you bringing in people when you can't solve your own problem?"
Tourism officials said they were not promoting nor discouraging Indians but that Sri Lanka is "technically not close down for any country". "We have to accept anybody applying for a tourist visa," one official said, while accepting there was "definitely" a risk associated with India at present.