Lockdown fears and empty shelves: Food price hikes choke consumers
By Nadia Fazlulhaq
View(s):
With the resurgence in the number of Covid cases, the authorities are advising the people not only to remain indoors, but also stock up essential goods to face sudden lockdowns.
But people are hit by a price increases and a shortage of food items, especially rice, due to panic buying and disruption in the supply chain. They also say they are forced to buy rice, breakfast pulses, spices and vegetables at exhorbitant prices at some retail grocery shops, because supermarket shelves were virtually empty.
The price of a kilo of Samba rice ranges between Rs. 125 and Rs. 180 while the price of red/white raw rice that was below Rs. 100 a kilo last year has shot up to Rs. 120, market statistics show.
According to the Hector Kobbekaduwa Agrarian Research and Training Institute (HARTI), the spike in prices of rice varieties was also due to a decrease in supply and an increase in paddy prices.
It also noted that the price of green gram had gone up by Rs.141.00 with a kilo of green gram being sold now at prices ranging from Rs.900 to 1,200, while the prices of cowpea ranged between Rs.640 and 900 a kilo.
Essential Food Commodity Importers and Traders Association president G. Rajendran said the shortage of rice in the retail market was largely due to panic buying and the lack of a government programme to to work with rice millers and make available to people their staple food.
He said the government's import restrictions aimed at boosting the local agriculture production was also one of the reasons for price increases in pulses and other items.
"Until the demand can be met with local production, the people will have to pay higher prices for pulses and certain spices like turmeric," he said.
In the retail market, chickpea prices also range between Rs. 280 and Rs. 400 per while Masoor dal which was Rs. 137 per kilo last year is being sold at Rs. 196.
Mirihana housewife Sumudu Siriwardena said that in her household, brown bread and cooked rice had replaced the expensive green gram and cowpea for breakfast.
Not only pulses, but also other protein rich food items such as meat, fish, canned fish and dried fish have also gone up in prices. During the national New Year period, the fish variety Thora recorded the highest price increase of Rs. 172 a kilo, while the prices of a kilo of shrimp and paraw also increased by Rs.125 and Rs.110 respectively.
The Census and Statistics Department which works out the cost of living index has also noted the hike in fish prices in the retail market. According to its figures, a kilo of paraw was selling between Rs. 1120 and Rs. 1400 this week, mullet Rs. 1200-1240 , thalapath Rs. 1000-1500, balaya Rs. 500-1000, kelawalla Rs. 920-1380 and prawns Rs. 1270-1400. Canned fish varieties also saw a considerable price hike this week.
According to Traders Association chief Rajendran, one reason for canned fish prices to go up was the Sri Lanka Standard Institution's limits with regard to the arsenic level of canned fish. "Most canned fish coming from China have arsenic level between 1.3 mg and 1.5 mg, more than the one milligram limit set by the SLSI. This has curtailed imports, triggering a price increase," he said.
Spices still remain as costly condiments in retail markets, with turmeric being sold between Rs. 2400 and Rs. 6000 a kilo, tamarind between Rs. 400 and 1100, dried chillies Rs. 600-1100, Maldive fish Rs.1800-2700 and goraka Rs. 600-1400, depending on quality and brands.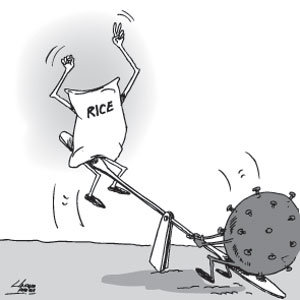 "At present there are no delays in spices coming from India. Hopefully the pandemic outbreak there should not have an impact on imports and prices here," Mr. Rajendran said.
Coconut prices and coconut oil prices continued to stay high with nuts prices ranging from Rs. 80 and Rs. 120 a nut while coconut oil (750ml) was being sold between Rs. 320 and Rs. 500 this week.
Adding to the consumers' woes was the closure of the Dambulla wholesale vegetable market after the detection of several covid cases there. It is feared the closure may lead to an increase in vegetable prices.
Dambulla Economic Centre's Traders Association president U.B. Ekanayake said if measures were not taken to open the economic centre there could be a severe vegetable shortage.
"Middlemen are approaching desperate farmers and offering low prices. If farmers don't get to sell their vegetables, rotten vegetables will be discarded affecting both farmers and consumers," he said.
At retail markets, green chilies are sold between Rs. 364 and Rs. 600 a kilo, capsicum Rs. 240-480, carrot Rs. Rs.160-240, bitter gourd at a price range of Rs. 160-280, Brinjal sold between Rs. 160-320.
Prices of most of the vegetables have increased compared to the prices that prevailed during the festival season, HARTI notes.
Meanwhile, almost all fruit varieties too have increased due to seasonal demand and limited supply.
With the increasing demand for food supplies due to the present COVID situation, the government should come up with a plan to prevent shortages and ensure food security, said Dr. Senal Weerasooriya, senior Agricultural Economics lecturer at the University of Peradeniya.
"People anticipating lockdowns will go for impulsive buying. The government must ensure that there is no shortage of supply of food items whether it is rice, vegetables or other essential goods. Special attention should be paid to streamlining the supply chain and developing infrastructure facilities. Cold storages at economic centres are a must for perishable vegetables and fruits. At present the post-harvest loss is about 30-40 percent," he said.