Crucial questions as third wave rampages through country
By Kumudini Hettiarachchi and Ruqyyaha Deane
View(s):
A COVID-19 tsunami is engulfing Sri Lanka and numerous life-and-death questions are on the minds of the people.
The Sunday Times raised some of these crucial questions with regard to the third wave which is rampaging through the country, at a media briefing on Thursday.
The answers would be essential for serious decision-making such as whether there should be a countrywide lockdown or area lockdowns; stringent travel restrictions; whether quarantine regulations need a change; whether Sri Lanka needs to temporarily stop tourism; and whether the patient profile has changed from what it was earlier; etc.
One year into the pandemic which has had a heavy toll on all sectors in Sri Lanka, an issue dogging not only clinicians but also those working at ground level has been the lack of data.
The Sunday Times has heard at many fora about this issue. A recent meeting of the highest health technical body in the country, the National Advisory Committee on Communicable Diseases (NACCD), had been the scene of heated arguments over the lack of data, with a high-level official outside the Epidemiology Unit being tasked with acting as the conduit, it is understood. A statement issued by Medical Specialists also focuses on this.
Here are questions the Sunday Times (ST) asked Chief Epidemiologist Dr. Sudath Samaraweera at Thursday's media briefing and his answers. The briefing was also attended by the Health Ministry's Deputy Director-General (Public Health Services I), Dr. S.M. Arnold; the Deputy Director-General (Laboratory Services), Dr. Sudath Dharmaratne; and the Director of the Health Promotion Bureau, Dr. Dinesh Koggalage.
ST: The disease (COVID-19) has not been controlled and we have had more than 1,400 infections yesterday (April 28), so we have failed? Was the Epidemiology Unit told that there could be a new variant on April 8 and what did they do about it?
A: I very much appreciate if somebody thought unemotionally because this is a forum for educated people.
ST: This is an emotional forum because people are dying and we are the ones who are taking the message to the public.
A: That emotion will not serve any purpose.
ST: Okay, very unemotionally, were you all informed that there was a problem on April 8 in Boralesgamuwa?
A: There were 'S' drop cases. Even before there were cases with the 'S' drop gene and right from the beginning, the disease control measures were taken. If you take the global scenario, you can see how this virus is behaving and what is happening. It can't be different in Sri Lanka. We were doing the maximum possible to control the disease, also to identify the cases and quarantine processes.
ST: If there was an 'S' drop indication that there was a new variant, whatever the new variant, what precautions were taken for the New Year?
A: It is not necessary because when the UK variant was increasing and spreading, from the first day itself, we took all necessary precautions as a country. When the country opens up, to prevent infection in the country, to safeguard the citizens, reduce those falling ill, etc, this is an all-of-government task and the responsibility of everyone. The hospitals, doctors and all stakeholders are prepared for any eventuality. When we compare to other countries, we can be satisfied about the control in Sri Lanka with its limited resources.
Anyone can look from different angles. Someone can look from that person's angle and say "kujeetha wela" (gone to rack and ruin), but that is from the angle that person looks.
When looking at the world indicators, we are in the top 10 of controlling COVID-19. We have a system in place, however, in the time of a pandemic, the situation can change whenever. A year has gone, and COVID-19 is still here because it is continuously changing.
ST: Have we traced how the UK variant came to Sri Lanka?
A: from Dr. Sudath Dharmaratne – To investigate the source of the infection, we have to say that the University of Sri Jayewardenepura are investigating this.
A: from Dr. Sudath Samaraweera – To find out from where the UK variant is, is not an easy task. We have to study it for a long time and that is what we are doing right now. This is a troublesome process. In October, when the second wave started, we had to have an in-depth investigation to find the source and even then we came only to a plausible decision of what the source was. We can find the source only after looking at the big picture.
ST:Has there been a data analysis from March last year to March this year? Is there a predictive model for how many patients we will have by next week at this time? Where are the age categories of the infected people, the deaths?
A: The Epidemiology Unit uploads daily situation reports on our website since the beginning of the pandemic. There is a lot of helpful information on that that can be accessed. We are doing a data analysis and we will be using the analysis for the management.
ST: Why is it not available to the public?
A: The necessary information is available in the situation report, so you can look at that.
ST: The age categories for infections are not available?
A: The age categories, we have from time-to-time published it. We have given it. We are dealing with a pandemic and we are working on that, so at the same time we are gathering data, we are using it to control the disease.
ST: You all are telling us over and over again that we have enough oxygen currently, enough ICU beds, etc. By next week at this time, will we have that confidence? Have we got a predictive model to indicate how many patients will be there on Thursday next week? You are telling people to be careful and asking the media to give the message to the public, but assaya duwala evarai (the horse has bolted).
A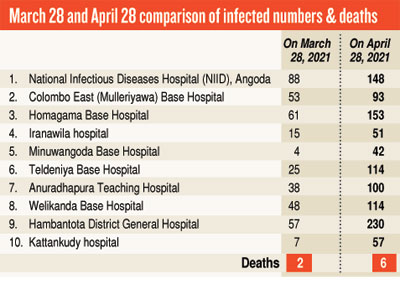 : from Dr. Sudath Samaraweera – When the pandemic first started, everyone spoke about predictive models and none of those was relevant. We are currently looking at the worst-case scenario and building an assessment according to that. We look at how many beds, medicine are needed, etc., and we get ready for that by looking at the worst-case scenario and the precautionary steps we need to take.
ST: How many ICU beds are occupied currently with COVID-19 patients and what happens to other people who have very serious illnesses?
A: Dr. S.M. Arnold – ICU capacities for COVID-19 patients – we have 15 ICUs and 146 ICU beds. The number of people in the ICU for COVID-19 as of 10 p.m. on Wednesday (April 28) is 44. We have 102 ICU beds vacant giving us a 30.14% occupancy.
ST: There are allegations that there are 150 patients in Gampaha waiting to be taken to either hospitals or intermediate care centres (ICC). Is this true?
A: Dr. Sudath Dharmaratne went onto give details of improvement of facilities during the second wave …….On October 3, if the Health Ministry had not done anything the country would not be in this position. When the virus mutates, the best precaution we can take is to get ready beforehand………there are steps taken to bring enough oxygen and have adequate ICU beds. (Note: But whether there were patients in their homes awaiting transport in the third wave was not answered)
ST: No one is saying that the health sector has not worked. I know the work put in by the clinicians, the PHIs and the MOHs. My argument is that since we have been dealing with this pandemic for over a year, we should be better prepared. Confirm whether the Gampaha issue is true or false. Further, more and more are becoming symptomatic with the UK variant. There is transmissibility of 50% more and there is a death rate of 55% more. Are we ready?
A: Dr. Sudath Dharmaratne – This is a new virus and it is evolving……. We need to look at it practically and we know the facts and figures. We do respect what you are saying. While we take some example from other countries, the situation in our country is different…….
ST: The infection pattern has changed with more young adults infected?
A: Dr. Sudath Samaraweera – There is a misconception here because all this time in Sri Lanka, only less than 10% of adults were infected and 90% were young adults. Currently, we do see that the young adults need more critical care – that is the change.
ST: When will the vaccines arrive? We need 600,000 more COVISHIELD vaccines to vaccinate the people who have already got one dose. (What is available now, around 300,000 will be for the healthcare workers.)
A: If I can predict when the vaccines would be coming, I would be the happiest. But we know that the COVISHIELD vaccines from the Serum Institute, India, are going to be delayed because of India's current COVID-19 situation. The due date is unpredictable. Furthermore, the COVAX facility (he described what COVAX is), is unable to obtain doses especially of COVISHIELD which we need. The government-to government negotiations are ongoing.
ST: What would happen if we do not get the vaccines on time for the second dose?
A: The WHO has recommended that the doses be taken 12-14 weeks apart……….if this does not happen there is a problem. If so, we will look at mixing and matching vaccines…….
ST: How many Indians have arrived in Sri Lanka in the past two weeks and how many have been infected?
A: From foreign countries there are tourists and their movement is restricted within the tourist bubble. We monitor the situation daily and if required, we will stop the process of bringing tourists. If there is a risk we will stop it. (Note-The original question was not answered)
 ST:How many vaccinated people have been recently infected?
A: Dr. Sudath Samaraweera – around 65 to 75 people.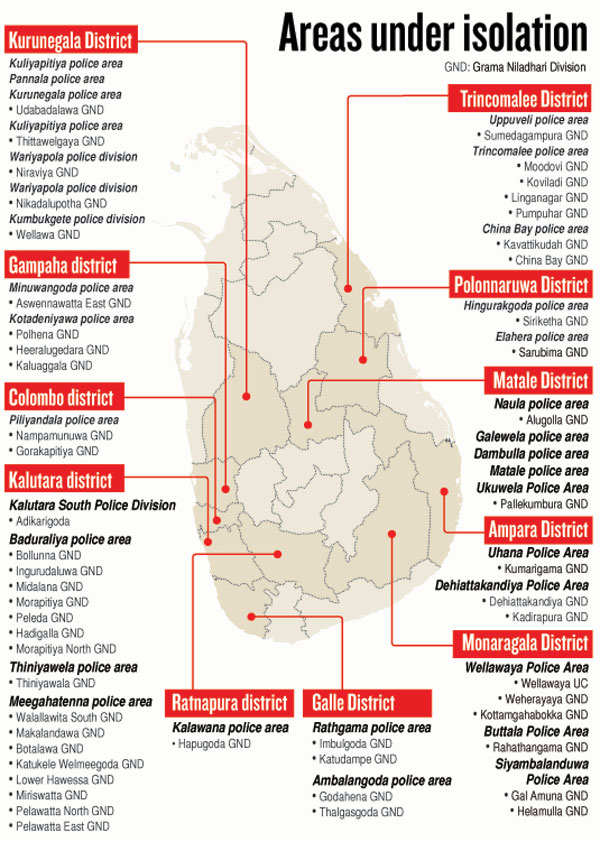 The Sunday Times checked out the ground situation in some of the dedicated COVID-19 hospitals.

n The National Infectious Diseases Hospital (NIID or IDH), Angoda – Two-third (75%) of the admissions are in the age-group 30 to 50 years; two-third (75%) of the admissions are symptomatic patients; and 20% of the daily admissions need oxygen. On Wednesday, among the symptomatic patients in the wards, 8-10% needed oxygen. A total of around 18-20% including ICU patients need oxygen.

n The Homagama Base Hospital – The 6 ICU beds are occupied. Of the 180 ward beds, 30 are kept on hold for children and pregnant mothers. Of the balance 150 beds which are all occupied, about 34 patients in the high dependency unit (HDU) are being given wall oxygen through masks, but some need ICU facilities including high-flow oxygen.

Meanwhile, the Lady Ridgeway Hospital (LRH) for Children which is not a COVID-19 hospital usually detects about 1-2 positives per week but now it has risen to five, Director Dr. G. Wijesuriya said.

The Sunday Times learns that at a top-level meeting on Wednesday, the Head of the National COVID-19 Prevention Centre, Gen. Shavendra Silva and the Director-General of Health Services, Dr. Asela Gunawardena assured that warehouses would be converted to hospitals to accommodate the large inflow of patients.

These assurances had come when clinicians gave the ground reality that no beds were available in many of the COVID-19 hospitals.

The discussion had also centred round the exhaustion of healthcare staff who have been carrying the burden for a long time, with suggestions being made that a hospital in each district should have a ward for COVID-19 patients. The other matters that had come up had been whether stocks of essentials such as Personal Protective Equipment (PPE) were adequate.