COVID-19: No co-morbidities but requiring oxygen
By Kumudini Hettiarachchi and Ruqyyaha Deane
View(s):
Many of the symptomatic young adults being brought to hospitals in this third wave of COVID-19 have no co-morbidities unlike earlier, but require oxygen, doctors told the Sunday Times.
Their oxygen saturation is low, especially after some exertion, though they may not be highly symptomatic, they said.
"When the patient is brought he/she looks okay. While seated too, the oxygen saturation is at normal levels but when he/she is told to walk around for a minute and come back and the oxygen saturation is tested, there is a drop," a clinician said, stressing that if this can be identified early, their lives can be saved because they can be treated with steroids and antibiotics.
He said that the urgent need is to identify such cases even if they are in intermediate care centres (ICCs) where the asymptomatic (without symptoms) and mildly symptomatic are sent.
"The symptoms manifesting in this round of infections are the same – fever, cough, body aches, sore throat and shortness of breath when exerting oneself. Some get a headache, not seen in patients earlier, 2-3 days after contracting COVID-19," the doctor said, adding that the danger is that because the infected look okay, they may not be checked for oxygen saturation.
Oxygen saturation is checked with a small portable gadget that is fitted onto the patient's finger, it is learnt.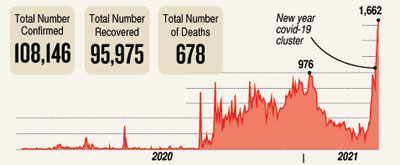 With hospital overload imminent, 4-tier system urgedWarning that the threat of the health system getting overloaded is "very real", Consultant Community Physician and President of the Sarvodaya Shramadana Movement, Dr. Vinya Ariyaratne, shows the way to reducing the impact of the third wave.

On three consecutive days this week, the country saw over 1,000 cases and there is an imminent danger of the health system being overwhelmed. Currently, in terms of case management, a 3-tier system is in place. There are serious issues particularly linked to 1st level care – Intermediate Care Centres (ICCs).

Possible scenarios

While no perfect model exists to predict the trajectory of the epidemic in terms of numbers, there are public health methods that can be used to at least estimate the possible case load based on the experience of other countries. Such estimates are of immense value in health planning.

A group of independent public health specialists, have attempted to estimate the possible impact of the current surge in numbers of COVID-19 cases on the health care delivery system in the country.

Estimate of case load and impact on health system

This is an estimation model based on the number of cases on average being reported per day, with an assumption of an average 10-day hospital stay. Further, based on the current experience of clinicians treating COVID-19 patients, an attempt is made to estimate the numbers who will be having severe disease, requiring oxygen and ICU care (1-3% of total cases).

If we have 15-20 cases per million population per day, we will get 300-400 cases daily. If this continues, we will plateau at 3,000-4,000 cases. There will be around 30-40 people needing ICU facilities who can be accommodated in a COVID-19 hospital.

If we get 35-40 cases per million population per day (as seen this week), then we will get around 8,000 cases in 10 days' time and our ICU bed requirement will double. As it is, we are observing this trend. We are running short of readily-available, functional ICU beds.

If this increases to around 75-80 cases per million population per day, we will get around 1,500-1,600 cases per day and stabilize at 15,000-16,000 cases. If this happens, our hospital capacity will be overwhelmed. We have beds for some 11,000 persons and ICU beds for around 1% of that. If, we concurrently, have a rise in dengue cases which would also require ICU care for severe cases, we will face a serious crisis.

Therefore, there is a dire need to re-think the treatment strategy, increasing the number of Level III care facilities and Level II care facilities with oxygen therapy, engaging the private sector and thinking of home and community-based care for the asymptomatic patients (estimated to be 40%), with systems in place to get them into Level II and III care (telemedicine, risk assessment tools and ambulance services).

Possible ways to arrest
the situation

Adopt a devolved model of COVID-19 prevention and control immediately.

The Medical Officer of Health (MOH) unit should be made the primary unit of prevention, control and management of Level-1 facilities.

To establish one or more new ICCs at district level so that all asymptomatic cases can be cared for in the district itself. To elicit the support of civil society and non-governmental organizations (CSOs/NGOs) to manage these centres similar to the private sector managed ICC model. By and large, MOHs already work closely with local CSOs/NGOs and religious institutions.

Set up Community Care Centres (CCCs) in partnership with local community-based organization (CBOs) and CSOs/NGOs to care for contacts of positives who are unable to undergo home quarantine.

The current 3-tier
patient-care system

Level 1 – COVID-19 designated specialized/tertiary care hospitals

Level 2 – Selected COVID-19 hospitals (Divisional and District Hospitals), with consultant cover

Level 1 – ICC

Proposed 4-tier
patient-care system

Level 1 – COVID-19 designated specialized/tertiary care hospitals

Level 2 – Selected COVID-19 hospitals (Divisional and District Hospitals), with consultant cover

Level 1-B – ICC  

Current ICCs run by the Health Ministry should continue and support should be provided to improve their facilities and level of care. With the addition of CCCs, hopefully, the ICCs will have a reduced burden.

The proposed new tier (Level 1-A) would also enable the current ICCs to improve standards and fill the gaps. They could also be upgraded to Level-2 care centres if required.

Level 1-A – CCCs  

10-50 bed 'isolation centres' for asymptomatic individuals located in each district in privately-owned premises (guest houses, training centres of CBOs/CSOs/NGOs) to be run by voluntary groups, CBOs/CSOs/NGOs and religious institutions.

The proposed facilities for CCCs should be carefully pre-assessed and the respective organization would be accredited based on specific criteria.

The accredited organization will be responsible for raising the required funds and resources to maintain the centres for a minimum period of 3 months.

Private sector, religious, charitable and NGOs with significant numbers of employees and having residential facilities should be allowed to run isolation centres for their staff. Pre-assessments and planning can be done early to save time, as retro-fitting existing facilities would require time and resources. Clear guidelines should be given and simple written agreements signed if required. This would further reduce the burden on government-run Level-1 ICCs.

Another 4-tier patient-care system with home care could be:

Level 1 – COVID-19 designated specialized/tertiary care hospitals

Level 2 – Selected COVID-19 hospitals (Divisional and District Hospitals), with consultant cover

Level 1-B – ICC

Level 1-A – CCCs

Level 0 – Home care

We should also prepare for home care for asymptomatic patients in case the numbers continue to rise and the healthcare system gets overwhelmed.

Home care guidelines should be developed and kept ready in all 3 languages.

If home care option is adopted, support services including advice through a hotline and ambulance services on stand-by need to be in place.

Recommendations

The COVID-19 management process should be made more transparent to the public by sharing all epidemiological data related to transmission.

The referral pathways of COVID-19 patients – starting with asymptomatic to symptomatic should be made widely known to the public.

Regular press conferences (at least every other day until the present outbreak is controlled) should be held to update the public.

Burning issuesSome of the ICCs (if not most) do not have the required facilities and do not maintain the standards specified in the Health Ministry Guidelines (EPID/400/2019n-Cov dated 04.11.2020 and DDG MS I/23/2020 dated 12.05.2020)With the large numbers of positive cases being reported from all districts, there are increasing social and psychological issues/problems reported due to them being separated from their families and sent to treatment centres/hospitals far away from their resident areas/districts.

It is also observed that a strong fear psychosis has developed among the public and as a result even the close contacts of positive cases are avoiding contact-tracing and testing. From a disease transmission perspective, this is a very dangerous trend as there will be rapid silent transmission undetected by the current system.

There is also evidence of increasing mental stress and suffering due to this fear. This is impacting more on the disadvantaged and vulnerable sections of society such as low-income groups, women-headed households, elderly who are cared for in homes by families and families with disabled/differently-abled and mentally challenged individuals.

Clinicians report that the new cases admitted to hospitals have severe signs and symptoms developed rapidly compared to patients admitted earlier.

The risk of the health system getting overwhelmed is now real.