'Minari' star Yuh-jung Youn is just not into Hollywood
View(s):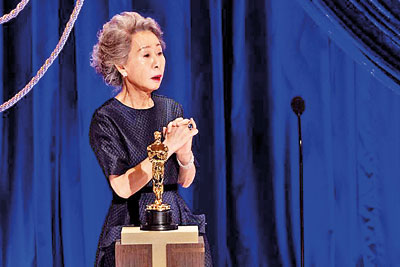 Behind the scenes, best supporting actress Oscar winner Youn Yuh-jung is like many other stars: She said she reveres Glenn Close and admires Brad Pitt. But there's a tiny caveat: She's just not that into Hollywood.
Youn, 73, a veteran actress in her home country of South Korea, told NBC Asian America after her historic Oscar win on Sunday she took on the role as a grandmother in Lee Isaac Chung's 'Minari,' which is about a Korean American family putting down roots in Arkansas, because she understood the day-to-day dilemma of immigrants that her two sons, who are Korean American, had also withstood.
"When some project comes from America, people in Korea think I admire Hollywood," she said. "No, I don't admire Hollywood. The reason I keep coming is because if I come to the States and work, maybe I'm able to see my son one more time. That's from the bottom of my heart."
Youn became the first Korean and second Asian on Sunday to take home an Oscar for best supporting actress. Japanese American singer Miyoshi Umeki earned the trophy for 1957's "Sayonara" more than six decades ago. Youn, who currently resides in South Korea, had lived in the U.S. for about 13 years when she came to live with her former husband in the 1970s.
During a Korean news conference hosted by the South Korean Consulate General in Los Angeles after her win, she shrugged and rolled her eyes about the spate of questions she received about Pitt.
'I told him to provide more money to the movie," she said of Pitt, who owns the production company behind "Minari,' Plan B Entertainment.
'I also told him to come to Korea' she added. 'He promised that he will. But I don't really believe the words of Americans. Their vocabulary is so fancy. He said my performance was very respectable and whatnot, but I'm old. I don't fall for those words.'