Blame games as COVID-19 hits catastrophic proportions here
By Our Political Editor
View(s):
The number of daily cases rises rapidly; pandemic division wants lockdown but political leaders not in favour
Closer ties between Lanka and China in political, economic, military and COVID-19 spheres
It was going down memory lane for President Gotabaya Rajapaksa last Sunday (April 25). He was at the Sri Lanka Military Academy (then the Army Training Centre) located in cooler climes, in the hills of Diyatalawa. Exactly 50 years to the month, in April 1971, he was one of 30 officer cadets recruited. He was returning to the soil from where he emerged as an officer of the Sri Lanka Army. He walked to places he haunted with his former fellow cadets.
It was not just a surprise visit. A get-together had been planned for those who were left of the 30 cadets. Some living in Australia and the United States were unable to join since COVID-19  caused problems for foreign travel. Six others were dead but their wives took part. In all, there were eleven of them with their spouses. Almost all have reached the rank of Major General and retired. Some were now serving in official government positions. For Major General K.B. Egodawele (Eggie), who won many plaudits as an Officer and Gentleman, it was particularly delightful. He served as Military Assistant to the then Army Commander, General Tissa (Bull) Weeratunga. Playing best-man at his batchmate Gotabaya Rajapaksa's wedding, he is in a similar role now with the President.  He is Director General of Administration and Operations at the Presidential Secretariat.
The day began with a meeting on Sunday morning. Retired Major General Nandasiri Mallawarachchi, (now Director General of Multipurpose Task Force responsible for enlisting 100,000 poorest of the poor, train them on different trade and for national development) made a welcome speech. He reminisced over the cadet days. Officer cadet C/51185, N.G. Rajapaksa, he noted, is now occupying the highest office in the country whilst two of the most illustrious officers – General Wijaya Wimalaratne, who President Rajapakasa says was his role model, and General Denzil Kobbekduwa were killed in action. There was also a third — Colonel T. Stephen who was posthumously promoted to the rank of Major General. The two senior officers were together planning an assault on the then Tiger guerrilla-held Jaffna by moving troops across the shallow waters from Pooneryn. They fell victim to a land mine.
Maj. Gen. (retd) Mallawarachchi declared that the concepts and strategies Gotabaya Rajapaksa learnt helped win the separatist war against Tiger guerrillas. On a lighter note, he related the story of a colleague who was a composer and music director. He was the singer of "our intake song." When he died, so did the song. No one had written down the lyrics. Once, he recalled, that during jungle training in the Lahugala jungles, the musician officer cadet was missing. The training phase was cancelled and a search operation was launched immediately. Overnight there were no signs of the officer cadet. His explanation when he turned up the next day — a bear had trapped him and he pretended to be asleep. "What a friendly bear it would have been," he remarked.
Another night-time exercise codenamed "Nutcracker" involved a compass march. One of the participants was found missing. Search parties fanned out to look for him. Two-inch mortars were fired at a rapid pace illuminating the search area. There were fears that the officer cadet would have committed suicide or so the Sergeant Major in charge of the Cadet Wing thought. Maj. Gen. Mallawarachchi said, "He surprised all of us the next morning walking in with his Light Machine Gun (LMG)." During the march, which extended till the next day, he had fallen asleep in the wee hours. "He walked back to the camp as if nothing has happened," said Maj. Gen. (retd.) Mallawarachchi who added that "he got full marks and pack drill (a form of punishment carrying a load) for his innovation."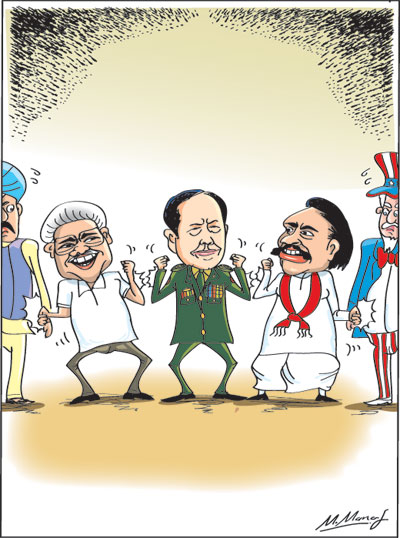 The former Cadet Officer and now President Gotabaya Rajapaksa said it was this institution that had taught him discipline and management. He learnt all his skills there and was proud of them. He was exercising what he learnt in his role as President. There was a round of cheers and clapping.
It was an al fresco (open air) dinner hosted by General Shavendra Silva, Chief of Defence Staff and Commander of the Army. A seven-course meal had been put together by Priyantha Weerasinghe, Executive Chef, at the Grand Hotel in Nuwara Eliya, just 40 kilometres away. President Rajapaksa sat with General Silva on his right and Major General (retd.) Nihal Marambe on his left. Seated on other tables were Major General (retd. ) Susil Chandrapala, Major General (retd.) Lalith Daulagala, Major General (retd.) Ivan Dassanayake, Captain (retd.) Deutrom Aluvihare, Captain (retd.) Lakshman Weerakkody, Major (retd.) Jayantha Weerasinghe and their spouses. The Army band played a variety of Sinhala numbers, including oldies, as the dinner went on until late night.
Earlier that morning, President Rajapaksa helicoptered down to a village in Haldumulla, which he had visited earlier during his meetings with the village programme. He said, it was to check the progress of work in 100 acres of Kumarartenne Division. "I was very happy to see the completion of the roads carpeted, transport facilities improved, electricity provided and fences against intrusion of elephants have been carried out," he said in a tweet. In fact, he had set up a Task Force of parliamentarians under Minister Namal Rajapaksa to examine whether his directives had been being carried out.
COVID-19 resurgence
On return to Colombo, there were other serious developments. The COVID–19 pandemic had taken a much more treacherous turn. Added to that was the two-day visit of China's National Defence Minister, Wei Fenghe – a visit which triggered both international and regional interest. This is particularly in the light of the strained relations between India and Sri Lanka.
First to the new surge of Covid-19: It is pertinent to note that during February and March this year, there was a marked downward trend of positive cases and the resultant deaths. The new spike began after the national new year. In the health sector, trade unions and even bodies representing doctors exhorted the need to impose travel restrictions. However, a more influential section that overlooked the working of countermeasures to prevent COVID-19 did not think it necessary. They were of the view that the people should follow health guidelines and that was all what was necessary.
These guidelines led to the cancellation of festival events and restricted participation to only 100 persons. However, there was no mechanism to monitor whether such guidelines were being followed. That such a crisis, which is worse than what Sri Lankans have faced before, was being treated so lightly was damning. More so at a time when troops and Police could have been deployed since the lives of thousands were involved. More damning was the fact that the people were now being blamed as the cause for the spread. Not that some of them were not responsible, but it was due mostly to the absence of tough measures.
By yesterday, the total number of COVID-19 cases confirmed were 11,504. According to S.M. Arnold, Deputy Director of Health Services, the bed strength in government hospitals is 12,789. Chief of Defence Staff and Army Commander, General Shavendra Silva said that the Army was now busy producing 10,000 beds.
Some police station divisions, which are larger than Grama Sevaka divisions, have come under lockdown. So are many villages. They number more than 120 until Friday with more being added to the list. Schools have been closed and weddings cancelled. Events, both by the public and private sector, have been halted. Police launched a drive to check whether passengers in buses wore facemasks. Consumers who feared lockdowns virtually emptied shelves at supermarkets and other outlets. Health officials on Friday evening appealed to businessmen to donate beds which they require to house patients in makeshift places. For example, a garment's factory in Gampaha is being converted into a temporary hospital. Similar buildings are being identified in Colombo, too.
Detailed coverage of the new fearful rise in COVID-19 cases is reported elsewhere in this newspaper. The fact that those fighting the COVID-19 are heading in different directions is all too well known. This is highlighted by the contradictory remarks they make. It has now exacerbated after more shocking revelations by Chandima Jeewandara, Director of the Allergy Immunology and Cell Biology Unit of the Sri Jayawardenapura University. He said the UK variant B.1.1.7 was first found at a construction site in Boralesgamuwa and later in Kurunegala. Scientific research, he warned, had a death rate of 55%. That is compared to the two other variants found in Sri Lanka. This is what has made it more dangerous, he said. The detections were made on April 8. He had conveyed this to the health authorities. Its transmissibility was also 50 percent more than the previous variants. It was this variant which was causing deaths in India. Evidently, no action appears to have been taken. This is not the first time that the UK variant B.1.1.7 was detected in Sri Lanka. When the England cricket team was in Sri Lanka, it was found that their player Moeen Ali was inflicted with the UK variant.
Dr Jeewandara told the Sunday Times, "We have carried out the tests to identify if the new circulating strain is of a variant of concern (VOC). There are only three VOCs currently specified by the WHO. They are the UK variant (B.1.1.7), the South African variant (B.1.351) and the Brazilian variant (P.1). These three VOCs have specific mutations in the spike protein, which assigns them to these particular variants.
"As an initial task, we carried out analysis of mutations in 43 samples obtained from Boresgamuwa and Kurunegala. All these samples had the 69/70 deletion and the N501Y mutation, specific to the UK variant, B.1.1.7. Therefore, we can confirm that the B.1.1.7 is currently circulating in Sri Lanka and is responsible for the current massive outbreak. We are analysing samples sent from all over the country and we will be able to give results early. The B.1.1.7 was first detected by us in a Boralesgamuwa construction site on the 8th of April 2021."
Dr Jeewandara added: "The new variant of the virus is highly infectious and has a higher mortality rate. Therefore, theoretically a high number of cases could be reported and as a result the mortality rate could also move upwards. COVID -19 virus variant B.1.1.7 is circulating in Sri Lanka and responsible for the current massive outbreak. There would be much more spread of the disease and high mortality in coming weeks due to the high infectiousness of that variant, he warned.
"People have to resort to keep social distancing practices until the vaccination is completed. Therefore, people need to avoid unnecessary gatherings and use facemasks and hand sanitizers as much as possible. The countries which have been affected by B.1.1.7 have seen their cases rising exponentially, with younger people also getting affected in various countries, including India." Singapore has already banned travel of its citizens to Sri Lanka.
Dr Jeewandara's remarks came as solid proof that the spread of COVID-19 was community borne. Yet, strange enough, the Government Information Department's daily news releases identified the origins as Minuwangoda (Brandix) cluster and the Peliyagoda (Fish market) cluster. For months now, they have omitted references to Brandix or the fish market. That it is misinformation became abundantly clear. The social media made sarcastic comments that people in the UK had come down to the Peliyagoda market to buy fish or garments from Brandix and that was how the COVID-19 spread.  Now, a new category has been added to its news release by the Government Department of Information. That is the New Year cluster.
It is no secret that these news releases were totally misleading and did not help the government. People were made to believe that if they avoided the Minuwangoda and Peliyagoda areas, they were quite free from COVID-19. Now, confirmed cases are coming from all parts of the country, from Dondra to Point Pedro. The sooner the government takes note of these and remedies the situation, the better it is. Some changes have already come. Mohan Samaranayake, who has considerable experience in the media, has taken over as Director General of Government Information. Kingsley Ratnayake, a leading figure at MTV has been appointed Presidential spokesperson whilst  Sudeva Hettiaratchchi, has been named head of the Presidential Media Division. These changes are an acknowledgement that the government's own message is not reaching the people.
With these changes, there was a new move. The government has focused on the social media. Army Commander, General Shavendra Silva addressed the social media at a news conference on Tuesday. He said, "If the need arises to isolate an area it would be done with immediate effect. Usually, the practice has been to give advance warnings of isolating certain areas, but this time that would not be possible. However, there is no necessity to lockdown the entire country.
"The country has reached a critical juncture on the COVID situation. The number of patients detected has increased to about 1,500 a day and these figures could rise in the next few days. We are prepared to provide army buildings as COVID19 treatment centres and if they are not sufficient, we will make use of tourist's hotels for this purpose. People should not worry about the scarcity of hospital facilities."
The rapidly rising cases of COVID-19 new variant can be assessed from the figures for just four days this week. On Monday, it was 997, Tuesday 1111, Wednesday 1466, Thursday 1531, Friday 1636 and yesterday 1699. This showed an exponential increase and prompted the Army Commander to warn the people to stock essential food items. There is a tussle between those at the front lines and the political leadership over the clampdown of a country wide lockdown. Whilst the former is strongly in favour of such a move, particularly in the light of mounting numbers, the political leadership is resolutely opposed to it, for fear of the move causing heavy economic damage. They are still weighing the options.
Since the outbreak of COVID-19, there have been 106,484 cases. Of this number, since April 8 (the day the UK variant was discovered) until Thursday, the figure stood at 10,372. Despite efforts to project a less dangerous picture through the Department of Government Information using statistics of two so-called clusters, the people are mostly aware of the ground situation. One is able to piece together accounts in the national and social media, so much so the discontent within those in the health sector has surfaced. One such instance is warning by a State Minister to give up the current portfolio and not contest future elections. Besides other reasons, this is also because of the conduct of a colleague who has not been transparent enough in the exercise of anti-COVID-19 operations. He was often saying the opposite of what was happening and more focused on publicity for himself.
The worst catastrophe to hit entire Sri Lanka was the spread of COVID-19. At the early stages last year, perhaps due to lack of experience or the lack of expertise, mistakes were made. Lives were lost. However, as the malaise grew, it is clear by hindsight, that there was colossal failure by the health authorities and others to win public confidence and have a transparent approach. The result has been the lowering of public trust and the growth of their anger. Much worse was the lowering of public morale. It is not yet too late for the government to rope in people at the grassroots level to help front-line health workers.
Wei Fenghe visit
The rapid spread of COVID-19 notwithstanding, China's National Defence Minister, Wei Fenghe arrived in Colombo on Tuesday morning on a two-day visit. His immediate engagement was a meeting with President Gotabaya Rajapaksa at the Presidential Secretariat.  Presidential Secretary P.B. Jayasundera 'Senior Advisor Lalith Weeratunga and Foreign Secretary Admiral Jayanha Colombage were present. The onetime Commander of the People's Liberation Army's 'Rocket Force,'  was in his unit's uniform and wore all his medals. He is a member of the 18th Central Committee of the Communist Party and is viewed as a close ally of Pakistan. In fact, Islamabad had once decorated him with the title Nishan-e-Imtiaz for promoting defence co-operation between China and Pakistan. It became clear when he had talks with a Sri Lanka delegation which included armed forces commanders that General Wei was equally keen to expand defence co-operation with Sri Lanka.
Leading the Sri Lanka team was Defence Secretary, General (retd.) Kamal Gunaratne. General Wei also called on Prime Minister Mahinda Rajapaksa.
The significance of Gen. Wei's visit is the assurance of enhanced defence co-operation and support to Sri Lanka.  "China will look after Sri Lanka's security needs and extend help whenever necessary," a high-ranking government source told me. They have extended the equivalent of US$ 50 million grant in Renminbi Yuan for the purchase of any military related needs. China will repair and even refurbish non-operational military equipment made in their country. The Sri Lanka Army, among others, uses Chinese-built armoured personnel carriers, assault weapons and artillery pieces of different varieties. The Sri Lanka Navy uses Chinese assault weapons and patrol boats, among others. The Sri Lanka Air Force has Chinese-built Harbin Y-12 aircraft; a transport plane and radars. More training facilities in China has been offered. Such training will include specialised areas like intelligence, the government source said.
Besides these, the Police are also to benefit. An earlier tender to provide communications equipment has been won by the Chinese firm Huawei. In addition, the Police will receive body cameras and a variety of other equipment. A protocol signed between the two countries, the same sources said, would entail support for Sri Lanka in the event of national security interests coming under threat.
A moot point in Defence Minister Wei's visit is the absence of greater publicity by the government side though the information dissemination machinery has been strengthened with new persons appointed to important positions. It was Xinhua, the official news agency of the Chinese government that reported on the visit and its outcome. The report was attributed to Luo Chong, Spokesperson and Chief of Political Section, Embassy of the People's Republic of China in Sri Lanka. This is what it said:
"Sri Lanka, China vow to enhance pragmatic cooperation in all sectors COLOMBO, April 28 (Xinhua) — Sri Lanka and China vowed here Wednesday to enhance pragmatic cooperation in all sectors  between the two countries including the military.
The pledge came after Sri Lankan President Gotabaya Rajapaksa and Prime Minister Mahinda Rajapaksa met with visiting Chinese State  Councilor and Minister of National Defence Wei Fenghe.
During the meeting, the Sri Lankan President, who is also the defence minister, thanked China for providing long-term and precious support to Sri Lanka and hoped to learn the governing experience from the Communist Party of China on poverty alleviation and rural revitalisation, among others.
Noting that Sri Lanka has prioritised developing the relations with China and firmly supported China's positions on issues concerning its core interests, the President said his country has been pursuing an independent foreign
policy and will never bend to pressure from major powers outside the region as well as never forge an alliance with any country. Closely following the pragmatic cooperation in the military field between the two countries,  the president hoped that the two militaries will carry out closer exchanges so as to further lift the level of pragmatic cooptation.
In his meeting with Wei, the Sri Lankan Prime Minister said Wei and his delegation visited Sri Lanka at a time when the COVID-19 pandemic is still not contained, demonstrating that China attaches great importance to developing the ties with Sri Lanka.
Hailing China for its achievements made in the pandemic prevention and control, economic development and poverty alleviation, the prime minister thanked China for providing unselfish help to his country.
Sri Lanka will always be a sincere friend to China and will firmly support China's position on safeguarding its own core interests,  the prime minister said.
Sri Lanka stands ready to strengthen exchanges and pragmatic cooperation with China in various fields including the military,  so as to achieve further growth of the bilateral ties, he added.
For his part, Wei said that China and Sri Lanka enjoy a long history of friendship with deep bilateral relations.
The two countries are jointly working for the high-quality construction of the Belt and Road, Wei said, pointing out that they share a bright prospect of development.
The Chinese side appreciates Sri Lanka's position on issues relating to China's Taiwan, Hong Kong and Xinjiang, and will as always support Sri Lanka's stance over issues relating to human rights and national reconciliation, Wei said.
Noting the long-lasting friendship between the two militaries, Wei called on the two sides to further deepen cooperation and promote relations between the two militaries. Peaceful development and win-win cooperation is the global trend and the right way forward,
Wei said, adding that certain major countries are keen to form cliques and factions and seek regional hegemony, which goes  against people's shared aspiration and severely harms the interests of the regional countries.
China appreciates Sri Lanka's independent and non-aligned policy and will make joint efforts with Sri Lanka to strengthen coordination and safeguard regional peace and tranquility.
On Wednesday, Wei also held talks with Sri Lanka's Defence Secretary Kamal Gunaratne and jointly launched a website of the Chinese National Defence University Alumni Association of Sri Lanka."
One cannot doubt the references in the Chinese Embassy's official statement. That is in effect the official position of the Chinese government though the official Sri Lankan official Media has chosen to mosty ignore it.
The remarks attributed to President Gotabaya Rajapaksa that "his country has been pursuing an independent foreign  policy and will never bend to pressure from major powers outside the region as well as never forge an alliance with any country" are clearly significant.
It is arguable whether Sri Lanka is now following "an independent foreign policy." More  important is President Rajapaksa's assertion that "he will never bend to pressure from major powers outside the region as well as forge an alliance with any country in the region."  It is perceived that the reference is to the United States, Britain and their allies and is particularly in the wake of the resolution on Sri Lanka they moved at the UN Human Rights Council. That President Rajapaksa is livid with the move and did not hide his thoughts to China is clearly evident. However, the greater economic dependence on Beijing overrides this position.
The remarks of not "forging an alliance with any country in the region," are viewed in diplomatic circles in Colombo as a veiled reference to India. India and the quad countries (United States, Australia and Japan) have together been seeking a greater  role in the Indian Ocean region to checkmate what they call "excessive Chinese intrusion." Nevertheless, President Rajapaksa wrote to Indian Prime Minister, Narendra Modi a personal letter to empathise over the major spread of COVID-19 in his country.
Amidst the battle against COVID-19 which has now turned out to be an all out war,  this week has seen the birth of fresh geopolitical changes. That is from the greater link between Sri Lanka and China. It comes when Washington and London. are in consultation over the UNHRC resolution and the joint measure to be adopted. One such case would be travel bans on some categories. Thus newer relations are evolving. Historically they are critical moments.