Brain drain and migration
View(s):
I called Suranjith on his mobile phone on the eve of the Sinhala and Tamil New Year, but there was no answer. "He must be still in the US," I thought. Suranjith is his nick name. After graduating from the Sri Jayewardenepura University, he joined the Sri Lanka Administrative Service in the mid-1980s. He has served as a senior public sector officer attached to a state ministry.
During the time of my postgraduate studies, I met him in Europe as he was serving there in the Sri Lankan mission. We became close friends and for a few years we used to meet quite often. After completing my studies, I returned to the Colombo University and thereafter we no longer had any opportunity to meet. Over the past 20 years I had met him only a couple of times, while our communications too had been limited.
It was about few years ago he called me for the last time from the US. He was there with his family, leaving their big house in Sri Lanka. It was a beautiful house with four bedrooms that had been built on a 20-perch land in a cosy residential area in a Colombo suburb.
Different worlds
Since someone else had reminded me that "Suranjith must be retired now", I thought of trying to contact him and, hence the above call; but no response on that day.
To my surprise came a return call from Suranjith the next morning with New Year greetings as well. He had noticed my missed call and told me: "Padma and I are in Anuradhapura; we came here for an alms-giving, then we both observed the Eight-Precepts (Atasil) yesterday." Padma is his wife. He continued: "After making visits to the Eight Holy sites today, we will be coming back to Colombo tomorrow and after that we must meet."
Although it was over the phone, we carried on our conversation for some time. "I was retired few years ago and spent time in the US. Then we decided to come back to Sri Lanka."
I commented: "Of course, I understand; it's also sad to build such a beautiful house and leave it unoccupied without enjoying what you have built."
I could hear him laughing, but it was difficult for me realise why, until he said: "We both now regret coming back. We should have settled down there in the US, instead of coming back." I asked him: "Why would you regret coming back?"
He replied: "Only this old couple is now left all alone in a huge house here!" By old couple, he meant his wife and himself.
He continued a long story in a few words: "Our children have no plans to come back and, I don't think they would ever come back to reside in Sri Lanka. The elder one is in Australia and the younger one in the US; they are grown up and in their own world. Even if they come to Sri Lanka once or twice a year for a vacation, they would like to stay in hotels rather than at home. Actually, it is not a 'home' for them."
House for sale!
I understood well enough what Suranjith was saying, but I was speechless. Then, he revealed another bit of news: "We have now put up the house for sale! What's the use of keeping a huge house just for the two of us? And its maintenance itself is a big burden for us at this old age. We will find a small house or an apartment just enough for two of us. We only need one additional room for our meditation – now we both spend lots of time with our daily meditation; it gives us so much peace in mind."
I thought to myself that it's good that he continued to speak without giving me time to respond, because I didn't have much to contribute to his story. Finally I said, "It's sad to hear that you are going to sell the house you built to live. I guess you didn't live there that long."
"Not more than five years!" he said. Then, he gave me the news of the day: "You know that it's not surprising news nowadays; many of my own friends and university batch mates who built houses like myself, have sold or advertised to sell their houses for the same reason; their children have left the country and they are all alone here. If you do a little bit of research, you would see that many children from even the lower middle-class families are leaving the country – brain drain."
It wasn't strange news for me although it was a bit shocking. With many years of experience as a university teacher, I myself know the size of the brain drain from among the university graduates from various study backgrounds. And in this country "brain drain" is encouraged because it is politically correct to do so; we can also keep our unemployment rate down and the frustration of the "educated youth" at bay; and then we can show that everything is running smoothly.
We have two questions to answer, at least briefly: Why is there a brain drain and how does it affect the economy? We know the typical answer to the first question; knowledge is less-demanded and less-rewarded so that knowledge is attracted by pull-factors elsewhere. Why knowledge is less-demanded and less-rewarded is because the economic activities which demand such knowledge are limited. The "pull-factors" that pulled the brain-drain from countries like Sri Lanka are not limited to "high payments" but cover a wide range of economic, political and social aspects of life in a disciplined society.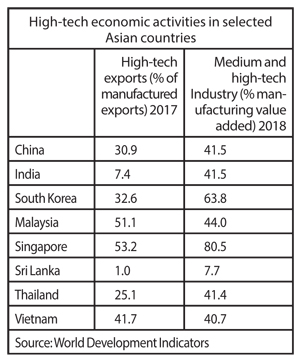 In effect, economic growth makes little progress towards knowledge-based and high-tech economic activities, which cover all sectors – agriculture, industry and services. In fact, this is policy dilemma which explains part of the so-called "middle-income trap" as well; once the country has exhausted its unskilled and cheap labour-based development stage, it should enter into a skilled labour and high-technology based development stage. But some countries continue to struggle in bridging this transition without its enabling conditions.
The worst scenario of an economy locked up in a "middle-income trap" has two sides: On the one hand, "investment" in knowledge-based and high-tech sectors gets discouraged when the investors find that there is no supply of a suitable labour force from either the domestic sources or the foreign sources; therefore, such economic activities don't seem to be growing without investment.
On the other hand, when these economic activities do not seem to be growing, apparently there is no demand for knowledge and skills; therefore, even the little amount of such labour output that the country is producing, is going away as brain drain. In effect, lack of demand hinders supply and, lack of supply hinders demand – the economy rests at lower levels without a breakthrough.
Migration dream
The migration attitude is common among many youths nowadays and, it is not limited to the children of the middle-class families. If opportunities permit, migrating to another country for a "better future" is a general perception among many educated youths from both urban and rural families.
By the way, the frustration of educated youth is not a new phenomenon in Sri Lanka. Those days, they took arms against the political authority of the country; in the North among the Tamil community and in the South among the Sinhala community. Nowadays, their response is different: They leave the country as the world has opened up in order to accommodate them. And, it is "politically correct" to encourage them, even though it is at the expense of the future of the country's own development.
(The writer is a Professor of Economics at the University of Colombo and can be reached at sirimal@econ.cmb.ac.lk and
follow on Twitter @SirimalAshoka).