Numbers vaccinated and assurances of second jab
By Kumudini Hettiarachchi and Ruqyyaha Deane
View(s):
"Don't panic, there are adequate vaccines to give the second dose for those who are due to get it in two-three weeks," assured Chief Epidemiologist Dr. Sudath Samaraweera.
Pointing out that those who have got AstraZeneca's COVISHIELD vaccine have about 75-80% protection, he however strongly advised people to follow the health precautions of hand-hygiene, face-mask wearing and social distancing scrupulously.
He told a media briefing on Thursday that while in Sri Lanka they were hoping to give the second dose in 12 weeks (three months), Canada which had administered the same vaccine had put off the second dose to 16 weeks (four months).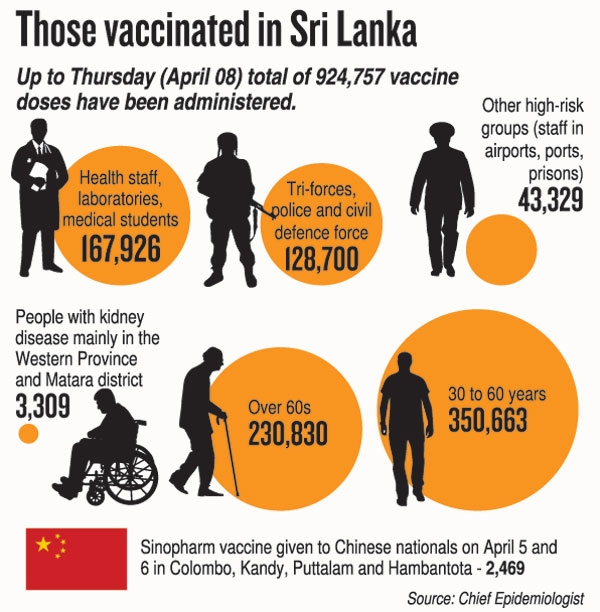 Sri Lanka has so far received:
500,000 doses of COVISHIELD as a donation from India
500,000 doses of COVISHIELD have been bought by the government from the Serum Institute of India
264,000 doses of COVISHIELD have been sent under the COVAX initiative
Dr. Samaraweera gave the breakdown of the vaccine administration as:
Total jabs given – 924,757 doses
Health workers including state & private hospitals, laboratory staff, medical students, etc. – 167,926
Tri-forces, police and civil defence personnel – 128,700
Others who fall into the high-risk category (those at airports, ports, prison staff, electricity installations, etc.) – 43,329
Under the community vaccination programme, those who fall into the high-risk category due to kidney disease in the Western Province (WP) and Matara district – 3,309
Those over-60 years of age in WP – 230,830
Those between 30 and 59 years of age – 350,663
Dr. Samaraweera added that on April 5 and 6 (Monday and Tuesday), 2,469 Chinese people in Colombo, Kandy, Puttalam and Hambantota had been administered the Sinopharm vaccine.
The Government Medical Officers' Association (GMOA), meanwhile, has written to the Director-General (DG) of Health Services, Dr. Asela Gunawardena that confusion has been created about the second dose due to contradictory statements.
"Ensuring the second dose of the COVISHIELD-AstraZeneca vaccine at the recommended time period will reduce the mental stress of healthcare workers and allow them to concentrate on patient care," the GMOA says.
The letter signed by GMOA Secretary Dr. Senal Fernando states: "The Health Ministry is obliged to ensure the second dose of the COVID vaccine's administration to all those who received it during the first round, at the correct interval as recommended by the relevant expert committees. It was officially declared that vaccinating with the second dose will be initiated from April 19.
"Several of our members and Branch Unions have queried whether it is feasible if the available limited number of doses are used as the first dose in the public vaccination programme.
"Contradictory statements by health authorities, especially those responsible for COVID control, will adversely affect the public's trust in vaccination programmes. This is totally unacceptable in a country which has always been a model to other countries.
"Hence, we request you to ensure that media statements on technical decisions on vaccination are neither contradictory nor breach the trust of public and healthcare workers regarding the vaccination programme.
Next COVAX allocation in May
The World Health Organization's Sri Lanka office has sent the following replies to questions asked by the Sunday Times recently.
n How will Sri Lanka secure the balance vaccines for 20-27% of its eligible population, as promised by COVAX? So far, Sri Lanka has received only 264,000 doses of COVISHIELD as its first tranche from COVAX.
A.   The COVAX Facility remains committed to providing vaccine doses for 20% of the country's population. The timeline and type of vaccine are subject to availability and country preference.
n When will the next tranche be sent and how many doses would it be? Would the type of vaccine be different?
A.            We will likely receive the next allocation of vaccines through  COVAX in May. The Government of Sri Lanka has also indicated that they will be using Sputnik V and Sinopharm vaccines separate to COVAX.