Central Bank: No plans to defer payments; only to 'rollover'
View(s):

The Central Bank has drawn reference to the Sunday Times last week page 1 news item titled "As rupee plunges, Govt. takes urgent measures to protect foreign reserves and stabilise rupee".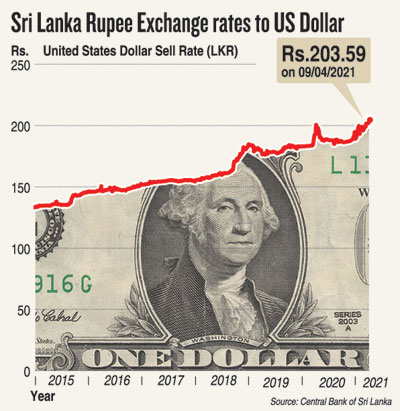 Its Director Communications rushed a media statement (montage on the left) last Sunday itself and carried in the state media referring to the "erroneous" news item. It says there are no plans to delay or defer repayment of Sri Lanka Development Bonds (SLDBs) or the repayment of foreign currency loans obtained from the domestic banking system, or delay or defer the repayment of any other debt instrument of the Government as stated by the newspaper.
In a separate letter to the Sunday Times, however, on Wednesday, the same Central Bank states: "However, during recent discussions, market participants holding such debt instruments have expressed willingness to rollover a sizeable portion of these liabilities falling due in the period ahead. This is normal practice that has been adopted in the past as well, and should not be interpreted as delaying or differing the repayment of maturing debt obligations" (montage on the right).
The Central Bank's wordplay seems to be that there are no plans to delay or defer repayment of the foreign currency Development Bonds or from the loans from local private banks, but there is a willingness to "rollover" these liabilities.
An economic definition of the word "rollover" is "to defer payment of (an obligation)" or "to renegotiate the terms of (a financial agreement)": Source Merriam-Webster dictionary.
The news item did not refer to any plans to delay, defer or rollover on foreign loans.
Therefore, the Sunday Times stands by its story, which the Central Bank has obliquely confirmed itself.