Be safe: Warnings to celebrate a home-grown Avurudu this year
By Nadia Fazlulhaq
View(s):
This year's national New Year will be celebrated with "extreme caution" warnings coming from health authorities, police, the Consumer Affairs Authority and even meteorologists.
The public has been asked to strictly obey health guidelines as COVID outbreaks are still occurring in the country.
The Ministry of Health's Chief Epidemiologist, Dr. Sudath Samaraweera, said health authorities have permitted only low-key celebrations, pointing out that many countries are in lockdown following a surge in COVID patients.
"If our people ignore the guidelines there is a possibility of COVID clusters emerging," he warned.
The health guidelines prohibit musical shows, Avurudu celebrations such as sports carnivals with more than 100 participants, and games such as tug o' war and pillow- fights (kotta pora).
"The Avurudu Kumara and Kumari [New Year prince and princess] competitions can increase the risk of spreading the virus due to faces being exposed and through sharing cosmetics, therefore it is not advised," the health guidelines state.
During cycle races, sharing of water bottles should be discouraged. During kana-mutti, the game where blindfolded participants smash clay pots, participants should be given separate blindfolds instead of re-using one. In the game where blindfolded participants try to colour in the eye of a pictured elephant, fresh blindfolds should also be used and the pen or chalk be disinfected after every turn, the guidelines said.
All those playing the traditional large drum, the rabana, should disinfect their hands and wear masks.
The ministry has asked people to limit keep celebrations within their homes and not pay the traditional visits to friends and family to exchange sweetmeats, and to follow hygiene practices when going to the temple or kovil.
Police will be on watch for violations of quarantine regulations and will arrest anyone who fails to wear masks or maintains social distancing in crowded public places.
Police spokesman, DIG Ajith Rohana, said as road accidents normally multiply at this time, extra precautions will be put in place from April 10-20: plain-clothed police will be travelling on long-distance buses to detect reckless drivers, and more traffic police deployed to detect drink-driving offences.
DIG Rohana also advised the public to watch out for burglars and for pickpockets while shopping.
After the National Operations Centre for the Prevention of the Spread of COVID-19 lifted travel restrictions for people travelling from the Western Province to the outstations, the Sri Lanka Transport Board and Sri Lanka Railways announced special trains and additional buses will be put on this week.
Railway Operations Superintendent Gamini Seneviratne said 21 special trains apart from the usual long-distance trains will be in service until April 19.
The special trains will operate between Colombo Fort and Badulla, Mount Lavinia, Anuradhapura and Jaffna, Jaffna and Kurunegala, and Maradana and Galle, Kalutara South, Beliatte and Matara.
There will be 200 more buses for travellers, and passengers are urged to obey health guidelines.
Apart from the pandemic threat, the New Year will dawn amidst shortages and skyrocketing prices of commodities.
From red raw rice to good-quality keeri samba, rice prices remain high, with all varieties being sold at more than Rs. 100 a kilo, sometimes going to Rs.180.
Foodstuffs soaring in price include green gram, chicken, chillies, cowpea, coconut, coconut oil, dhal, tamarind and sugar (see accompanying graph).
Drumsticks, beans, ridged gourd, green chillies and capsicum prices have also risen, and the cost of meat, and fish such as skipjack tuna (balaya), sailfish (thalapath) and yellowfin tuna (kelawalla) have shot up ahead of festive season.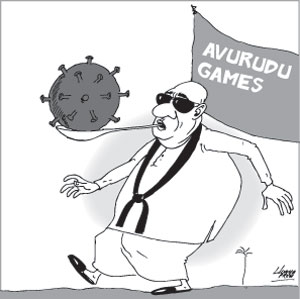 The Consumer Affairs Authority (CAA)'s Director of Consumer Affairs, Asela Bandara, said teams of investigators have been sent out island-wide to take action against fraudulent traders.
" During this period we get many complaints about expired items and damaged goods being sold, and products selling at exorbitant prices," he said.
"The public can make complaints by calling the 1977 hotline even during the Avurudu holidays. Fines can go up to Rs.10,000 for individual erring traders and to Rs.100,000 for companies," Mr. Bandara said.
The Meteorology Department warned of warm weather conditions in most parts of the country due to the sun being directly over the latitudes of Sri Lanka from April 5-14.