Analyst dragging feet over reports on oil safety: PHIs
By Kasun Warakapitiya
View(s):
The Public Health Inspectors (PHI) Union has expressed concerns over the Government Analyst's delay in issuing reports on potentially carcinogenic coconut oil samples.
Union Secretary Mahendra Balasooriya, said the Consumer Affairs Authority (CAA)'s PHIs have given 150 samples to the Government Analyst's department to date, with more being collected from markets and small coconut oil storage facilities.
He pointed out that PHIs can only send samples to the Government Analyst as other laboratories with authority to conduct analysis under the Food Act lack equipment to detect aflatoxin, the carcinogenic substance that has been detected in recent imported shipments of coconut oil.
"Even though laboratories attached to the National Institute of Health Science in Kalutara, and at the Colombo and Kandy municipal councils and at food laboratories in Anuradhapura and Kurunegala have legal power to conduct food chemical analysis they lack equipment to detect aflatoxin," Mr. Balasooriya said.
He added that while the Industrial Technology Institute and the Coconut Development Authority do have equipment to detect aflatoxin they do not have power to take legal action under the Food Act.
Government Analyst Ms. Gowri Ramana acknowledged her office had received samples sent by PHIs but declined to comment.
The State Minister of Co-operative Services, Marketing Development and Consumer Protection, Lasantha Alagiyawanna, said he had received reports on 109 random coconut oil samples sent by the CAA to the Coconut Development  Authority's laboratories, and the reports stated that none of the coconut oil samples contained aflatoxin.
The Customs Department said it has ordered the re-export of six containers of substandard coconut oil imported by Katana Refineries Ltd and is investigating whether there is any oil missing from stocks of imported unrefined coconut oil held by two other importers at private warehouses.
Customs Deputy Director (Legal) Suddatha Silva said officials are trying to determine if imported unrefined coconut oil has reached the market.
Mr. Silva explained the importers were allowed to hold their imported oil at private warehouses under a commercial bond stipulating the oil could not be altered (refined) or sent to the market until permission is given.
"If there is any discrepancy within the stocks we would seek legal advice from the Attorney-General's Department," Mr. Silva said.
Sources said despite the conditions two coconut oil bowsers containing 55,000 liters of substandard coconut oil had been found by the Dankotuwa police and handed over to the Customs.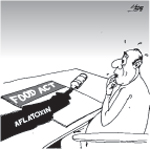 Mr. Silva said the aflatoxin-tainted coconut oil imported by Katana Refineries was ordered to be returned to the source country under Customs supervision following a report by the Sri Lanka Standards Institute (SLSI) that the oil was unsuited for consumption.
He said the containers were sent to the South Asia Gateway Terminal and are being held there until April 13, when they are to be loaded onto the cargo vessel, Babra.
The Food Control Administration Unit (FCAU) of the Ministry of Health has confirmed that consignments of imported coconut oil contained aflatoxin.
FCAU Director Dr. Thilak Siriwardena said tests were carried out on imported oil and the unit had no role to play in checking samples collected from markets.
Nervous families shun fried

 sweets and kadala  

Food outlets selling New Year sweets and gram have suffered a loss of business following the detection of carcinogenic coconut oil.

Vendors said consumers fear aflatoxin-tainted oil has reached the market.

Ramesh Hasintha, who owns a sweets shop in Pettah, said his business has suffered a major hit following the detection of substandard coconut oil. People were worried about the safety of New Year sweets cooked in oil.

"Sales of Kavum, kokis and athiraha, the sweets that are usually in high demand during New Year periods have dropped," he said.

Gram shop owners too said their business has also dropped sharply as did shops selling fried foods such as cassava chips and vadai.

Shop owner Selvaraja Akilan said he had hoped to make money this year at Avurudu to recover from losses caused by the pandemic shutdowns last year but sales were worse because of people avoiding purchases of fried gram.

"I used to restock my shop every day but now I only buy small amounts due to poor sales," Mr. Akilan said.