About-turn on palm oil ban fails to quell industry uproar
By Kasun Warakapitiya
View(s):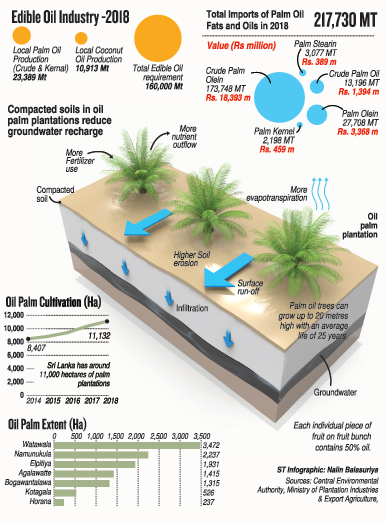 Industrial manufacturers and food and beverage producers are calling on the government to review its sudden ban on palm oil imports and introduce plans for substitutes before implementing the ban announced this week.
Palm oil is an essential ingredient in industrial products and many food products, manufacturers said, emphasising that imports of the oil were critical for business.
The President of the Bakery Owners Association, N K Jayawardena, said 75 per cent of margarine products used in baking were made from palm oil. "All our pastries and bakery products are made with palm oil," he said.
President Gotabaya Rajapaksa's Media Division issued two media statements this week. The first, on Monday, April 5, said the president had ordered a complete ban on palm oil imports with immediate effect. The statement also said palm oil cultivation in the country would be banned completely. No reason was given for either directive.
Three days later, the Media Division issued a clarifying statement saying the ban was on crude palm oil, for reasons of public safety and health, and that imports of "standard" palm oil varieties used in the production of biscuits, confectionery and bakery products would suffer no prohibition.
The ban is because "the consumption of crude palm oil has adverse effects on public health", the statement said. "Experts in the medical field and dieticians have repeatedly pointed out that the consumption of food processed using crude palm oil is a major pathogen."
The bakers' association asked the government to explain its actions.
"We call on the government to check whether palm oil has any adverse effects on humans and tell the people," association chief Mr Jayawardene said.
Trade Minister Bandula Gunawardena explained on Thursday that the ban was directed at stopping unscrupulous vendors from mixing oils and selling the resulting harmful product. He said palm oil was adulterated with other oils to increase profits.
The Public Health Inspectors (PHI) Union concurred that oil adulteration was taking place and was harmful.
"Some importers bring crude palm oil or palm oil intended for industrial use and mix it with other oils or refine it through bleaching. This could create health issues," (PHI) Union Secretary Mahendra Balasooriya said.
He said palm oil could contain carcinogenic aflatoxin if not produced properly. There is a separate controversy over imported stocks of coconut oil that contain aflatoxin and investigations are being carried out into this matter.
The Trade Minister said the government would provide special licensing for importing palm oil only for bakery owners and confectionery manufacturers, and such imports would be limited to their specific needs.
The Lanka Confectionery Manufacturers Association (LCMA) said it and the All-Ceylon Bakery Owners Association would, tomorrow, jointly submit a proposal to allow manufacturers and credible importers to import quality palm oil and palm olein. LCMA Chairman S M D Suriyakumara said the proposal would be handed to the Treasury Secretary, as requested by the Trade Minister.
Mr Gunawardene has instructed associations that use palm oil in their businesses to hold discussions with the Ministry of Finance to obtain licences to import the oil.
Customs Deputy Director Sudattha Silva said the Customs Department was awaiting the government's next move while holding onto shipments of imported palm oil. In Monday's statement, the president asked Customs to stop clearing palm oil cargoes.
Mr Silva said Customs will stop releasing imported oil stocks to the market while the government negotiates with stakeholders on introducing a license system. No decision had been taken to send back stocks already unloaded at the ports.
"We will hold this position for a few days until the government takes a final action on this matter," Mr Silva said.
Bakery Owners Association President Jayawardene said the government must have a solution that provides substitutes for palm oil. The LCMA said it was working with the Coconut Development Board and Coconut Research Institute on trials to develop a coconut oil-based substitute for palm oil.
In Monday's statement, President Rajapaksa's office said the directive to ban palm oil plantations in Sri Lanka had been foreshadowed six months ago.
Plantation owners will be required to wind down cultivation gradually by uprooting 10 per cent of cultivated trees each year and replacing them with "rubber or environmentally friendly crops each year to free Sri Lanka from oil palm plantation and palm oil consumption. When this is fully operational, the government intends to stop the cultivation of oil palm and the consumption of palm oil completely."
In the second statement on Thursday, the President's office said research had revealed that oil palm cultivation could lead to long-term adverse environmental effects such as depletion of water resources and soil infertility.