Young initiative that adds a hopeful perspective on adoption
View(s):

The Rotaract Club of Wellawatte have taken on a unique initiative through their "Add Hope in One" project which aims to shed light on the topic of adoption.

"In Sri Lanka, no body openly talks about Child Adoption and they do not consider it normal. There are many parents who are unable to have a biological child and they are willing to adopt as well. From the time we started talking about this topic, we've been getting several questions related to child adoption," says Evelyn John, President of the Rotaract Club who shared insights into the project with the Mirror Magazine via an email interview.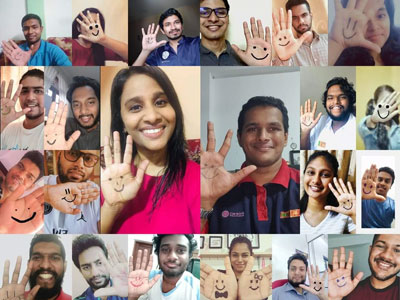 Evelyn added that while there are many youth who showed interest and willingness to adopt a child or even sponsor a child, there was very little information on how to go about it.
"No one is aware of the process related to child adoption and as the general public, we have no idea on what to do when a child gets abandoned," said Evelyn pointing out that the main motivation behind the project was centered around building awareness and educating society on the topic.
The momentum came with adoption awareness month in keeping with World Adoption Awareness Month on November 9 and it was during this period that the project evolved.
The first step of the project was the 'Smiley-Face Campaign' where Rotaractors islandwide posted selfies with smiley faces drawn on their palms to spark interest. As part of the project the team organized online panel discussions which generated much enthusiasm and interest. The discussion featured Milani Milani Salpitikorala (Attorney -At- Law and Founder and Director of Child Protection Force) as well as Dhananjaya Perera (Director Programs – SOS Children's Villages, Sri Lanka). The panel discussion delved into themes that centered on the topic of adoption.
As the Add Hope in One organization emphasized, the whole procedure of adoption is formally based on love and commitment with the objective of providing an innocent child a happy family and a safe and secured childhood, which any child is entitled to.
The Mirror Magazine learns that a key objective of this program was to encourage dialogue between stakeholders on the need to make policies and regulations to make adoption a less complex process, to create awareness on topics such as baby farms, child trafficking and above all, to offer sound advice to cultivate empathy and to respect a family's decision to adopt and provide for a child, even though they don't share the same blood.
The team believes adoption is another way of celebrating parenthood and a founding step towards building a family. The genuine familiarity and affection between an adopted child and his or her parents would stand witness to the narratives of many orphans who thrived upon the safe and affectionate childhood which was provided for them.
The Rotaract Club of Wellawatta is hopeful to further perceive in the future on educating and creating awareness about child adoption, and to act as a mediator to connect parents who are willing to adopt to the relevant authorities and to provide them with more information and guidance.                     (BK)