Proving a point
Lankan team wins regional debate on Climate Change
View(s):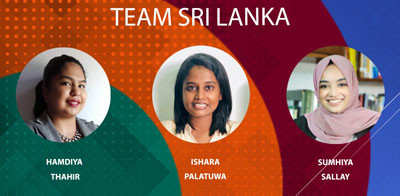 A Lankan team of debaters emerged winners at the finals of the South Asia Students For Liberty (SASFL) Inter-Regional Debating Competition, on March 27. The debate competition, an inter-regional debate competition for South Asia, took place via Zoom, and was organized by the Sri Lanka chapter of Students For Liberty (SFL), along with SASFL.
The team comprising Hamdiya Thahir (who also won Best Debater), Ishara Palatuwa and Gnei Sumhiya Sallay, beat team Bangladesh debating the topic 'Climate change is the greatest threat faced by mankind today' after a close match.
"I never expected to win this title, because it was a very tough competition," says Hamdiya, adding, "I'm grateful to the SFL team and my team representing Sri Lanka, for guiding me through this satisfying journey."
The debates featured the partnership and participation of seven regions across South Asia: Sri Lanka, North India, South India, Bangladesh, Pakistan, Afghanistan and Nepal. The judges were from participating regions.
"The main objective behind the debate was to encourage young people on ideas of liberty and to create a conversation around the topic," says Thiloka Yapa, Regional Coordinator, Sri Lanka SFL. "This was the first time we organized a debate, and we had very good participation."
"Our objective, through this debate competition, was to connect young people in Asia by sharing their ideas on Liberty and Libertarian concepts; We wanted to spark conversations about free speech, rule-of-law, free markets, etc."
For many participants, this was their first international participation in a debate championship, encountering diverse people, and getting to know bright and like-minded youth.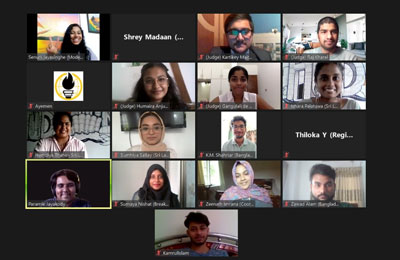 "We want to encourage young change-makers to think critically about the idea of liberty. With motions relating to liberty, and lots of interactions between different cultures, these purposes were easily accomplished," Thiloka added.
The debate was organized with local coordinators from across South Asia joining in the efforts, and has been one of the biggest projects done by the Sri Lanka Students For Liberty chapter this year.
The first phase of the debate tournament was a series of national level debates on the ideas of freedom, equality and liberty. Regionals were held in both regions in India and Bangladesh, with the participation of many teams clamouring to make their way to the inter-regional debate. Following the national tournament, the winners of the regions proceeded to the semi-finals. Team Sri Lanka competed in the semi-finals against the teams from North India, South India, and Bangladesh.
With seasoned debaters coupled with members new to the debating world, the Lankan team proved how a versatile and dedicated group could overcome challenges, proving themselves the champions of SASFL debating in 2021.
Speaking about the victory, Ishara Palatuwa said, "This journey has been so challenging, but we've learned a lot working together, and we're grateful for this opportunity. Having this win is amazing and it's a dream come true to all of us. Thank you to the judges who gave us valuable feedback."
"This has proven to be a wonderful opportunity for us to liaise with like-minded young individuals in the South Asian region who are committed to upholding libertarian ideologies. We were able to build a strong network with SFL leaders in the region and are confident that we can engage in more inter-regional activities in the future," Harini Fernando of the organizing committee said of the debate tournament.
Students for Liberty is a US-based, international libertarian non-profit organization whose stated mission is "to educate, develop, and empower the next generation of leaders of liberty." The Sri Lanka chapter of Students for Liberty was started in 2019. The local chapter conducts training sessions for both undergraduates and graduates.
"We train people on public speaking, advocacy, effective communication," says Thiloka. "The Local Coordinator Program offers an opportunity for young changemakers to gain an in-depth understanding of the philosophy of classical liberalism, whilst getting trained on different aspects such as organization skills, leadership skills, advocacy, communication etc."
Starting with just 8 local coordinators, SFL Sri Lankan chapter has grown into 20+ local coordinators working to advance the concepts of liberty, freedom, democracy, human rights, rule of law, freedom of expression, individual freedom, free markets and education for liberal thinking throughout the country. "We have also had the privilege of conducting several collaborative events with some of the leading local think tanks such as Advocata Institute and Hashtag Generation, as well as youth organizations like Rotaract and Hype Sri Lanka covering various areas of public interests," says Thiloka, adding that they are in the process of organizing a Webinar on the topic 'Buddhism and liberty' to be held in the near future.
You can follow them on social media through Facebook @SriLankaSFL, @sasfldebates; or Instagram @sfl_srilanka, @sasfl_internationaldebatecomp.          (NA)