Father's New Year dream for the return of missing son
By Susitha Fernando
Ranga Bandaranayake's one episode New Year teledrama 'Al Hale Kiribath'
View(s):

Award winning television producer and teledrama director Ranga Bandaranayaka's newest single-episode teledrama for Sinhala New Year, 'Al Hale Kiribath' will be telecast at 9.00 pm on April 13, on National Rupavahinin Channel.
Starring Chandrasoma Binduhewa, Manike Attanayake, N. Thiba Dharshani, John Dinesh Sandaruwan, Priyantha Prabhash, Ramesh Keshan and R. Jeyanthan the screenplay is written by Chamara Prasanna Kodituwakku and editor is Demuth Kuruppu. Behind the screen, camera by Janith Susewhewa, music by Nadeeka Weligoidapola, recording by Padmasiri Gunatillaka and Sanath Perera, lighting by Chathura Ekanayaka, make up Chandana Senarath Bandara and art director is Kokila Wijesundara. To a script of Chamara Prasanna Kodituwakku, the assistant director of the teledrama is Saman Premaratne.
Presented by the Teledrama Unit of Sri Lanka Rupavahini Corporation (SLRC), the teledrama is produced and directed by Ranga Bandaranayake.
'Al Hale Kiribath' revolves around an elderly couple who are awaiting the return of their missing son and young Tamil girl boarded in their house.
Many in the village think that Wijesinghe is not on his real sense. Lighting a lamp for the Buddha and going to the grocery with a Marxist hat is part of the daily routine of Wijesinghe.
He talks about social equality. However at home Wijesinghe is an extremely sensitive father who anxiously waiting for his son who had gone missing years ago. In this house a Tamil girl is boarded and she is almost a part of Wijesinghe family. In this New Year too, the Wijesinghe couple's main wish and dream is that their disappeared son would return to celebrate the New Year.
Ranga directed his first single-episode teledrama 'Premagni' for the Christmas of 1998. Thereafter Ranga, the son of award winning filmmaker Dharmasiri Bandaranayaka directed nearly 60 singe-episodes dramas of 'Sitha Niwana Katha' Poya drama series scripted by Somaweera Senanayake. "Some of these dramas won awards at different teledrama award festivals," said young Bandaranayaka speaking about his long career as a teledrama director attached to the Teledrama Unit of SLRC.
At the first State Tele award ceremony in 2003, 'Sitha Niwan Katha' directed by Ranga won the Best Single-episode teledrama of that year while in 2007, another 'Sitha Niwana Katha' was nominated for a number of awards at the Raigam Tele Awards.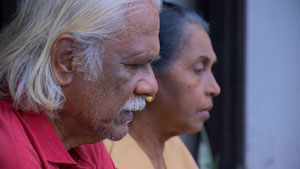 His debut lengthy teledrama serial  'Bhawanthara' telecast in 2014 nominated for 22 major awards including Best Teledrama, Best Director, Best Script, Best Editor, Best Actor, Best Actress and Best Cameraman at almost every tele award ceremonies. 'Bhawanthara' won the Best Makeup at the Raigam Tele awards while it won the Best Script and the Best Editor at the State Teledrama awards. At the OCIC UNDA Salutation, the teledrama won the Best Cameraman.
In 2019, Bandaranayaka's docu-drama 'The Silance' won the golden award under the category of 'Civil society' – Documentary films devoted to the fight for civil rights, at the XXI International Festival of Detective Films and Television programmes on Law-Enforcement Themes 'Detective FEST', which was held in Moscow. 1,218 films and TV productions of 78 countries were contesting in 12 categories at this International Film Festival.
'The main aim of our productions at the SLRC is to give quality teledrama experience to our view' said Bandaranayake who is planning his next feature teledrama series.