Bold changes needed to salvage Sri Lanka's tea plantation sector
By Ananda Wickramasinghe
Feature
View(s):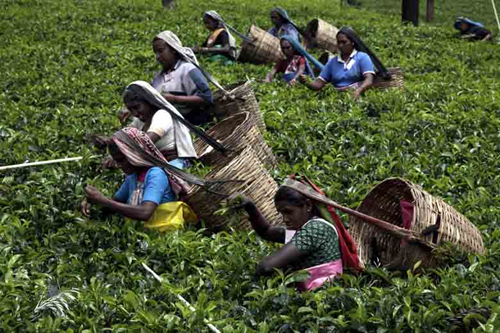 The Sri Lankan tea plantation industry is facing serious challenges that call for unbiased analysis of the current status and bold rethinking of the solutions required if it is to continue to hold its place as one of the nation's leading sources of foreign exchange.
What we are witnessing presently is an industry that cannot be sustained anymore with a colonial-time attendance-based wages system. Tea is a high labour-intensive crop and requires an abundant supply of inexpensive and skilled labour throughout the year. Availability of cheap labour in the colonial period was the most significant contribution to the profits of the tea industry. The labour component of the total cost of production of tea is about 65 per cent. The reality is that Sri Lanka is no more a country with cheap labour.
According to the Regional Plantation Companies (RPCs) sources, the 2021 wage hikes are contributing to uncertainty in the plantation sector. With the latest wage hike, RPCs predict that they will lose an additional Rs. 15 billion annually and have decided not to accept a wage hike for plantation workers.
The periodical demand for wage hikes, given the rising cost of living, is rational and inevitable from the workers' side. However, even with periodical pay increases, some reports state that these workers will continue to remain under poverty levels.
Wages, however, are only part of the problem. This report analyses the current situation and proposes several measures that can be implemented to revive the tea industry
Under-utilised tea lands: Old
Seedling Tea (OS tea) to Vegetative
propagated tea (VP tea)
Tea is not native to Sri Lanka and was first propagated by using seeds imported from China and India. Due to the genetic variability among plants and other agronomical factors the plant growth and the yield of those century-old seedling tea bushes were not uniform.
A report published by the Tea Research Institute (TRI) states that over 95 per cent of OS tea in the high country, Uva, and mid-country are over 60-80 years old. The productivity of seedling tea normally started to decline after 50 years. The TRI introduced high-yielding vegetative propagated clone tea in the 1950s to replace low-yielding old seedling tea. As its name implies, VP tea is a plant that is propagated vegetatively by a single leaf internode cutting from a mother plant.
TRI reports that in 2003, 46.7 per cent of the area under VP tea produced 61.7 per cent of the total crop, while 53.3 per cent of the area under OS tea produced only 38.4 per cent of the total. The average yield per hectare of made tea under seedling tea was 1050 kg while it was 1972 kg under VP tea. "VP tea was, thus, seen to have over 80 per cent greater capacity for than OS tea".
The ability to produce higher yields is not the only benefit of VP tea. The plant's uniform canopy cover acts as a protective soil cover, impedes soil erosion. Exposed topsoil in OS tea lands tends to cause higher soil losses due to raindrop splash erosion and also due to runoff erosion. Several research studies have proven that the soil erosion losses in VP tea land are very minimal. One should imagine how much soil would have eroded for about 2 centuries under OS tea.
In 1958, the first government-sponsored tea replanting (replacing OS tea with VP tea) subsidy scheme targeted about 2 per cent of tea extent (which is about 1,567 ha) to be replanted annually. However, the 2011 TRI report states: "To achieve the conventionally accepted norm of 2 per cent annual replanting in the corporate sector, the extent replanted annually should have been an average of 1,567 ha per annum. What is most disturbing is that the net area the 307 RPC estates failed to replant to achieve the annual norm of 2 per cent from 1991-2005 is a total of 23,500 ha which would have all been in full bearing by 2008, and given an annual incremental crop of about 58 million kg made tea per year, at a modest yield of 2,500 kg per ha". The TRI reports that in 50 years (1956-2008) the average rate of replanting in the corporate tea sector was about 0.97 per cent.
Replanting is an expensive procedure that requires a high input of manual labour. The current estimated average expenditure to replant a hectare of OS tea is about Rs. 3.33 million and about 70 per cent of this cost accounts for manual labour.
According to RPC sources, they have been experiencing losses since 2014, and, therefore, cannot be expected to invest in expensive operations such as replanting.
Also with the current wage hikes, RPCs may argue the need to take further measures to lower their losses. The impact of such measures will result in gradual negligence of maintaining the plantation such as abandoning low yield tea lands, reduction of labour inputs for maintenance of plantation, etc. This has been already confirmed by one spokesperson attached to RPCs where he stated: "We will manage and cut the coat according to the cloth, and if we cannot fertilise we won't, and if we cannot upkeep we cannot".
As a country, we cannot permit this to happen to one of our national assets because these lands have a greater potential to produce a higher yield than the current rate.
The slow rate of replanting for several decades has resulted in a greater loss to the country and also damage to the environment due to soil erosion. Some say that the required replanting rate was not specified in the 1992 'Indenture of Lease' agreement. This was a grave mistake and one should inquire why the authorities never took any action to force the lessee to implement the replanting operations.
It is now evident that lessees are not in a position to undertake the replanting operation and therefore the government should initiate a well-planned vigorous programme to start replacing century-old tea bushes with VP tea. Since it is already late, a proposed programme should complete this task within a given time frame. A separate authority with ample powers and funds should undertake this task.
This is a high labour-intensive and expensive task and, therefore, the government should consider obtaining the assistance of personnel from the Sri Lankan Tri Forces and also the help of volunteer groups to complete this task.
Time to replant in tea smallholdings too
One TRI report states that, in the low country, the highest productivity of VP tea reach is in the first 20 years. Based on a 2003 TRI report, the productivity has started to decline in 65 per cent of low country lands. This shows that by 2021 VP tea lands in the low country have started to decline their productivity. This shows how important it is to increase the current subsidy rates in the tea smallholdings (TSH) sector before it affects the national tea productivity negatively.
Labour wages problem in
the plantation sector
The current issue on wage hikes appears in RPCs and the state-managed plantation sector that only contributes about 25 per cent of total national tea production.
To minimise losses from plantations, RPCs came up with several productivity-based wages and revenue-sharing models. However, these models have not been accepted by the trade unions. Ramiah Yogarajan, a trade unionist and a former MP, says that the proposed models fail due to the non-uniformity of the prevailing conditions in the estate field level, "conditions vary from estate field to estate field, due to the age of the bushes or trees and other agricultural inputs and practices. Under these circumstances, it is not possible to fix an all-industry productivity norm. It may be feasible in an industry where conditions are controllable". This observation is true because the workers who get marginal OS tea under revenue sharing models will face grave hardships due to low productivity.
RPC models would have developed after studying the current TSH sector. The TSH sector can be considered as a very successful model, initiated with little government backing in the early years. The total extent of TSH was 60,000 ha in 1992 and then doubled within 20 years to 122,450 ha. Remarkably, the production of RPCs managed tea lands declined and the TSH production went up 2.5 times from 1995 to 2012. Currently, TSH contributes more than 75 per cent of national tea production.
It is interesting to observe how the average extent of TSH that was 1.17 acres in 1983 has dropped to 0.69 acres by 2017. This clearly shows that TSH less than one acre which can be managed only with family labour are becoming popular.
If both groups failed to come to an amicable solution, the government should consider distributing the plantation land as tea smallholdings to workers. Descendants of the villagers whose land was taken by the British to cultivate coffee and tea should also be considered in this exercise.
Distributing plantation land among estate workers who were working in those plantations for 5-6 generations is a humane endeavour. These workers were been subjected to various forms of discrimination from the inception of plantations. Currently, there is a decline in the labour force in the plantation sector due to poor living conditions and low wages. Making those workers as TSH can be an encouragement for them to stay in the plantation.
This process of distributing estate lands as smallholdings has to be performed in a carefully well-planned manner to assure that the current tea production is not interrupted. Due to the various conditions of a tea estate, some may get unproductive tea lands. Such receivers may need additional assistance during the replanting period.
(The writer is a former research officer at the Department of Agriculture, Sri Lanka and also former Consul General for Sri Lanka, Los Angeles, US-2009. He can be reached at anawicks@gmail.com).