Why we need to revive DS policies for nation building
By Imthiaz Bakeer Markar
View(s):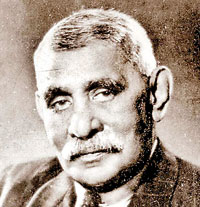 It has been 69 years since the Father of the Nation, Don Stephen Senanayake, passed away. His death anniversary fell on Monday, March 22.
He helmed the final phase of our struggle for freedom from colonial occupation, but I was not present then to experience his leadership first-hand. However, through reading his words and about his deeds I have come to know him.
A few days ago, I spent a considerable amount of time reading clips from newspapers and Hansard reports to get to know him.
I would like to quote a small part of the statement that Mr. Senanayake gave to the British people through the BBC radio. It was printed in the Sunday Times of Ceylon on March 23, 1952.
"We in the East, through millennia of struggle towards the light, have learnt the bitter lessons of suspicion and fear, of fear and aggrandizement, of lust for power and exploitation of the weak and we are convinced that it is only through clearer knowledge of fundamental spiritual values of existence that international understanding can be reached. We believe in a way of life I am permitted to call the middle-way in which the rule of the moral law founded on the faith of the one-ness of humanity."
The meaning of what Mr Senanayake said, the time and place he said it and the way he presented it have lessons for today's leaders.
He went beyond East and West, beyond nationalities, religious and caste divides and talked of the one-ness of humanity. In making this statement, it is clear that his thoughts were influenced by Buddhism.
Travelling further down that path, another statement he made, this time on the day the United National Party was inaugurated, comes to mind.
"You may be Sinhala, Tamil or Muslim; today we are all one nation. Let's salute the Nation of Sri Lanka!"
The way Mr Senanayake looked at nationalism is relevant to us today: This was the day when those who were divided among the Sinhala Maha Sabha, the Tamil Congress, the Muslim League, the Burgher Association and the Moors Association came together under one flag. Our colonial masters had told us that we would kill each other if we were given freedom, 'so before we give you independence you must unite.' Although they said that in public, they had plans to divide us along religious, ethnic, caste, up-country low-country, Jaffna-Batticaloa lines.
Some who had become lured by these plans demanded the "50-50" deal.
DS and the others had the major challenge of unifying the nation.
India won its freedom through tragedy; the country was partitioned. But our leaders were able to unite the nation and could demand freedom saying "we are united."
In the first post-independence Cabinet, DS included the Tamil Congress Leader G.G. Ponnambalam. His determination to keep the country united was exemplified by this act and he was able to harness the abilities of these leaders for nation building.
Mr Senanayake goes down in history not only as the leader who won us our freedom but also as the leader who built a nation by his actions that stand out as an example to all.
On his passing away, the Daily Telegraph published an article. It described him as a kind, clever, determined and an excellent Parliamentarian. "He was able to build a strong coalition by attracting Independent Members to join his government and even succeeded in obtaining the cooperation of his fiercest opponents the Tamil Congress"  the Telegraph opined.
DS was neither a Supremacist like President Trump of the United States nor a leader who followed the majoritarian philosophy of the emerging trends in India. He did not sow a majoritarian idea and make use of that to stay in power.
I see him as a leader who worked to uplift the oppressed masses and someone who worked hard and diligently towards that goal.
Veteran politician Dr M.C. M Kaleel once said that he believed Sri Lankans would follow Mr. Senanayake's example.
"Physically, mentally and morally Mr. Senanayake was a great man. His greatness was once again brought out in the dark days of 1915. After he was released from prison he went all over the country in the company of Mr. Abdur Rahman the Nominated Muslim Member of the Legislative Council and brought about peace between the Muslim and Sinhalese communities. At large gatherings, I remember Mr Senanayake saying how he went about and lived in Muslim houses and had his meals with them.
"The understanding and solidarity he brought about among the various communities in the Island endured to this day and by no means a negligible factor in the winning of Independence for this country.
"I well remember the tea party that was held at his residence 'Woodlands' just prior to the acceptance of the Soulbury Constitution when our great leader and another gentleman from another place put to us bluntly the question 'why not trust the majority community and we will never let you down.' We immediately agreed and I can assure you, Mr Speaker, we have had no occasion to regret that," said Dr. Kaleel said addressing Parliament.
The trust between Dr Kaleel and Mr Senanayake is a beacon for the youth of today to follow, as we see similar divisive forces are trying to divide us. We must end the kind of politics that seeks to divide us and shun those who take advantage of us for their own ends.
We need to defeat those who want to divide and rule so that they can achieve their dangerous agendas. Whether these forces come from within the country or from overseas, defeating them and achieving unity and ethnic harmony will be the greatest honour we can accord our founding Father D S Senanayake.
(The writer is a National List Member of Parliament representing
the main opposition
Samagi Jana Balawegaya)