The travails of finance ministers
View(s):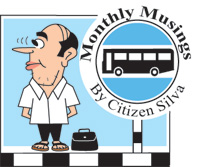 At the beginning of this month, I was taken aback to read that no less a person than former French President Nicholas Sarkozy has been sentenced to three years in jail for corruption.
Sarkozy was convicted, two years after he left office in 2012, of trying to bribe a judge in order to obtain information about a particular legal case – a crime specified as "influence peddling and violation of professional secrecy'. The ruling marked the first time ever in that country that a former French president was given a custodial sentence.
This got me musing about whether politicians in other countries actually face the full force of the law and get convicted and sentenced to jail — as would happen to us ordinary citizens if we broke the law.
So I decided to do some amateur research on this matter. With some surprise I discovered that in Austria — a land better known for Swarovski jewellery, Viennese Waltzes and the Sound of Music — former finance minister Karl-Heinz Grasser was, as recently as December last year, found guilty of corruption and abuse of power, convicted by a court in Vienna and sentenced to eight years in prison.
One of Grasser's co-defendants, a close friend of his, admitted under oath during the trial to passing on insider information. Grosser was found guilty by the court of providing such insider information to a private investor ahead of the government's sale privatising 60,000 apartments. He had informed his partner of the minimum amount necessary for this sale, thus allowing the buyer to slightly outbid the competition and so secure the purchase. The new properties were valued at double the purchase price just three years later – and for his role, Grasser pocketed around 9.6 million euro or about 1% of the 961 million euro sale price.
Nearer home, in neighbouring India, former Finance Minister P. Chidambaram is still under investigation for his role in the Maxi Communications-Aircel corruption case – the allegation being that Chidambaram, the then Finance Minister, withheld approval of the deal by the Foreign Investment Promotion Board until his son Karthi Chidambaram's company received  a stake in the Aircel Televenture company. Chidambaram was arrested by India's Central Bureau of Investigation (CBI) and served 106 days in New Delhi's Tihar jail. He was, however, released and is now awaiting 'completion of investigations' in this case. As we here know, India has a timeless culture – and it is anybody's guess how long this investigation, which according to the judge is "lingering on unnecessarily", will take!
Reading about Grasser's conviction and sentencing, the CBI's charges against Chidambaram and the news that just last year Romania's former finance minister Darius Valcov was sentenced to six-and-a-half years' in jail for taking a bribe and peddling influence in awarding public works contracts, I could not help musing about the fact that these poor Finance Ministers of the world must be subject to so much temptation. Making decisions involving millions, billions, lakhs and crores, having the power to grant or withhold approvals for lucrative ventures, having inside information that outsiders would reward handsomely to obtain – surely a person must be of very strong moral fibre to not succumb to these temptations.
It was hard to imagine why Austrian ex-minister Grasser, whose wife is the well-endowed heir to the Austrian Swarovski empire, wanted to stoop to insider trading to net himself a crore of Euros – unless he wanted to show off to his wife's family that he was not just a hen-pecked 'binna married' man but could make big money in his own right!
So I was very interested in learning this week that one of our own ex-finance ministers has been remanded along with seven others in regard to the Central Bank Bond case. Ravi Karunanayake, if we are to believe the news stories, will finally face charges that include criminal misappropriation and insider trading.
I have lived long enough to know, as the quote from the Charles Dickens play Oliver Twist reminds us, that the Law is an Ass – and as the English satirist Jonathan Swift reminded us "Laws are like cobwebs, which may catch small flies, but let wasps and hornets break through."
It remains to be seen whether ex Finance Minister Karunanayake will, if found guilty, suffer a fate similar to the Austrian Grasser and the Romanian Valcov – or whether he will (like the Indian Chidambaram) mark time, play the game and be released scot free well in time to run for the next election.