Appreciations
View(s):

A caring, loving gentleman and wonderful boss

PERCIVAL (PERCY) BALALLA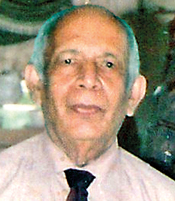 My planting memories of Percy Balalla were of a caring and loving gentleman who was an outstanding planter.
I happened to be one of those planters who worked under him. I have never known him to lose his temper with any one of us and it was his patience and understanding manner that yielded good results.
I first met him in 1979 when he was the Superintendent of Mount Vernon Estate, Kotagala and I was an Assistant Superintendent at Strathdon Group, Hatton. I had the good fortune to know Mr. Balalla for several years. He advanced his planting career by dint of ability and hard work serving Sterling Companies and after the nationalisation of the plantations, it did not take long for the Janatha Estates Development Board to assess his potential and appoint him as a Director.
I have worked under two excellent planters. First the late Raja Brodie as an Assistant Superintendent at Strathdon Group and then under Mr. Balalla as a Superintendent in Badulla Region when he was the Director. He has been a beacon guiding many prominent personalities but never boasted about his achievements.
He never hesitated to speak up for what he believed in or bowed to pressure, interference or threats. His advice helped me immensely to improve my knowledge and my style of estate management. He advised me always to act on facts and not to listen to gossip or rumours, to be calm and act impartially.
He was a simple man who led a simple life and always dressed well. He knew his wife Irangani had a heart of gold with tremendous feelings for the less fortunate.  Irangani gave her husband all the support and help he needed. He was extremely proud of his two sons, Ranjan and Mevan. In fact Mevan represented the third generation of the Balalla clan in cricket at Trinity and later became an attorney-at law.
Mr. Balalla too played for Trinity and was the stumper in the First XI cricket team.
He was a stern disciplinarian and honest friend, a lovable husband and good father . Although he was straightforward voicing honestly held opinions, he never flattered anyone to be popular and offered constructive criticism where necessary. He was a voracious reader too.
Sadly, Mr. Balalla was afflicted with a deadly disease during the latter part of his life. He is sadly missed and fondly remembered today on his 10th death anniversary by all of us who loved him. He died on March 29, 2011 at the age of 78. He was the brother of former Governor North West (Wayamba) Thissa R. Balalla.
I thank God for giving me such a fine Boss. It's hard to believe that he is no more. We know he is at peace now and pray that his soul may find eternal rest.
 Lalin I. De Silva
---
I miss your smiling face and constant guiding light
RUKIE  EHELIYAGODA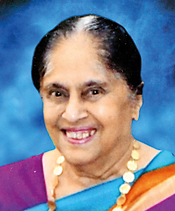 Ammie, you are never far from thought and ever near in love. It's love that fills each thought of you every day and especially on what would have been your 95th birthday (March 26), that blossomed into the most beautiful and incredibly happy memories.
You passionately loved God and the Holy Spirit was your best friend. Your steadfast faith and trust in God was the shining beacon that enriched my life every step of the way.
An elegant soul with sterling qualities, you possessed a heart of gold devoid of malice. You had the ability to sense the sadness and needs of people and your heart would open up spontaneously in magnanimous proportions to ease their burdens with empathy, compassion and financial support, in silence, sans any fanfare.
Ammie, you were blessed with an incredibly happy disposition, bubbly and cheerful; a charming and gracious personality with a kind face that touched many souls. You were a dependable, faithful and trusted friend to your constantly widening circle of friends who sought your counsel and enjoyed your company even as your smile lit up a dark moment in the warm glow of your home.
I miss your smiling face, childlike delight and enthusiastic participation more keenly at family gatherings where you always reigned as the livewire, singing melodiously and dancing. You and Thathie made a dashing couple that turned heads whilst tripping the light fantastic.
Ever the stylish lady, one could always look forward to seeing you impeccably and elegantly dressed, showcasing an exquisite taste in saree.
Ageless, exuberant, unique and imbued with an exceptional generosity of love, you were always found in my corner with guidance, encouragement and endless sacrifices.
I hold you closely within my heart
And there you will remain
Until the joyous day arrives
When we will meet again
Your loving daughter
Charmaine Eheliyagoda Madurasinghe
---
We will never forget her unassuming ways
VINITHA RANAWANA
It is with gratitude that I write these few lines in remembrance of our sincere friend Vinitha. It was indeed my good fortune to meet Vinitha when I  joined the Inner Wheel  Club of Kandy about 30 years ago. I got the opportunity to move closely with her due to our Inner Wheel activities. She was very straightforward and had the rules and regulations of Inner Wheel at her fingertips. I learned a lot about the principles of the movement from her as she was an authority on Inner Wheel affairs and always guided us.
Her most admirable quality was her unassuming ways and willingness to teach us the correct way of doing anything. Most importantly she set an example to us by practising Inner Wheel principles at all times.
We missed her active participation and her valuable advice when she moved to Colombo. However  she kept close contact with her Inner Wheel friends and followed the activities  of our Kandy club, participating in District events as well. She would always give the correct advice without been partial. We not only lost a true sincere friend, but it is a great loss to the Inner Wheel movement as she contributed immensely at the club and district level too. She held many posts at the District level,  and was twice District Secretary. Though she was well qualified to be the District Chairman of Inner Wheel, she did not take up that prestigious post as her  beloved husband had to undergo surgery the previous year. She quite rightly decided that her duties as a wife were more important.  She believed in the motto 'Charity begins at home'.
It is indeed very sad that she is no more with us and the only consolation we have is that due to some good karma, we had the good fortune to associate closely with her. She phoned me a few days before her demise on January 11, and we had a good chat –I  little realised that it would be the  last time I  would speak to her. I will always remember the good times we had with her. Most of all, I appreciate her good qualities and the high principles she stood for at all times.
Unfortunately we were unable to pay our last respects to our dear friend due to the Coronavirus restrictions.  However, as we know that everything is impermanent, we wish her the Supreme Bliss of Nirvana in the shortest possible time.
R. W. W.
---
The young lad from Jaffna who went on to live an exemplary life 
SIVAGURU GANESAN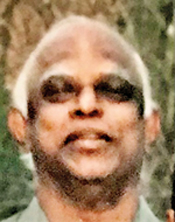 Good people die every day, yet, not all of them affirm for us the goodness and kindness in humanity like Sivaguru Ganesan.   A kind, tolerant being, exceptionally honourable and noble elements were intrinsic to his very soul.
He passed away on March 6  six days short of his birthday March 12- Mahasivarathri, and left a rich legacy of positive experiences with those who came to know him.
I very clearly remember the day he came to our house to be betrothed to my sister. It was at the height of the JVP insurgency in 1971 and curfew had been enforced. Shakespeare wrote "the fault lies in ourselves and not in the stars" but for Ganesan it was the 'stars' of Vedic astrology that brought him to our family.  Ganesan loved people and was willing to do the hard work to build relationships with our family and the public.
His brilliant intellect with socialist leanings was recognized by Minister of Housing Pieter Keneuman and he was appointed Assistant Secretary. "It was Pieter Keneuman who taught me how to wear dress shirt and knot a tie," Ganesan said.  Many family members flocked to him when the Land Reform Act was passed into law. It would have been easy for him to take a cynical or authoritative attitude but his humility and need to act ethically kept him apart.
But of course, Ganesan was human. He struggled against unacceptable transgressions of some of the values that his principled mind accepted as inimical: trust and honour of one's word. Greed and duplicity were anathema to him.  But, he gradually came to terms with what 'stars' had brought upon on him and accepted it. Unlike others, this young lad from Jaffna had over the years cultivated a learning mindset.  His humanity extended not only to his own family and friends but to anyone else whom he came to know. People liked him for his sincerity and enthusiasm. He was generous to the core, patience was his virtue.  His life appeared to be an open book but he silently carried a heavy cross at every stage of his life.
Ganesan's academic achievements and stellar leadership in the University of Hong Kong, Department of Architecture is etched in its history. He returned to Colombo after spending some time in London at retirement. He spent his time reading books that he had put aside. He had great admiration for English prose. His childhood had been in pursuit of academic scholarship and books in English language were not available. He wanted to master the art of being able to write elegantly his thoughts. Ganesan had such powers of concentration he could complete reading a book within a few hours.
When he became aware of my deep interest in the philosophy of Buddhism he sent me books published by scholars from Japan. His philosophy was to encourage anyone to read, learn and widen knowledge. His values straddled both Christianity and Buddhism: we are our brother's keepers, compassion, kindness and charity to all sentient beings.
I remember an email about adopting a stray cat, observing its habits and trying to regulate its mealtimes to coincide with sleep wake cycle. Ganesan reasoned the cat had been roaming around night and day in search of food. Compassion combined with science.
Ganesan loved going to St. John's Fish Market in Kotahena. He would drop off at my elderly home-bound parents a share of the day's buy and then proceed home. Such was his generosity. My mother always respected and loved Ganesan and even at the height of dementia she would smile brightly when she saw him but her children had no such quick response.
He sponsored many young people to seek their fortune in a foreign land including the daughter of my parents' 'care giver' to England. Even though he was in retirement he furthered her education and marriage. He referred to her as his fourth child. Ganesan was always proud of his late mother who remained alert and active at 98. He did his duty by his late elder sister and brother. He was the guiding light to his late younger brother's children and ensured their success in life.
He had weathered a major heart surgery in England. Ganesan's wish was to return to Jaffna and teach students. But that remained a dream.  The social isolation and lack of stimulating company began to gnaw at his will to live. He wrote "my brain is now rustic and I am tired". The life of this young lad from Jaffna who lived an exemplary life had run its compass.   I quote Lord Buddha's sermon, "He goes unto Nirvana, he is one with life, Yet lives not, he is blest, ceasing to be."
Farewell dear Ganesan, your name from now "immortal life shall have, though we once gone, to the world must die".
Grieving sister-in-law
---