Tributes paid during final rites of late Most Ven. Agga Maha Panditha Kotugoda Dhammawasa Nayake Thera
View(s):

Final rites of late Maha Nayake of the Sri Lanka Amarapura Maha Nikaya, Most Ven. Agga Maha Panditha Kotugoda Dhammawasa Nayake Thera was performed on March 25 at the Independence Square in Colombo.

A large number of mourners had gathered to pay their last respects to Mahanayaka Thera.

President Rajapaksa paid his tribute addressing the cremation ceremony of the Thera and said, demise of the Thera was an irreparable loss to all the Buddhist around the world.

The President stated that the Mahanayaka Thero has always exhorted the Government and Heads of State to work towards a country full of compassion and tranquility.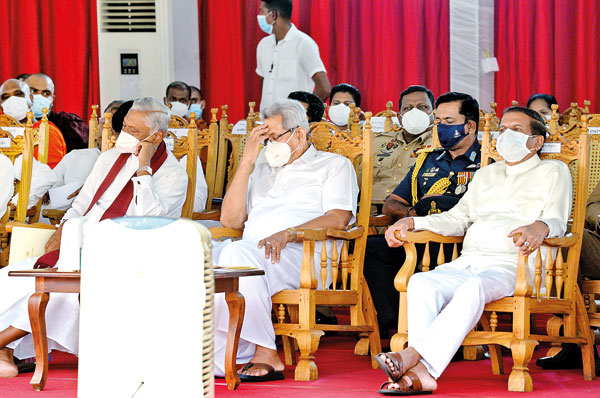 President Rajapaksa highlighted that the Mahanayaka Thera's voice, his style of speaking coincided with his benevolence in his heart. "The Thera was engaged in propagating the Dhamma in villages as well as in foreign countries."
Prime Minister Mahinda Rajapaksa, in his message read out at the funeral ceremony said "The Thera has also given invaluable advice to me to enrich my political and personal life as well and his passing away would be an irreparable loss to the Buddha Sasana."
The Nayaka Thera entered priesthood at the age of 14 and was ordained Upasampada in 1954 at the age of 20. He was the Anunayaka, Co-Registrar, Registrar and finally the Mahanayaka.  Ven. Kotugoda Dhammawasa was selected as Mahanayaka Thera of the Amarapura Order, after the passing  away of Ven. Agga Maha Panditha Davuldena Gnanissara Thera
He became the chief incumbent of Sri Dharmapalaramaya, Mount Lavinia in 1967.