What started off as doodles ends in colouring book
By Ruqyyaha Deane
View(s):
Colouring has gained increasing popularity in recent years, recognised as a useful activity to increase concentration, motor skills and focus while reducing stress and anxiety. It is not an activity that is limited just to kids any more as adult colouring books filled with mandalas, geometric designs and fantastic patterns have become a staple in bookshops the world over, beckoning those with an artistic bent to splash out.
Artist Erandathie S.K. Damunupola, a lecturer in English Literature at the University of Colombo recently launched her original colouring book 'Liyapatha'.
 "The idea originated as doodles I did on scraps of paper while sitting with my kids who were doing their online lessons. I started drawing these designs initially as a de-stressing activity, it was just a pastime," Erandathie recalls. Once she realised that the papers had started piling up and her beautiful line drawings could be utilised in helping relieve other people's stress, she decided to make a book out of it.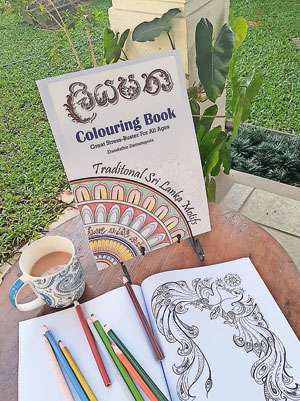 Liyapatha is a 30-page book consisting of hand-drawn designs inspired by ancient Sinhala motifs categorised into floral, geometric and animal patterns along with Sinhala letter designs. The book is the first of its kind to use traditional Sri Lankan designs in a colouring book.
"The decorative leaf seen in traditional Sri Lankan designs is called the liyapatha. In the hands of the skilled artist this basic motif will grow into more intricate patterns like liyawela – a leafy creeper," she says adding that the book opens with the punkalasa – the traditional symbol of prosperity.
Erandathie hopes with public support, her home-based project will expand to be sold through an online store or a bookshop.
Those interested in purchasing Liyapatha, could email Erandathie on elegantwall28@gmail.com or connect with her through the facebook page Elegant Impressions — https://www.facebook.com/Elegantwall