Today, wedding exhibition at Hikka Tranz by Cinnamon
View(s):

Hikka Tranz by Cinnamon, the  beachfront resort of Cinnamon Hotels & Resorts will host a wedding exhibition today, along with multiple vendors and suppliers, all experts in the wedding industry.

Visitors to the resort will be able to enjoy exciting discounts on wedding, engagement and honeymoon packages when they confirm their bookings at the event. They will  also get to experience first-hand the variety of tasting menus, personalised tours of the ballroom, beach wedding area and garden wedding areas, while meeting with wedding suppliers and event planners.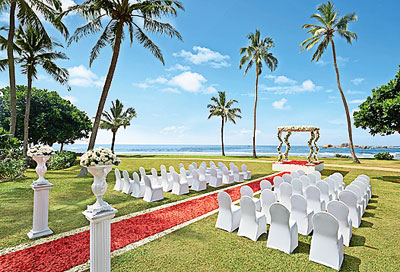 General Manager, Hikka Tranz by Cinnamon, Lankesha Ponnamperuma said the wedding show offers the perfect platform for attendees to plan and confirm their wedding day wishes in ease, comfort and confidence.
The Wedding Exhibition at Hikka Tranz by Cinnamon will be the first in a series of events to be held annually – showcasing destination and island weddings in Sri Lanka as offered by Cinnamon Hotels & Resorts through the 'Cinnamon Island Weddings' offering.
Located on the beach, Hikka Tranz has 150 sea-view rooms, three themed restaurants including a speciality crab restaurant and three  bars; a lagoon-style pool and kids' pool, plus a Balinese spa. The property is scheduled to re-open in July 2021 after undergoing enhancements and upgrades.