Splash of tradition
By Sashini Rodrigo
Emerging designers showcase their creativity on Day 1 of CFW 18th edition
View(s):
Continuing its journey towards developing the next generation of fashion designers in Sri Lanka, Day One of HSBC Colombo Fashion Week 2021 kicked off its 18th edition with the Emerging Designer showcase at Shangri-La Hotel Colombo on Thursday, March 25.
Eleven young fashion designers from CFW's Emerging Designer Development Programme presented their Summer 2021 collections, designed and developed on the central theme of Circularity in Fashion, with a particular focus on incorporating traditional crafts this year.
Commencing the night with a chic collection of monochromatic high street wear, Akash Paranavithana incorporated statement gold accessories and woven bags for versatile layered looks.
Next, Navindri Ranatunga utilised a warm earthy palette, natural fibres and various types of pleating and frilling details for 'Tales of an Island', which drew inspiration from ancient Sri Lankan flags and traditional garments, while Hashani Fernando's earthy-toned 'Cottage soul' collection combined the key design element of crochet with breezy linens and cottons.
Using fashion to shed light on social issues like violence against children, Hasindu Jayasinghe's collection utilised baby pinks and blues contrasted with funereal greys and blacks, offset with stark batik designs.
With a central motif of the traditional Sanni mask, Nipunika Fernando expertly transformed traditional garments like the Kandyan osari into contemporary street and event wear to deliver one of the best collections of the night, and notably the only collection accented with face masks.
Inspired by 1980s men's workwear, Kavishna Kuruwitage combined bold batik with block colours accented with sequinned skulls to create 'Skeletal Dimensions', followed after a short break by 'Unleash the Beast' by Chamanka Pehesara, a multi-textured two-toned collection incorporating heavy materials with cinched belted waists and boho-chic fringe detail.
Naduni Katuwandeniya's collection brought the colours and shapes of coral reefs to the runway through a colourful resortwear collection that featured Beeralu lace-accented ruffles and dramatic sleeves, while Ishani Rajapaksha drew her inspiration from the aesthetic of lines for a collection that experimented heavily with pleating and batik. For 'First Concept', Nisansala Deegala took the dying art of the traditional Sri Lankan brass industry to the fashion world by using it as accents and accessories to offset the all-white natural fibre collection.
Finally, 'PLAY FOR ME' by Divya Jayawickrama was inspired by playing cards, and incorporated unusual techniques like hand block printed motifs and natural surface dyeing for a luxurious vintage-inspired formalwear collection with high-fashion silhouettes and structure — ending Day One of CFW with a royal flush.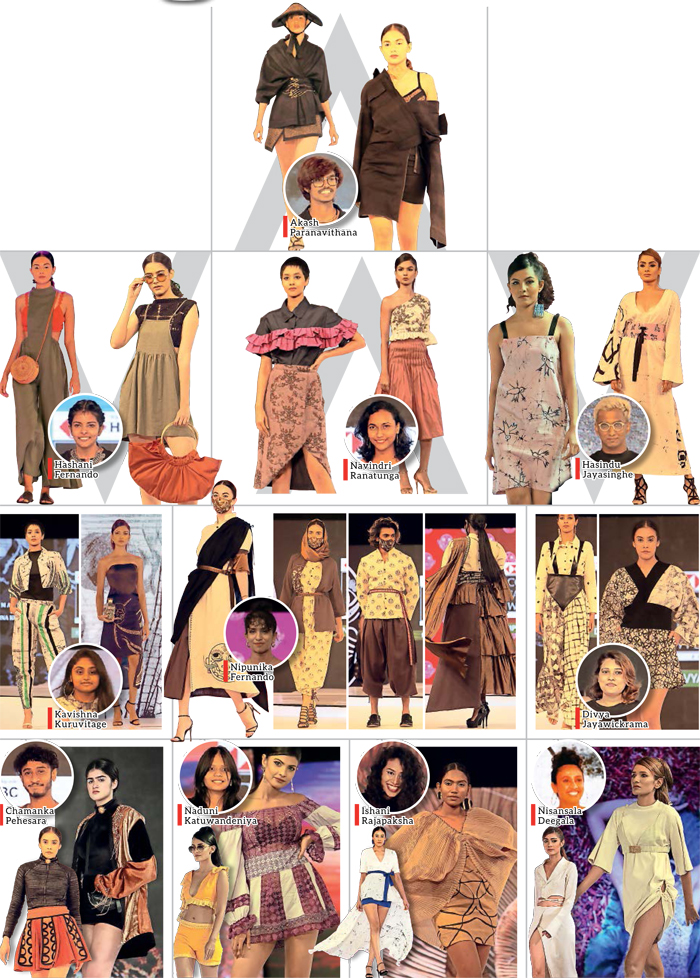 Pix by M.A. Pushpa Kumara