Bollywood blockbuster remake back in theatres
Hindi film 'Haathi Mere Saathi' and Tamil version 'Kaadan'
View(s):
'Haathi Mere Saathi' influenced by 1971 blockbuster Hindi movie under the same title is now being screened at theatres around the country. 'Haathi Mere Saathi' (Elephants Are My Companions) was the Bollywood box office hit directed by M. A. Thirumugam, with screenplay written by Salim–Javed and dialogues by Inder Raj Anand.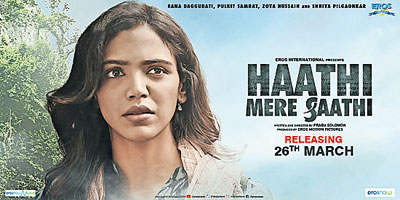 Directed by Prabu Solomon  the Hindi version stars Rana Daggubati, Pulkit Samrat, Shriya Pilgaonkar and Zoya Hussain and the film was also made in to Tamil as 'Kaadan' and Teligu as 'Aranya'.
The trilingual version was earlier planned to be released on April 2 last year, but postponed due to the spread of Covid-19 pandemic.
When a corporate giant threatens to destroy the jungle and the eco-system of elephants, a son of the soil, the protector of the forest, rises to protect his home- the forest.  The animals and herd of elephants come to his rescue… will he succeed?
A remote peaceful forest land in Assam is protected and cared for by a sole human, Bandev, who is particularly attached to a group of elephants. The bliss and calm of his forest and its wildlife is disturbed when a large multinational company with support from political bigwigs who unlawfully grab the land and begin construction of a golf course.
Bandev tries to thwart their attempt at redevelopment but the far too corrupt system fails him and frames him for a crime he did not commit. In the meanwhile, the construction company hires an able elephant trainer Abeer and his trained 'kumki' elephant to fight against Bandev and his herd. As the two sides continue battling, a wall is built, and the elephants have no access to their water source. Abeer slowly starts to notice the injustice towards the animals and tribal, but his conscience is completely shaken only when he loses someone very close to him because of the sheer indifference of the multinational company. Abeer now joins a Maoist group led by fierce Arvi and her brother and organises guerrilla attacks against the authorities. While simultaneously, Bandev is peacefully fighting with the law to stop the construction.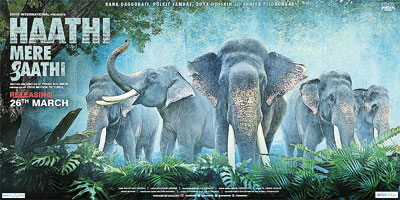 However, all their efforts fail and the golf course's inauguration by the prime minister is announced. On the day of the inauguration, a desperate Bandev as a last resort decides to protest. He and the rebel tribal group sit on a dharna on the highway not allowing the vehicles to move. The authorities try every trick in the book and finally when they decide to attack him physically, the elephants rush to his rescue. People on the highway realise the truth behind Bandev's crusade and soon it becomes a social media issue forcing the PM to announce the demolition of the wall. As peace is restored, an unexpected occurrence makes Abeer take the mantle of the new Bandev.
Hindi film 'Haathi Mere Saathi' and  Tamil version 'Kaadan' are now being screened at  Liberty by Scope Cinemas, Colombo City Centre, Savoy -Colombo, Savoy-Rajagiriya, Regal-Dematagoda, PVR – Cinemas,  Majestic Ultra Cinema, Concord – Dehiwala , City Cinema – Mount Lavinia and other theatres around the country. - Compiled by Susitha Fernando