APPRECIATIONS
View(s):

Gone too soon, her expertise is missed now more than ever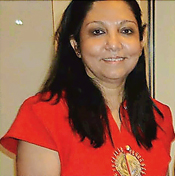 Dr. Usha Perera
The passing of over a year has not diminished the shock that dazed all of us at the untimely departure of Usha. She left us in the prime of her life. She had been at a lunch following an official meeting of the Health Ministry when she had collapsed. There was hope as she had been in the company of her colleagues who were Medical Specialists. Her husband Asoka says that she received the best possible attention and treatment at the Colombo National Hospital to which she was admitted under the care of her colleagues.
Yet, despite hopes and prayers of her near and the dear, she passed away leaving a grieving husband, her lovable eleven-year-old twins, Amithi and Manjari and her relatives and friends in a state of shock.
Usha was too young to die and even though a doctor, she had not been attentive to her own health. What saddens us as relatives is that she was full of plans for her daughters. Whenever we met up, her conversation invariably turned to them, of their chatter, mischief and how different they were from each other despite being twins.
Usha was one among my 31 first cousins on the paternal side, the only child of my paternal aunt Rupa Unantenne. Fate played a role when Usha's first day at school coincided with the day I started my career as a journalist at Lake House. Her parents, with her admitted to Bishop's College, moved from Kelaniya to a house opposite the school. I, from Kandy, moved in with them and very conveniently travelled from there to work. The daily evening drive in their Morris Minor, to Galle Face, was a ritual which made me acquaint myself with Colombo.
From then on, our bonds grew close. Regent Flats to which I shifted after marriage, virtually became their second home. With Usha's family having moved back to Kelaniya, my aunt and Usha became my daily visitors. They waited after school, until uncle Reggie came after work to take them back to Kelaniya. And whether it was a sportsmeet, prize-giving or a school concert at Bishop's College, we all tagged along with Usha until she entered the North Colombo Medical College where she read for her MBBS.
Once she passed out, her courting days with Asoka, commenced from my apartment which led to a very compatible and wholesome marriage. And for Usha, it was a total commitment to her career. As a Board Certified Consultant in Community Medicine, she served in the Ministry of Health as Consultant Physician in its Management Development and Planning Unit. She also had a post-graduate training attachment as a Registrar of Community Medicine.
While she worked in the Directorate of Organisation/Development, she contributed towards the development of health and helped the functioning of the Secretariat for National Health Development Network. Even while in Canada where she spent three years with her family, on no pay leave from the Ministry of Health, she followed a series of post-doctoral degrees. Back home, she got herself involved with the working of WHO in Public Health Consultancy and was also part of a Research Team on Social Determinants of Health. With her language and literary skills which she had already proved as a journalist at the Sunday Times and The Nation while awaiting A'L results, she compiled and edited the newsletter of the WHO/Colombo.
Having functioned as the Senior Coordinator in the Disaster Preparedness and Response Division, her expertise in Community Medicine would have come in useful at a time of disaster as now when the community is gripped with a deadly virus.
Rajitha  Weerakoon
---
 He sparked a life-long learning interest in his grateful student
Esperance Seneviratne Ratwatte
I write in appreciation of my late teacher, Esperance Seneviratne Ratwatte, who passed away on December 27, last year. He was born on September 5, 1940 and was the elder of the two children of Basil Perceval Ratwatte and Maura Ratwatte (nee Thaldene). His family was a traditionally Kandyan one, descended from the Migastenne and Ratwatte Adigars – chieftains of distinction who served under the kings of Kandy.
In 1945 he entered Trinity College, Kandy, the institution that became synonymous with his career: first as a student and then later as a teacher. He was throughout a hosteller in the school – starting with the matron's dormitory to attend the lower kindergarten class and finishing with the Alison Boarding House in the upper school where he became a prefect. Among his contemporaries in school were the late Messrs. Neil Halpe and Gamini Dissanayake. After leaving school and a brief stint as a teacher in Bandarawela, he joined the staff of his alma mater in 1964 and continued in service until retirement in 2003.
During his career he encountered seven principals of Trinity College, not to mention several more vice principals and members of staff plus a multitude of students.My own encounter with him personally as a student came when he oversaw a folk-lore project I did on the last King of Kandy. Pleased with the outcome, he urged me to delve further into the subject and publish articles thus sparking my interest in the Kandyan kingdom.There was a gap of a few years after my leaving school in the early 1980s before I encountered him again on school matters from 1987-93, albeit rather indirectly. He was pleased to hear of my progress but chided me again about publication – advice that took me two more long decades to fulfil successfully but the subject matter remains to date one of my avid interests.
In school, he mainly taught Social Studies with History incorporated into it for the middle school grades 6- 8 and became a great favourite of the students on whom he cast a paternalistic gaze. He periodically took on other roles like managing minor employees' provident funds, being secretary of the staff guild, involvement in the school's library council, the annual magazine and related press activity culminating with the publication of Trinity's 125th Anniversary volume in 1997.
While being a teacher, he also pursued and obtained a Bachelor of Arts degree reading as an external candidate in the early 1970s – a commendable attainment, constrained as he was with young children of his own at that time and his wife being away for teacher training for much of the time. One of my earliest student recollections was that of our principal announcing his successful graduation at the school assembly.  As an individual, he was not above his own peculiar traits.  The characteristic clearing of his nasal passage to clear his sinuses and the partiality towards his 1953 Morris Minor convertible were the stuff of delightful student legend. He was susceptible to foibles as much any other person but never did pretend otherwise. Yet, it was all underscored with the remarkable sincerity he showed for his students' growth and wellbeing – a hallmark of the devoted teacher.
Upon retirement he moved to Colombo to be closer to his children, two of whom had also studied at Trinity. In those later years it must have been gratifying to him beyond measure that they became professionals and practitioners in the medical and legal fields apart from the delight of making him a grandparent.
Yet, he yearned deeply and sometimes aloud for his native hills of Kandy. He would visit there occasionally to reminisce fondly of the past. That past included the rich history of Kandy and his homestead in Gunnepana that lay in its outskirts. That past also included the school where he received his first lesson as a student and delivered his last as a teacher; and somewhere in between, he sparked a life-long learning interest in his grateful student. May he be always remembered with appreciation for that.
Ananda Abayaratna
---
Simple engineer who set the benchmark for quality of electricity distribution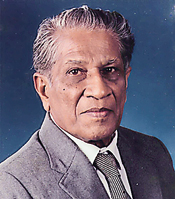 H.S. Subasinghe
A professional of the highest calibre and an institution builder par excellence, Engineer H.S. Subasinghe was chosen in 1983 by the then President J.R. Jayewardene, to solve a burning issue at the time: the poor status of electricity distribution networks managed by municipal councils, urban and town councils. In most cities, it was impossible to get an electricity connection to a new house. Reason: distribution lines were overloaded. Years of neglect, under-investment and poor financial management had left these power distribution networks worthless. Technically, city dwellers had electricity, but practically almost no electricity. Breakdowns were so frequent, old-timers will remember.
Starting a state-owned company from scratch, taking over dilapidated lines, designing new lines, securing investments, pulling down old lines, building new lines, and leapfrogging into modern technology at the same time, were no easy tasks. Eng. Subasinghe provided active leadership to a hand-picked team that created Lanka Electricity Company Ltd (LECO). Resisting moves to let LECO slide down to become yet another government-owned entity, he had a fresh-approach to everything: how a line is built, the quality of the pole, efficient customer service and on-the-spot billing. "State sector stability, private sector efficiency" was his aim for LECO, and he achieved it!
When he championed LECO using an electricity pole that needs no supports, he argued: "Why should we occupy the precious garden space of city dwellers by placing supports to our poles in their gardens?" When he championed the use of insulated wires in city lines, many criticized, but he said: "Why should we destroy the banana trees and mango trees in gardens, when we have an option to use an insulated wire?" By the 1990s, LECO was already an example to all electricity distributors in the region. Most countries in South Asia have still not been able to reach the quality of service that LECO provided since early 1990s.
Practising his own style of "inclusive management", he led LECO continuously for 16 years, across many ministers, governments and Presidents, who all found him most suitable to continue to lead LECO, in its service to half a million satisfied customers. "I am a simple engineer from the village; most of my working life, I would walk to Udugampola bus halt, take the bus to Gampaha, then the train to Fort, and walk to office; I had no political connections; I still do not know why the President selected me to create LECO and lead LECO for such a long time!" he said, aged 96, during an interview, which probably was his last "official" duty.
H.S. Subasinghe, the simple engineer from the village who set the benchmark for quality of electricity distribution in developing Asia, departed on February 24, aged 98.
 Dr. Tilak Siyambalapitiya
---
To an unforgettable uncle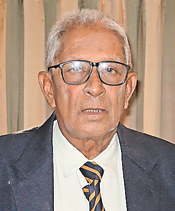 Stanley D. Gunaratne
March 12, 2021, marked three years since you bid goodbye (just three months before your birthday- June 12).
We fondly called you "S.D uncle" or just uncle, but you were more of a grandfather to my brother and I. You knew me from the first day I was born and were there for my first birthday, and alongside for most of my growing years.
We will never forget the days spent visiting your lovely home in Gampaha where you would welcome us with open arms at any time of day. There was never a time that you would allow my family to leave until we had tea and biscuits. The famous red 'Krisco' tin would always show up!
Your sense of humour, charisma, brought life to any get-together.
When Avurudu dawned and the creamy kiribath along with kavums and cake would decorate the large dining table, I cannot forget how you would say "have a plantain " or "take another piece of kiribath child". It was an occasion to look forward to.
You were always ready to render help to strangers and friends – during "danes" (alms givings) you would show up with a pot of steaming soup, or a tray of freshly made Biryani. Your abundance of kindness did not go unnoticed.
When my family and I were in search of a place to stay, you came to our rescue with your impeccable networking skills; the time when we needed to buy a car, or when my brother needed a job, those skills once again shone.
Uncle you were gregarious, you had a penchant to help and your heart was great, generous and compassionate.
Your bi-weekly telephone calls to us in Toronto, Canada,would brighten and lift our spirits. The numerous views exchanged and the jokes would bring a smile to anyone. Your genuine kindness brought a warm glow of joy and gratitude to my heart.
It has been three years you set sail but every day I wish the phone would ring and in my mind it says " will it be dear S.D uncle calling".
You have been an exceptionally caring, loving husband to Wimala (we fondly called her Scottie aunty owing to the dog she owned), an adorable father to your three grown-up sons, and a good grandfather not only to your grandkids, but to my brother and me as well.
The memories are etched, and to me I always know you as the "diamond in the rough". You are my shining star that shines at the darkest moments.
May you attain Nibbana, dear Uncle, miss you dearly.
 Sapna Dantanarayana
---
Remembering a beautiful life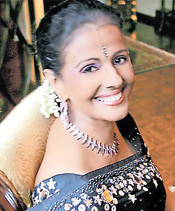 Padma Maharaja
For a life so wonderful, we thank you Father
With abundance of love, life and laughter
She spread so much joy and
took the time to care
Her life was one that was truly rare
At the appointed hour she entered her rest
When You gather Your harvest,
You sure take the best!
Though our hearts still grieve,
our faith remains
In your eternal kingdom, we will meet again
 Karen
---