A definite swansong, but also that familiar vitality
View(s):

Epiphanies and The Historiographer- two posthumous collections of Jean Arasanayagam's poetry

There is something distinctly offbeat about the two posthumous collections of Jean Arasanayagam's poetry published by her family. The first, titled Epiphanies, is tinted with dusky reds and other twilight colours on the cover as well as some of the poems within; not wholly her usual celebrations of robust island life in all its sensuous, lush glory. The book is thus clearly Jean's swansong; a final aria keen with autumnal poignancy.

The cover has a picture by Jean's daughter Devasundarie of a window with a sunset in flaming scarlet outside and, within, three visions hovering in thin air like those conjured by Macbeth's witches. These 'visions' are of course the 'epiphanies'- those sudden realizations about our existence that flash like lightning on the horizon when one knows one's evening of life is about to end.

References to that 'final crossing' abound in this collection. In the poem about the Suspension Bridge at Peradeniya Gardens, so close to Jean's exuberant youth, she sadly reflects:

"… perhaps there is still one more river, / as I await the boatman Charon to row/ me across that mythical river, Styx, / within that underworld of perpetual darkness…"

And in 'Life. Death':

"…withering like spectral leaves, / changing colour, shape, form, / until all that is left are spectral veins/ sapless strands crumbling in ruinous seasons"

But to relieve this somewhat macabre note, there is plenty coming from the same place as the good old classic bubbling Jean corpus.

In Country Dances, she remembers how, as girls in a privileged Methodist school, they used to dance Hunsdon House and Gathering Peascods against 'our own familiar landscape/ the frangipani trees'- never imagining they were 'colonial clones' aping genteel arcane British.

And then the question (since Kindura in 1973) of  Where do I Belong? It comes intermingled with the guilt of having sprung from the loins of those ravaging 'conquest seekers' who gashed the landscape of this island.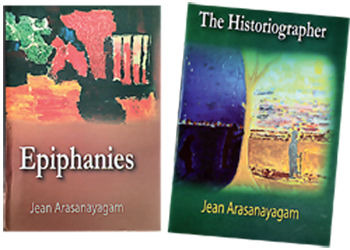 "Was this self with whom I am now so well/ acquainted begotten from that now nebulous past,/ a minuscule atom, myself some strange engendered/ creature washed up ashore lying among the/ glazed shells and contorted starfish"
Visits is an insightful poem about how exchanges of social calls- light, informal, fun rituals between friends and relatives with conversations on 'cushioned upholstered furniture and food' are the crucial first rehearsals for the adult social lives we will go on to lead:
"with their special codes of utterance and behaviour,/ beneath the veneer unruly emotions perhaps reposed,/ pent up feelings, that longing to hear your voice heard/ but the conversation followed a decorous pattern,/ with time introductions over we slipped into our/ habitual familiar tone…"
Jean's second collection, The Historiographer, is full of journeys and those pleasures of Dutch galleons, English ancestors, silverfish-eaten thombos and "rijsttafel, roast capons, spicy, tongue tingling, grilled fish".
Arcadia, memories of a holiday in Dambulla, is full of nature's solitary grandeur:
"… That single white cormorant/ on the verge of the lake, the orange/ bronze wingspread of soaring hawks/ the skeletal limbs of denuded spectral/ forests, mountain ranges enwrapped/ in silence, a panoramic view/ glimpsed on my continuing journey/ into the naked realities of life/ I must resume."
In Swan Popli, the rich atmosphere of an Indian town:
"the garlands of flowers, red, turmeric/ yellow, white, interposed with golden threads, beads/ and tassels, stacks of sugarcane to be crushed into/ nectared juice, ripening bunches of grapes, kamalam/ oranges honey sweet…"
And in Dialogue with the Ocean Jean listens to "those water-tongues that weave their endless narratives":
"Those ghostly sailing vessels suddenly appear on the horizon/ with their spectral hulls and billowing brine-stained/ sails, lurching in the seascape of my avid/ imagination"
The two books- crepuscular but with the brightness of the last hour- stand on their own. They are testimony to Jean's vitality and, even in her final moments- her unblurred vision.