A brush with master strokes by pen artist
View(s):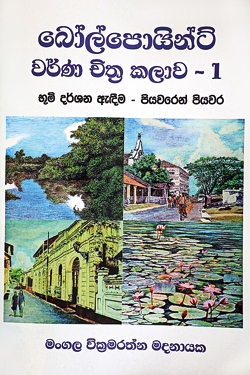 Ballpoint Varna Chitra Kalava 1- Bhoomi Dharshana Endeema
(Colour Ballpoint Pen Art 1- Landscape Drawing) -by Mangala Madanayake
If 'ballpoint pen artwork' sounds dubious, take a peek at this book by Mangala Madanayake. Replete with many an illustration by the author, a self-taught artist, it grounds you on the basic techniques of a medium that he convincingly says could be as rewarding as oil on canvas, or watercolour.
The book has carefully drawn exercises to help hone your pen, and provides the know-how to launch yourself as a ballpoint pen artist. Mangala says, "because I had no basic knowledge of ballpoint pen art it took me a long while to establish myself; but with what is imparted through this book, you can reach my level of proficiency in very little time."
To go by the finished art of rustic scenery, the seeming 'mundanity' of the medium is but sheer prejudice. As Charles Dayananda, lecturer in art, says in his preface, "It is incredible- the way he uses the tip of a ballpoint pen to achieve the same effects of watercolours or oil."
The author is a presidential award winning artist, with 35 years of experience and has held 28 exhibitions over the years.