14 killed, 33 injured in the worst road accident in recent years
View(s):

Recording the worst road accident in 16 years in Sri Lanka, a private bus plunged down a 200 foot precipice in Passara yesterday, killing 14 people and injuring 33.

The bus heading from Lunugala to Colombo went off the road while trying to bypass an oncoming vehicle. The bus which moved to the edge of the road went down from a spot that had been washed off earlier.

Police believe it is an apparent case of negligence on the part of the driver who survived the accident.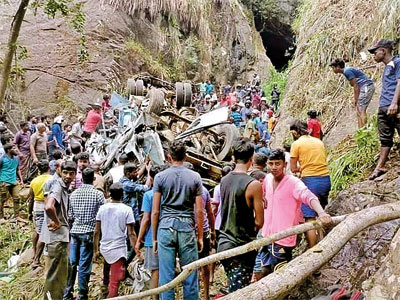 "Initial evidence shows that the bus was speeding when it lost control. We are carrying out investigations to ascertain whether the bus driver could be charged with negligence," Deputy Inspector General (DIG) Ajith Rohana said.
Police said they were also trying to locate the driver of the oncoming tipper, who fled the scene of the accident.
CCTV footage shows that the speeding tipper appears to be travelling on the middle of the road apparently to avoid a boulder that had fallen earlier and still remained on the side of the road.
DIG Rohana said this too will be investigated
"The respective authorities are responsible to put up signs to notify drivers of damages on the road or whether there is danger ahead," he said,
However, he pointed out that negligence on the part the bus driver is evident due to the speed he was travelling and failure to take measures to avoid the accident.
Meanwhile Passara and Badulla hospital sources said they were awaiting the results of PCR tests done on the 14 passengers who died while the 33 injured passengers were also being treated at these two hospitals.
The accident occurred 20 kilometres away from Lunugala at the 13-mile post.
Most of the victims were residents of Hopton village in Lunugala.
Earlier the worst recorded accident occurred in 2005 at Yangalmodara, Polgahawela where 39 persons were killed. The accident involved a bus and a train. Pix by Palitha Ariyawansa