Sweet moments with cake pops, cakesicles
By Shannine Daniel
View(s):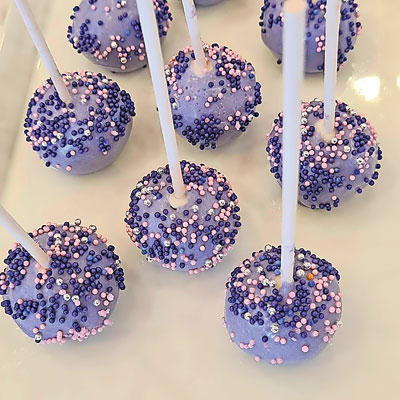 Cake pops and cakesicles are the latest innovation from Colombo's sweet-toothed creative home-bakers.
Cake pops are small treats made out of cake batter and icing rolled into small balls; cakesicles are made in popsicle moulds and have a chocolate shell surrounding a blend of cake and icing.
Both are becoming increasingly popular as party favourites at children's birthday parties, and bridal and baby showers.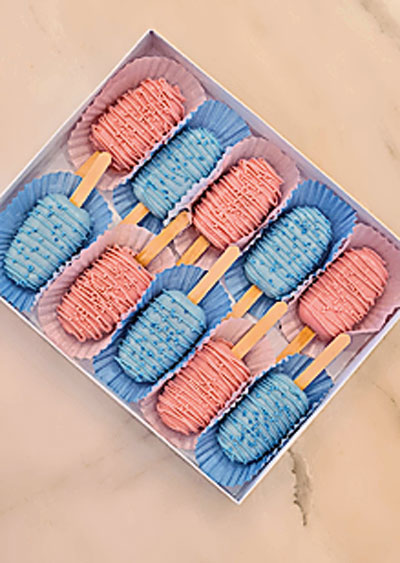 HF Desserts
The owner of HF Desserts, Fazeela Hassan, makes gorgeous cake pops and cakesicles as well as desserts such as cheesecakes, cake jars, tiramisu, tres leches, trifle, brownies, cookies and macaroons.
"It all started with my love of baking for my friends and family. I was inspired by watching stuff online and trying them in my kitchen as a hobby. I had always dreamt of opening a small business online, because I enjoyed making desserts, baking and decorating cakes. In 2019 I created my Instagram page, and still today I do my research while baking, making desserts and decorating cakes," Fazeela told the Sunday Times Magazine.
Fazeela says her cheesecakes and mousses are customer favourites.
"My customers can reach me through a phone call or WhatsApp message (076 6619 974), Instagram direct message (hfdesserts) or an email (hfdessertsslk@gmail.com)," Fazeela said.
Fazeela provides delivery within Colombo city and the greater Colombo area, and has a pickup option too. Right now she operates from her home, but is planning on opening a food truck or an outlet soon.
Best in Town Cakes & Cupcakes
Ballerina and fairy tale themed cakesicles and cake pops? Best in Town Cakes & Cupcakes have a range of themed cakes, cupcakes, cakesicles, cake pops, French macaroons, floral cakes, doughnuts and cookies for birthday parties and special occasions such as weddings.
Best in Town Cakes & Cupcakes are based at Alwis Avenue in Kalubowila and can be contacted through Facebook and on tel: 071 368 8588.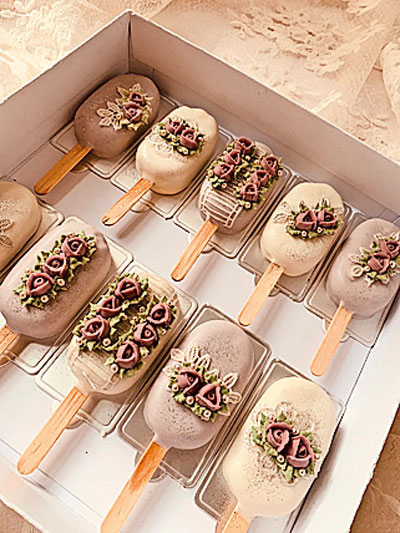 Baekeh
Cake pops is just one item out of Baekeh's portfolio. They create items for parties and wedding favours–from custom themed cakes and cupcakes, macarons, profiteroles to éclairs and monogram cookies. They also have savouries such as samosas, pizzas, quiche, bouchees and rolls.
The founder and owner of Baekeh also runs another online venture called Pink Platter which has a range of cakes, bakes, savouries and platters.
"Ever since I was a kid, I have been passionate about cooking and the colour pink. My most cherished childhood memory is the time I owned a pink kitchen set and made pretend food for my pretend friends. Needless to say, the moment I launched my own platform, I was hit by those memories. Hence the name Pink Platter. I consider myself a baker first and then a cook which is why my initial startup is called Baekeh and still very close to my heart," she said.
"Customers can reach us on Instagram (pinkplatter.sl and baekeh.sl) and Facebook (Pink Platter and Baekeh). We also take direct orders and are on delivery platforms such as Ubereats and Pickme Foods. For the time being, we are a home based business operating online."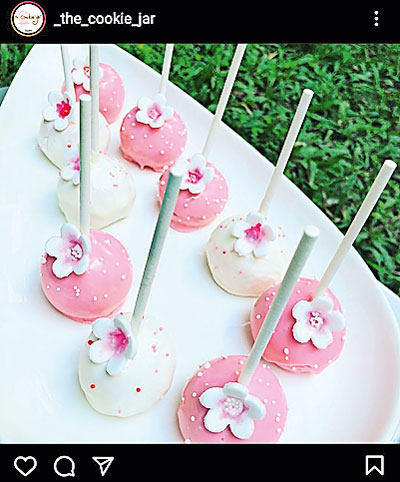 The Cookie Jar
The owner of The Cookie Jar, Sashi Anand got into baking as she found it was therapeutic. Starting off baking warm cookies and fluffy bread rolls as evening nibbles for her family, in time she expanded into baking cakes for parties at home.
"We offer customised cookies, cupcakes, wedding cakes, birthday cakes and structures. We also make tempting cake pops, crackle top brownies, soft éclairs, light meringue, designed cake pops, juicy tarts and many more. We also have introduced sweet platter boxes with a range of products which have become a hit with our customers," Sashi said.
Her latest venture is the high tea menu, which they customise according to the occasion. "The latest high tea menu we did was the gender reveal high tea which was a great success," Sashi said.
"We bake fresh products with lots of love and use the finest, high-quality ingredients all from Australia and the USA," she added.
The Cookie Jar delivers mainly through PickMe or Uber and they take orders via WhatsApp (076 534 9145), Facebook (The Cookie Jar) and Instagram (_the_cookie_jar). They accept bank orders and cash on pick up.
"I can proudly say I am one of the few who would happily take on a last minute order like a day ahead, or even a same day order. I mainly do this because of my daughter. She is always last minute and she once said 'I'm sure there are so many people like me who are last minute and would love to get an extra special something for their loved ones so let's do last minute orders too'," Sashi adds.