'Living on the Edge': Redefine teenage and sportsmanship
By Sanath Weerasuriya
Mario Ananda's song to motivate winners
View(s):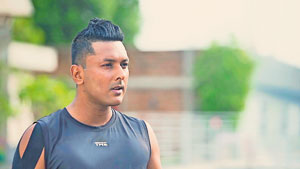 Multi-faceted young singing sensation Mario Ananda Abeykoon, the son of late Gratien Ananda, will launch his newest 'Mario Ananda YouTube Channel' on April 6, 2021 along with his new sports related song The song 'Living on the Edge' (English) / 'Randee Nosali' (Sinhala).
Mario Ananda Abeykoon came up with a new concept to uplift the sports aspect of the country two years ago. He has been engaged in many social services related to children, such as voicing against drugs, alcoholism, smoking, suicide, child labour and child abuse.
His newest song 'Living on the Edge' was created to redefine teenage and sportsmanship.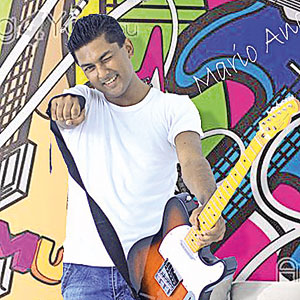 He believes that sports can help any child to overcome their tragic life styles. Putting focus into sports can build the personality, mindfulness and good health, which is crucial for a person in any age to achieve any goal in life.
'This song is mainly to encourage the sportsman to keep records in any sport or to break the world records, at least to have the idea to keep them going for the big break. Everything is possible as long as you do not stop believing in yourself' Mario said.
'The most important point why I thought of doing this visual on my own was to identify under 15 champions and record holders of Sri Lanka excelling in any kind of sport. I wanted to feature them in my visual with me so that the country would focus their attention on them. Any unfocused sportsman would get a chance to establish their identity via this song as some of them would run together with me, swim together with me etc. I found a boy in the age of 10, who is the national record holder for the swimming butterfly stroke, his name is Hathim. However I recently read in a newspaper that a child named Clark Kent has broken Michael Phelps' record for butterfly stroke. And I believe Hathim could break his record in the future' he added.
Mario is currently affiliated with projects conducted by ILO, Sri Lanka United Nations Friendship Association, Paralympics Sri Lanka to train basketball for the differently abled children and Youth Temperance Organization of Sri Lanka.
'I'm a vegetarian who never drinks, smokes or take drugs. I have proved the Sri Lankan music scene that a singer doesn't need drugs or any sort of stimulation to sing or dance, while being energetic throughout the show. And similarly I wanted children of the next generation to see that.
I've been training myself under professional trainers for the last few years to get ready for this visual in certain sports like swimming, running, kick boxing, cricket and basketball. Any sportsman or upcoming sportsman would grasp the idea of the song when they see that the artiste himself who's singing the song knows what it takes to undergo such painful training sessions to be outstanding' he said.
Sports can help any child to overcome their tragic life styles. Putting focus into sports can build the personality, mindfulness and good health, which is crucial for a person in any age to achieve any goal in life.
' The impact is much greater than anyone think when a well-known person or singer do something which is off his or her league. I've been singing almost all the places in the country for the last decade and poor people, children have heard my voice and apart from music I have visited many schools to talk to children to motivate them to keep their mark in this life time. That is definitely help me to send the motivation message through this song' he said.
'These kids will not only love the song but would feel what they've been through when they see me doing such sports with intensity. My message to the country from the song is that we are currently living in the era of winners, if you are skilled and if you are committed it's time to win. To win you must join, and to become a legend you must try and work hard' Mario believes.
'This entire concept of the 'Living on the Edge' was mine and was building it for the last three years. My sister Dulanjali Ananda Abeykoon was developing the idea as a partner of the production team (Mario Ananda Productions) of this song and visual. My sister Dulanjali Ananda who's a News Anchor at the Channel Eye of Rupavahini, directed this visual, Nevinda Jayasena was the Director of Photography'. The Tamil version of the song was written by Bagawathsing Nithyanandan and make up by Yogeetha Rathnayake. Recording Engineer was Gayan C Bentharage and presented and produced by Mario Ananda Productions.
 The visual will be launched on 'Mario Ananda YouTube Channel' on April 6 to coincide with International Day of Sport for Development and Peace.