'Let Him Go' Grandparents' battle to save their grandson
View(s):

'Let Him Go' Hollywood neo-Western film made by Thomas Bezucha, is a story about a retired sheriff and his wife who are grieving over the death of their son, set out to find their only grandson.
Based on the 2013 novel of the same name by Larry Watson, the movie is produced, written and directed by Bezucha and it stars Kevin Costner and Diane Lane as a retired sheriff and his wife, who set out to find their only grandchild and encounter an "off-the-grid" family, led by Lesley Manville.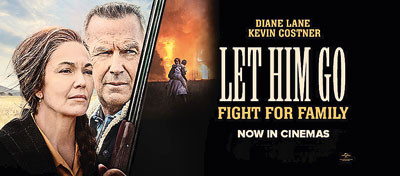 In 1961 Montana, retired sheriff George Blackledge (Costner) and his wife Margaret (Lane) live with their son James (Ryan Bruce), his wife Lorna (Kayli Carter), and their newborn grandson, Jimmy. One day while James is out riding his horse, Lorna readies a sink bath for Jimmy. While they are bathing Jimmy, the wild horse comes running back through the farm without James. George finally finds James dead alongside a creek. It is assumed that he died from being thrown from the horse, breaking his neck.
Three years later, Lorna marries Donnie Weboy (Will Brittain). While out one day, Margaret sees Donnie physically abusing both his wife and Jimmy. Margaret decides to visit Lorna and Jimmy at their new home, without knowing that Donnie has decided to leave town with Lorna and Jimmy. When she discovers that Donnie, Lorna and Jimmy have left without even saying goodbye, Margaret worries over Jimmy's safety. She eventually convinces George that the situation is dire enough to intervene, and the two set off to find the family.
The film was announced in February 2019 and filming began in April 2019 in Calgary. The film was theatrically released in November , 2020.
The film is now being screened at Liberty by Scope Cinemas, Colombo City Centre, Savoy -Colombo, Savoy Rajagiriya, Regal Demotagoda, PVR – Cinemas and Majestic Ultra Cinema.