Colombo Girl Guides come together virtually for Women's Day
By Shannine Daniel
View(s):
Due to the prevailing pandemic situation schools in the Western Province, especially, have seen their academic and extra-curricular calendars curtailed. Schools were closed on and off, extra-curricular activities were put on hold and academic activities were held online since last March, through platforms such as Zoom and Microsoft Teams.
However, undeterred by the restrictions, the 5th Colombo Girl Guides came together online to celebrate International Women's Day (IWD) 2021.
"Marked annually on March 8, IWD is one of the most important days of the year to celebrate women's achievements and raise awareness about women's equality. It is a day celebrating the social, economic, cultural and political achievements of women all over the world. Significant activity is witnessed worldwide, as groups come together to celebrate women's achievements or rally for women's equality," the Girl Guides who organised the event said.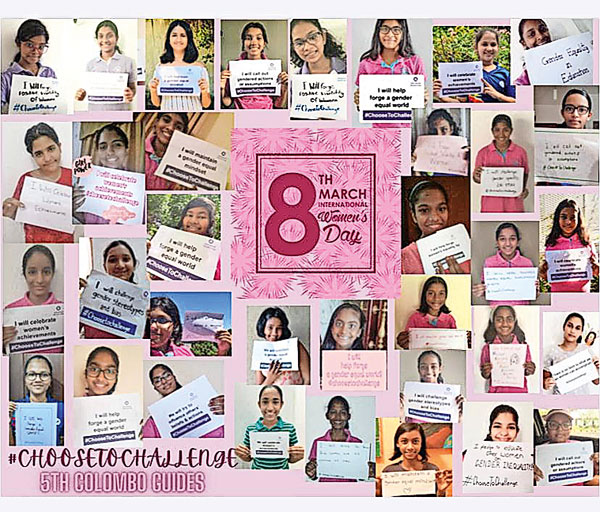 Each patrol of the Girl Guides was given a certain task and had to represent it in an interesting manner to the rest of the company. The tasks included: research on empowering women, a mind map on how to create an environment safe enough for women, gender stereotypes in advertisements, a quiz about dignified women and interview questions for famous women.
"Women all around the world invite and encourage us young women to stand up for our rights and to be an example to others. Rosa Parks from Alabama believed that "There is only one race, the human race," spreading unity and love across the globe. Mother Teresa from Albania came to India with love, kindness and compassion proving to us all that "Not all of us can do great things, but we can do small things with great love." Women like Florence Nightingale in the past and Malala Yousafzai today worked towards giving young women the chance to educate themselves just as well as men," the organisers said.
"Sirimavo Bandaranaike, who was the world's first female Prime Minister said, "Most people who are not on time, have not been Girl Guides. Girl guides work on time." Mrs Bandaranaike showed her good training of being a Girl Guide all along and encouraged us to follow. We as Girl Guides and the future of tomorrow believe that it is us who can make a difference. Thank you to all the women around the world for creating peace among us," they added.
Girls aged between 14 and 16 years took part in the event while the organisers were between the ages 17 and 18 years. The event was organised online via Microsoft Teams, and the girls hope to host more events like this online in the near future.