The Embazzy Introduces celebrates fourth anniversary
View(s):

The Embazzy Restaurant completes four years of operation, since opening in 2017 bringing the finest of international flavours across the globe and served in Lanka by four extensively travelling founders who indulge in multiple food escapades.

Since its opening, the restaurant has catered to multiple modern cuisines by its travel curious owner, who has worked in various restaurants abroad and finally deciding to settle down in Lanka. The newest menu has been carefully curated after much exploration with the challenges of satisfying the local palate.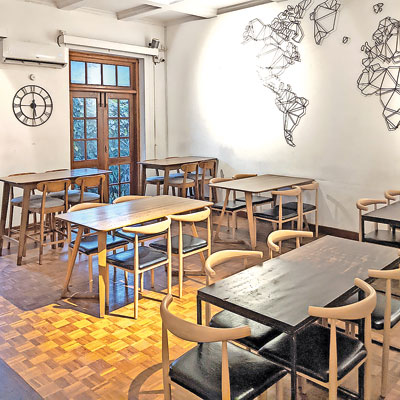 The concept of The Embazzy was founded by four friends who were fascinated with food, and the four constantly exploring cities and food splendours, this inspired them to open a restaurant in Colombo. serving the finest dining experience.
'As a testament to our culinary expertise, we have received positive feedback from international travellers who have thanked us for making them feel at home, with the exact preparation' added a founder.  The founders decided to start The Emabazzy for the love they have for food and travel,
'We have travelled a lot post-covid, and one of the many things we wanted to do back then was to open a restaurant in the heart of Colombo and share our travel experiences through the food we serve here. Our vision is to provide Sri Lankan customers with the experience of tasting the different cuisines of the world. We prepare the food items using fresh local ingredients and imported high-quality ingredients to provide our customers with the best experience' he added.
Few of the favourites including NasiGorengKampung, a variation of the popular NasiGoreng. Pasta Alla Norma, a Sicilian dish with a spicy twist. Aussie Parma, Viennese origin with a bit of Australian flair and many more exciting items.
'In the coming months, the restaurant will introduce a new menu, with some interesting cuisines and there is a lot of exciting stuff happening in the dessert department, "Everything is in the process and we can't wait to serve our customers with the best and finest cuisines for 2021' he noted.
The restaurant, which can serve up to 50 and more, with separate rooms for private functions, including a rooftop.  The atmosphere gives a fresh and vibrant feel, with the interiors reflecting a lot of art and books. The stairway mentioning the heights of mount peaks. This is a joyful space where friends and family gather over good conversation and great food.
The Embazzy is located at 76/1 Flower Rd, Colombo 7 and has partnered with Pickme and Uber eats for delivery across the country.