Sri Lanka's circus of painful follies and the Geneva trials
View(s):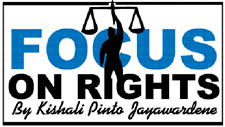 There is an exceedingly dangerous vacuum growing at the heart of the Sri Lankan State that cannot be ignored any longer. If a passionate teenager who speaks her mind about environmental destruction in Sinharaja has state officers visiting her home to interrogate her and if a courageous forest official who protests against the felling of trees faces an inquiry as a result, that indicates how deep the political tentacles of corruption have embedded themselves into the state.
Needless controversies and extreme insensibility
An absurd surreality is part of that suspenseful show. Hence, the Colombo Municipality's sudden energy in bringing down a beautifully illustrated mural protesting ecocide put up in the Viharamahadevi Park in Colombo by young wildlife enthusiasts. The reason offered by the zealous municipal officers was that the mural itself is harming the trees and that permission had not been obtained. The classical maxim that, 'whom the Gods want to destroy, they first make mad' must surely apply to those who issued this order and those who carried it out. Apparently, the mural was put back on due to heavy media presence at the scene but removed again.
This veritable circus of follies will soon find its way to the international press, one may confidently predict. Sri Lanka will once again capture international headlines in the same distinguished manner as news reports of witchdoctors and their tonics to the Minister of Health dipping charmed pots in the river in order to stave off covid-19 only to catch the dreaded virus a few weeks later. None of these incidents are incidental. Instead they form a pattern that frames Sri Lanka as a basket case in the critical eyes of the world. One idiocy follows another. A needless controversy (to cremate or not to cremate the Muslim covid-dead) is dictated to by visiting Prime Ministers.
And Ambassadors merrily violate diplomatic protocols by commenting on matters all and sundry in the wake of confusion reigning supreme as we go a-begging for the votes of 'friendly' countries ahead of a potentially tough resolution at the United Nations Human Rights Council in Geneva. I will return to that later. But the point is that sensible questions needing to be asked in the first instance are replaced by extreme insensibility. In the case of the Sinharaja devastation, how were relevant environmental protection approvals in regard to the felling of trees on private lands dispensed with? That is the core issue rather than the questioning of a young girl.
Commonality of desperation and claims of privilege
Meanwhile elsewhere in Sri Lanka, a furious priest tells forest officers who inform villagers to refrain from trespassing on state land that 'these are Sinhala Buddhist villagers' as if somehow that identity would suffice to wash away the taint of breaking the law. A woman protests that they have been living on that land for generations and that they are not harming the environment. Her protests may well be true but it is the claim to priority, to privilege, to a status that is 'above' others that is deeply troubling. Never mind that they are also desperate, that they are eking out a living barely enough to survive as do the Tamil or Muslim villagers nearbye.
That commonality of desperation, by itself, is not sufficient to compel empathy. Instead, privilege is claimed, based on no logical basis but race and religion, drawing support from unconscionable ravings of politicians and priests supported by vicious hate propaganda masquerading as journalism. But this is the desperate nation that we have become, from Point Pedro to Devinuwara, framed and defined by historic enmities and hatreds fanned by those who feed off those hatreds to keep themselves in power, relevant and (so they think), important. Indeed, the rhetoric of hate and racial privilege followed by key powerbrokers in this Government has put the nation and its people in a dire predicament of their own most disgraceful making.
Strategy let alone discretion has been thrown to the four winds in state policy. Regardless of how the vote will turn out, the Geneva resolution up for voting at the United Nations Human Rights Council in the coming days constitutes the first steps towards enabling the heavy wheels of international criminal responsibility to turn in regard to holding Sri Lanka's gross human rights violators liable. This Government's shouters and shriekers may look to the example of Syria. This was the focus of a similar United Nations effort, in collaboration with the Human Rights Council's International Commission of Inquiry on Syria (established in August 2011) to 'collect, consolidate, preserve and analyse evidence pertaining to violations and abuses of human rights and humanitarian law.'
Apportioning the blame for the crisis that Sri Lanka faces
Recently that process led to a German court convicting a Syrian middle ranking security officer for the offence of 'facilitating torture' by rounding up protestors who were later abused by intelligence officers. His defence that he was only 'following orders and would have risked his own life if he had defied them' was dismissed. But even as moralizing on Sri Lanka's victims goes on unendingly it seems in the corridors of the United Nations, let us acknowledge some hard truths. Countries pontificating the failure to address the nation's accountability question must bear their distinct share of the blame, let it be said most clearly. Notably Canada, the United Kingdom and the United States uncritically backed a constitutional reform cum transitional justice process that existed finally only in the minds of governing politicians sitting comfortably in Colombo from 2015-2019.
The less said about a purported anti-corruption exercise bedeviled in equal parts by singular incomptence and political manipulation, the better. Sri Lanka's courts commenced throwing out cases filed by the Bribery and Corruption Commission against Rajapaksa frontliners on technical grounds during the 'yahapalanaya' period itself. Key prosecutors who led that effort were captured on tape betraying the integrity of that process in a shocking display of sheer stupidity even if higher norms are to be brushed aside. Thoughtlessly clumsy and politically manipulative seeds of their own downfall were sowed by 'yahapalanaya' leaders cock-a-hoop in believing that they had the 'international community' at their beck and call.
We are reaping its poisonous harvest now with full vengeance. That singular lack of discretion on the part of the 'international community' and the closing of its 'eyes, ears and mouths' in Colombo to signs very early on that the United National Party's petted and pampered favourites in power were heading towards certain disaster is remarkable. It is ironic now that we have to now listen to sermons on 'genuine accountability. Indeed, the tidal wave of popular anger that swept against the the Sirisena-Wickremesinghe coalition is precisely why the Rajapaksas were returned to power and hence, by all the laws of inexorable logic, to this crisis that we face now.
The long shadow of the Geneva trials
Interestingly, there are other contradictions at play. For example, a storm of protests has been evidenced against the recently gazetted deradicalization Regulations under Sri Lanka's Prevention of Terrorism Act (PTA) for being vague in its reach and overbroad in its scope. This criticism is quite rightly so. However, that frantic activity is quite in contrast to the deathly silence that prevailed in Colombo and elsewhere when the Wickremesinghe-led Government proposed a so-called Counter-Terrorism Act (CTA) in 2018 which, in some respects, was far worse than these Regulations.
But even so, if the Sirisena-Wickremesinghe coalition regime had left Sri Lanka pitifully defenceless to cheerful Islamist jihadists carrying bombs in their rucksacks on Easter Sunday almost two years ago, let it be said that this Government has, with far more devastating force, exposed the country to a trial in Geneva.
This will cast a long shadow as we will soon see.