Diplomatic blunders ahead of vital vote at UNHRC
By Our Political Editor
View(s):
Vote will take place tomorrow or Tuesday; India's position still uncertain, despite Colombage's claims
Different strategies by different sections of Govt.; clear-cut strategy needed instead of ad hoc and unprofessional measures
Burqa-niqab ban: Minister Weerasekera's comments provoke international controversy
President reassures PC polls in June; Legal Draftsman preparing legislation for approval by Parliament
Main opposition SJB holds anniversary rally; Sajith plays low-key role amid fire power from Fonseka
On the cusp of the UN Human Rights Council (UNHRC) Resolution's advent, Sri Lanka has been providing an unbelievable spectacle to the world — with continued boisterous glee to its detractors and incredible shock for its friends.
The country has no declared enemy nations with prolonged disputes. In the years since independence 73 years ago, keeping to time-honoured traditions and globally respected conventions, Colombo has steered a course of friendly relations with all. Give or take the occasional tensions with our closest neighbour in proximity. In what seems tragic, if not shameful, bureaucrats and politicians alike have dismissed these valuable virtues. They are inflicting more wounds on the country even if they faithfully believe they are doing their patriotic duty for the love of their motherland — a case of love going deaf, dumb, and blind. This is at the hands of novices, who seem to reject learning from history and giving a new take on the tenets of diplomatic practices possibly driven by egos.
Nowhere is it glaringly evident than in the conduct of Sri Lanka's diplomacy and foreign policy. The run up to Monday's vote on the resolution on Sri Lanka at the UNHRC in Geneva is laying bare the gaffes and the gung-ho day by day. If there is an overrun of business tomorrow, the vote may be delayed till Tuesday.  The catalogue of the faux pas is too lengthy to list one by one. Some of the more important would highlight the tragicomedy that is at play causing discomfiture to both serving and retired Foreign Office professionals well versed in the intricacies of diplomacy and protocol. Many opine they have no place in this day and age.
Just last Wednesday, Foreign Secretary retired Admiral Professor Jayanath Colombage broke tradition and drove to the well-fortified Russian Embassy at Bauddhaloka Mawatha. Accompanied by another senior Foreign Ministry official, he met, by appointment Russian Ambassador Yuri Materiy. The purpose was to urge the envoy to lobby a former USSR constituent to support Sri Lanka at the UNHRC vote, particularly since its candidature to the Council could not be accommodated by Colombo, at the last elections.
This is the first time that a Foreign Secretary has visited a Colombo-based diplomatic mission in the capital to seek such assistance. The usual accepted practice is for him or her to invite the envoy of the country concerned to the Foreign Office of the host country even in an hour of need, a time-honored tradition. In this instance, such an invitation should have been sent by the Foreign Affairs Minister who is responsible for the conduct of government foreign policy and external relations. That there is a chasm between Foreign Minister Dinesh Gunawardena and his own Ministry was revealed in these columns only last week. The Secretary's role has overshadowed the Minister.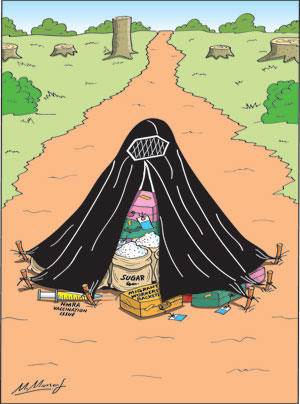 No one doubts Foreign Secretary Colombage's bona fides or commitment to the work he has undertaken. Yet, he is not a career diplomat, and therefore some of the deeper nuances of heading a machine that is running Sri Lanka's diplomacy is sadly lacking in the delivery of his onerous responsibilities. However, he has still been more proactive than his Minister, Dinesh Gunawardena, who has religiously resigned to a template of 'sovereignty violations' and 'political vendetta' in his usual media interviews on the UNHRC resolution. On one occasion, he blamed the United Kingdom, the mother of the Commonwealth, for moving the resolution least realising that India, Bangladesh, Pakistan, Fiji, Bahamas, Cameroon and Namibia, are members of the UNHRC. They share the membership of the Commonwealth. In addition, Australia, Canada, Malawi and New Zealand are also from the Commonwealth and are co-sponsors of the Resolution. By such an utterance one is reminded of a Sinhala adage of "providing a ladder to jumping monkeys." Sri Lanka could well land itself in the agenda of the Commonwealth too, at the behest, particularly of the co-sponsors. This is why Foreign Ministers the world over carefully choose their words.
Ripples in India
Perhaps unaware of the multiple repercussions, Foreign Secretary Colombage during a Digital Dialogue hosted by the Media Centre for National Development categorically stated that India had assured its support to "protect the country's sovereignty" during the UNHRC sessions. The remarks were to suggest that India would vote against the UK-backed resolution on Sri Lanka. This dialogue was with Secretary Colombage participating with Mohan Samaranayake, Media Secretary to the President. The remarks caused ripples in India's South Block where the External Affairs Ministry is located. The Sunday Times learnt from an official source that "no such information has ever been communicated to the Foreign Ministry in Sri Lanka. Hence, there is no basis for such remarks."  Indian High Commission spokesperson Eldos Mathew Punnoose said, "We have no comment." In their news bulletins, Indian television stations said there had not been any change in the Indian position, one that has been articulated by their envoy in Geneva.
Foreign Secretary Colombage's remarks defy logic. Firstly, the elections to the legislature of the South Indian state of Tamil Nadu are to be held on April 6. The ruling Bharathiya Janatha Party (BJP) in New Delhi is contesting with the All India Anna Dravida Munnetra Kazhagam (AIADMK), which is now in power in Chennai. Both have stepped up their campaign because the BJP is seeking a bigger footprint in the southern predominantly Tamil-speaking state.
It is also pertinent to note that the preambular paragraph 4 of the Resolution on Sri Lanka includes the words that the "Human Rights Council re-affirming its commitment to the sovereignty, independence, unity and territorial integrity of Sri Lanka." Hence, India's ambiguously stated position is in line with this provision of the Resolution, and therefore it could be presumptive to interpret this as a supportive position towards Sri Lanka. Continued articulations in this manner by Foreign Secretary Colombage, seems to be following a strategy of bringing pressure upon India's South Block through the media to support Sri Lanka. It was not so long ago, as revealed in these columns, that the Sri Lankan side claimed India would support Sri Lanka. India took up an opposite position. Have lessons been learnt?
Secondly, this week, Indian External Affairs Minister Subramanyam Jaishanker flew to Chennai from New Delhi to take part in a dialogue arranged by the "India Today" magazine. In his speech he dwelt to some extent with Tamil issues in Sri Lanka. He asserted that addressing the Tamil needs should not be an issue to be highlighted only during election times and forgotten thereafter. There should be a genuine conviction, he asserted. That was an unambiguously clear message to the government in Colombo coming as it does before plans to conduct Provincial Council elections, which has resonance in the UNHRC Resolution.
Officially, the Indian position has not changed since their Geneva-based Permanent Representative Ashok Mani Pandey made a statement to the Human Rights Council. He said, "We have taken note of the High Commissioner's report on Sri Lanka and her oral remarks. The Council has adopted 7 Resolutions on the question of human rights in Sri Lanka since May 2009, when the three-decades-old conflict in that country ended. India has been an active participant in the discussions on these Resolutions and has remained engaged with Sri Lanka as its close friend and immediate neighbour. India's consistent position rests on two pillars: i). Support for Sri Lanka's unity and territorial integrity, and ii). Abiding commitment to aspirations of the Tamils of Sri Lanka for equality, justice, peace, and dignity.
This studiously drafted statement prompted the Sunday Times to project that India would abstain from voting. Now, however, in Colombo's diplomatic community, there were sections who opine that India would vote in favour of the resolution though others claim it is unlikely. Either way, they were all agreed that India would not cast a vote against the resolution – meaning supporting Sri Lanka.
It is relevant to note that India did not actively engage or assist Sri Lanka in the open negotiations of the Resolution text. This includes the informal consultations. Bangladesh and Nepal also seemed to have been non-committal during those discussions. However, ahead of Prime Minister Mahinda Rajapaksa's current visit to Bangladesh, during diplomatic consultations, Dhaka has agreed to back Sri Lanka at the vote. That was one of the main reasons why Premier Rajapaksa took a special SriLankan Airlines flight to Dhaka.
Even the UK, which is the main sponsor of the resolution, has not been able to discern India's position. Lord Ahmed, the UK Minister of State for the Commonwealth, United Nations and South Asia, was in New Delhi this week. On Thursday, he met External Affairs Minister Jaishankar. According to diplomatic sources in London, Lord Ahmed has also found it difficult to gauge the Indian position correctly. In other words, India has been maintaining a studied silence. That they have a highly professional foreign service is all too well known.
How then did Colombage suggest that India would vote against the resolution or in favour of Sri Lanka? If indeed he is correct and India votes in favour of Sri Lanka, a fact which is known only to himself, the Foreign Secretary deserves the country's highest honour for achieving that great diplomatic feat. However, if his assertions are pure guesswork, it could be serious. He is speaking on behalf of another sovereign country and not about Sri Lanka. In doing so, if he is wrong, he has only brought about embarrassment yet again to Sri Lanka and further dented the government's credibility. It is to the point that the remarks of Sri Lanka's Foreign Secretary cannot be taken seriously!
His conduct of diplomacy with New Delhi via the media comes at a time when there has been no Sri Lankan High Commissioner in the Indian capital for the past 15 months. The Sunday Times has learnt that Milinda Moragoda, who was nominated last year, will move to New Delhi as High Commissioner at the end of April. This naturally absolves him of any possible blame in the event of India taking up a position inimical to Sri Lanka. According to a government leader, Moragoda plans to spend two weeks in New Delhi and the rest of the month in Colombo during his assignment. This is in a capital which requires a full-time engagement.  However, this could not be confirmed.
Foreign Secretary Colombage also told the Tamil daily newspaper Virakesari  that as a government Sri Lanka had to engage with the UN Human Rights Council. That indeed is the correct position. Why then did the government reject both the UN Human Rights Commissioner's Report and the resolution now before the Council? After all, that is also a decision made by the government. That made the Sri Lankan people believe that the rejection was only for their consumption but the government had indeed acknowledged the Resolution by engaging in public negotiations.
Be that as it may, there was a deafening silence on the part of Sri Lanka's Permanent Representative to the UN in Geneva, C.A. Chandraprema, towards the rejection of Operative Paragraph 1 which welcomes inter alia the Report of the Office of the High Commissioner for Human Rights presented to the 46th session. This is in addition to provisions which also "call upon Sri Lanka to implement the recommendations by the Office…." which would have been completely in line with the government's position. Instead, he chose to seek amendments to other operative paras (6,7 &
that too out of sequence violating the accepted procedure in negotiations. Yet again this demonstrates the lack of strategy and clarity in Sri Lanka's position in Geneva.
Government leaders have also been disappointed that Sri Lanka's envoy in Geneva has not been successful in lobbying his counterparts based in Geneva. Chandraprema has explained that it was due to the COVID-19 pandemic and that the envoys were not willing to have meetings. However, it has been pointed out to him that online meetings had been going on.
Burqa ban and repercussions
Another related incident is the move to ban Niqab and Burqa, both worn by Muslim women. Public Safety Minister Sarath Weerasekera announced publicly that he had signed a Cabinet Memorandum to ban these two forms of dress. He declared that the ban was necessary since "the wear had a direct impact on national security." The Public Security Minister said those days Muslim women did not wear Niqab or Burqa and termed it "a sign of religious extremism." In other remarks, Minister Weerasekera also said that madrasas (Muslim religious schools) that preach extremism would be banned. As the news spread in Sri Lanka and abroad, the situations created a different turn.
The Organisation of Islamic Countries put out two tweets. The fist said "OIC condemns Sri Lankan ministers' statement to ban burqas and madrasas being violative of Art. 18 and 27 of ICCPR which guarantees minorities the right to freely profess, practise and manifest their religion."  The second tweet said "OIC urges Sri Lankan govt to publicly denounce such discriminatory and Islamaphobic statements and desist from any measures against law abiding Muslims which negate spirit of pluralism and contravene IHRL (International Human Rights Law).
A stronger protest came from Pakistan's High Commissioner to Sri Lanka, Saad Khattak. He tweeted (in two parts) "The likely ban on Niqab in Sri Lanka will only serve as injury to the feelings of ordinary Sri Lankan Muslims and Muslims across the globe. At today's economically difficult time due to pandemic and other image related challenges faced by the country at international fora, such divisive steps in the name of security besides accentuating economic difficulties, will only serve as fillip to further strengthen wild apprehensions about fundamental human rights of minorities in the country."
If the tweet was last Sunday night, the next day (Monday) High Commissioner Khattak had a meeting with Foreign Minister Gunawardena. He expressed his government's serious concern over the issue, particularly when Islamabad was exerting all its efforts to persuade member countries of the Human Rights Council to support Sri Lanka. There was an immediate mood change on the part of the Government.
Official Cabinet spokesperson and Minister Keheliya Rambukwella declared that the Government would decide on banning Niqab and Burqa after "carefully and wisely studying the issue, so as not to exert undue influence on any party." Another statement was issued by Foreign Secretary Colombage who declared, "It is merely a proposal which is under discussion." He said, "This proposal has been based on precautionary grounds, following investigations by the Presidential Commission of Inquiry on the Easter Sunday attacks in 2019." Earlier, the Government rescinded its policy of mandatory cremation of Muslim victims of COVID-19 and allowed burials. It came after the visit to Sri Lanka of Pakistani Prime Minister Imran Khan.  He was just been diagnoses with COVID -19.
The important question that comes to the fore is why the Government had to first choose to go ahead with the move and later backtrack because of the vote on the Sri Lanka resolution. This is proof again that different arms of the Government are functioning in different ways with no centralised control. It has been the same in other issues, too, like for example the distribution of anti-COVID-19 vaccines or the ongoing large-scale deforestation.
The halt to a niqab and burqa ban is not permanent. Public Safety Minister, retired Rear Admiral Sarath Weerasekera told the Sunday Times, "I have made a cabinet proposal on the burqa ban. It will be taken up for discussion by the cabinet soon. Normally, when a Minister makes a cabinet proposal it will not be on the agenda as soon as the proposal is made. This is not a religious issue. The proposed ban is security related. Any crime can be done by using a Niqab or Burqa; therefore the cabinet would consider the proposal I made.
"This is not a matter that is recommended by me or the President. The Presidential Commission that probed the Easter Sunday attacks made this recommendation. The UN Human Rights Council in Geneva and the international community should not interfere in the matters of Sri Lanka."
Here again, the move only illustrates the haphazard response only because the UNHRC is to decide on the resolution on Sri Lanka. Would not this aspect be reflected in the next sessions of the UNHRC in September whilst the resolution provides for, as OIC and some other countries have contended that it violates International Human Rights Law? These and many other aspects have not been taken into consideration in formulating a strategy, if at all there is one.
The Resolution will come up for vote before 47 members of the Human Rights Council. They are Argentina, Armenia, Austria, Bahamas, Bahrain, Bangladesh, Bolivia, Brazil, Bulgaria, Burkina Faso, Cameroon, China, Cote d' Ivorie, Cuba, Czech Republic, Denmark, Eritrea, Fiji, France, Gabon, Germany, India, Indonesia, Italy, Japan, Libya, Marshall Islands, Malawi, Mauritania, Mexico, Namibia, Nepal, Netherlands, Pakistan, Philippines, Poland, Republic of Korea, Russian Federation, Senegal, Somalia, Sudan, Togo, Ukraine, United Kingdom, Uruguay, Uzbekistan and Venezuela.
With the vote at the UNHRC over, the Government will have plenty of soul searching to do. This is to identify how its efforts and not those caused by adversaries led to more setbacks and blunders. The billion-dollar question is whether such an exercise would ever lead to any positive action. This is to both rectify the damage caused to the country and to ensure there is professionalism.
PC polls preparations
There have also been other significant developments this week. The ruling alliance's partner leaders endorsed the decision by President Gotabaya Rajapaksa to conduct Provincial Council elections, possibly by June. The Legal Draftsman's Department is putting the finishing touches to new legislation covering the elections and is due to send it for Cabinet approval.
In this regard, a noteworthy trend emerged at a public rally held by the Samagi Jana Balavegaya (SJB) to mark its first anniversary. Police estimates placed the turnout at Hyde Park at around 5,000. This is significant given the ongoing COVID-19 pandemic. Even if SJB leader Sajith Premadasa remains a controversy within the party for his less aggressive leadership, it was Field Marshal Sarath Fonseka who stole the show at this meeting. If Premadasa focused mostly on foisting an SJB President and government at the upcoming elections, it was Fonseka who dealt with a number of current political issues. The ovation he received underscored the appreciation of the crowd.
The SJB event was a 'sneak peek' on the upcoming Provincial Council elections and showed that the party could now muster crowds. However, another setback for leader Premadasa has been his inability to rein in members who were causing acute embarrassment to the party.
One such instance is when Kurunegala district MP, Ashoka Abeysinghe, a former State Minister, accused President Gotabaya Rajapaksa and brother Basil Rajapaksa of being the perpetrators of the Easter Sunday attacks of 2019. A video of his aggressive speech went viral in the social media. Abeysinghe was summoned to the Criminal Investigation Department (CID) to make a statement.
Accompanying him were Premadasa and SJB General Secretary Ranjith Madduma Bandara.
In a statement he made, Abeysinghe meekly apologised for making those accusations. The CID has now referred the matter to the Attorney General's Department. There is no gainsaying that tough deterrent action is needed if such false remarks are made by parliamentarians. The question now is what action the SJB would take over falsehoods publicly uttered by one of its MPs.
Plagued by the COVID-19 pandemic, the Government has been plunged into many issues both externally and internally in the new year. Externally, the bigger worry is over the Human Rights Council Resolution and its aftermath in the coming months. It is now set to echo in Palais de Naciones, the Council Secretariat in Geneva, for at least a few more years to come. At least for the future, the Government has to formulate a clear-cut strategy instead of ad hoc and unprofessional measures.
Internally, with only weeks to go for the national new year, essential commodity prices have reached sky high. The COVID-19 vaccination programme has gone awry with the able receiving their vaccines and those unable waiting with hope. These will sure become issues at the PC polls but the Government still has time to rectify the situation. Belatedly heeding its election pledge to deal with those corrupt alone will be of no help. The people are confused with different signals emanating from different sections of the Government. A high priority is the need to speak with one voice and take up one position.