PROVIDORE: Bringing grocery-tech to Sri Lanka
View(s):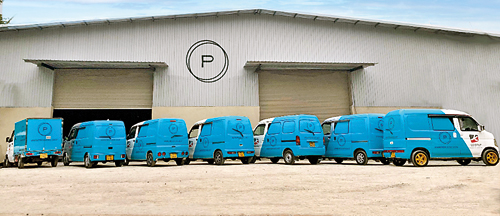 Up until the onset of COVID-19, Sri Lanka's online retail market was relatively small in comparison to the region. Lockdown advanced the adoption of online retail channels and saw the proliferation of a variety of online vendors, ranging from WhatsApp and Facebook groups to websites and platforms. However, there were and still exist many challenges that restrict a seamless customer experience.
Recognising this gap, the PROVIDORE founders compared the present online retail offering against global best practices and came up with a purpose-built system solution for the Sri Lankan market – presenting grocery-tech. Offering functionality like real-time stock visibility, delivery scheduling up to four weeks in advance, multiple payment options, a dedicated delivery fleet with infrastructure for transporting different types of products and a host of other features to be rolled out subsequently, the PROVIDORE experience promises customer experience online with international best-in-class, the company said in a media release.
"Understanding our customer is paramount," said PROVIDORE's CEO, Meneka Galgamuwa. "We have an initial offering of 900+ SKUs, but we will grow this over time to ensure we consistently cater to our customers' basket requirements."
"Whether a single or dual-income household, each person's time is important. Everyone would rather get back 2 hours of their day to spend it as they wish, not driving around in traffic or having to shop on multiple sites and co-ordinate deliveries. PROVIDORE accommodates quick and easy shopping and scheduling of deliveries at customers' convenience. We carry your everyday, typical basket items, as well as premium imported selections and local speciality artisan products." Giving a platform for small, local artisans is also an important aspect of the PROVIDORE ethos, as is their commitment to improve sustainability. They work with Polydime International, the largest recycler of HDPE plastics, whereby their shopping bags come from recycled landfill and can be collected to be recycled once again.
Partnering with leading eCommerce and technology providers, the solution was developed in collaboration with five parties, both from Sri Lanka and the US. "EFutures is our strategic technology partner and was instrumental in co-ordinating with the other parties to execute our vision. The mandate being to view every aspect of the solution from a consumer's perspective and not a retailer's," she said.
In order to ensure the backend processes were aligned to the technology, PROVIDORE partnered with John Keells Logistics. Setting up a dedicated warehouse and Fulfilment Centre, John Keells Logistics provides the end-to-end backend logistics services, including Last Mile Delivery.
John Keells Logistics Chief Executive Officer & Vice President John Keells Holdings PLC (JKH) Randula Chandrarathne commented, "Managing e-commerce fulfilment services and last-mile delivery fleet for PROVIDORE is another step of our strategic expansions into online retail operations. As a leading 3PL provider in Sri Lanka, JKLL has established itself as a logistics expert in the retail industry by serving clients such as Keells Supermarkets. Serving online retail operations will further enhance our expertise in the field while being a value addition."