Viber unveils 2021 initiatives for FC Barcelona partnership
View(s):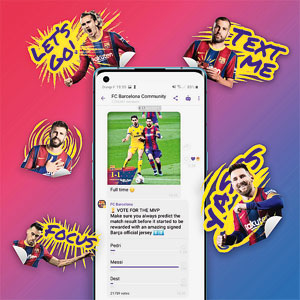 Rakuten Viber, one of the world's leading apps for free and easy communication, unveils a series of new initiatives going into the 2020/2021 season  for its longtime partnership with,FC Barcelona. In addition to launching an official global FC Barcelona Community in Russian, the company plans to publish a special Q&A in the communities with five players in February: Marc-André terStegen, Frenkie de Jong, Miralem Pjani , SergiñoDest, Clément Lenglet, and Antoine Griezmann.
Viber's FC Barcelona cooperation kicked off in the 2017/2018 season, and Viber has served as the club's official channel of communication since. As the football season heats up and we march toward the new decade, Rakuten Viber kicks off a new chapter of its partnership with the club, building a fan-first experience for its users all the way through various touch points on its messaging app. To establish a meaningful connection between players and fans on the app, Viber will offer initiatives including: Meet and greet the players,  a day with a legend, Vote and win and  Fan stars.
The app now offers a global community of the club for the first time in Russian in addition to its global communities in English, Spanish and Arabic, for fans to chat about games and players stats. Viber's users will also be able to send each other brand new FC Barcelona stickers from the app's new sticker pack for this season, featuring the players faces. Unlike last year's cartoon-based stickers, the new season's feature a photo of the player's face. It's a very special sticker pack,as it features all the players from the new season, too !
Related to the FC Barcelona Russian Community launch, first team player Antoine Griezmannhighlighted: "I'm so happy that we will be a little closer to our Russian fans now", while SergiñoDest expressed his satisfaction because "from now on, Barça will speak Russian to its fans"