The sweet things in life
By Shannine Daniel
View(s):
Regardless of whether they come in cups, jars, trays or dishes, desserts like the all-time Sri Lankan favourite, chocolate biscuit pudding, the more complex Baked Alaska and the delectableTiramisu of Italian origin are beloved by many. While some dessert enthusiasts choose to stick to the standard recipes, this week we feature some who love putting their own spin on them.
Jars by Chandani
The Chocolate Meltdown is the signature dessert of Jars by Chandani, a family-run home bakery located in Kandy that also offers other cake jars, cakes, cupcakes and brownies. "Chandani, or as our beloved community calls her, Aunty Chandani, is the culinary genius behind our dessert jars. We've been making people of Kandy smile with sweet treats since 2015," the team at Jars by Chandani told the Sunday Times Magazine. "Our signature dessert jar – the Chocolate Meltdown – has a fanbase of its own," they said.
"We pride ourselves in keeping the quality of our baked goodies at a high standard. This venture has introduced us to a lovely community of loyal customers from all over the island. We are the first home bakery from Kandy to provide deliveries anywhere within the region. So we have helped with a lot of surprise deliveries and brought joy to loved ones."
Jars by Chandani can be found on Facebook (JARS by Chandani) and Instagram (jars.by.chandani) and take most of their orders through direct messages. They also have a website – www.jarsbychandani.com – where you can make inquiries.
Butter and Cream 
Butter and Cream run by mother-daughter duo Aqeela and Bushra specialises in brownies, cupcakes, eclairs, cookies and  their signature puddings and cold desserts such as Mocha Crunch and Mint Chocolate Chip Pudding. They also cater to those seeking savouries  with short eats and teatime snacks like mini pizzas, beef samosas, sandwiches and patties.
"My mother has been a source of immense strength and guidance throughout my life. She was my inspiration to get into the food scene, and is also the biggest support in making and taking forward Butter and Cream as a successful venture, through God's grace. We work together to complete every order – so it is 100% teamwork," Aqeela said.
"Our recipes are also constantly tested and adjusted, and we are determined to deliver fresh products of the best quality all the time," she added.
Butter and Cream has a delivery option and customers can pick up their orders as well. Orders can be placed through Instagram (butterandcreamlk) or phone -077 8845 980. Aqeela says plans for a store are in the pipeline.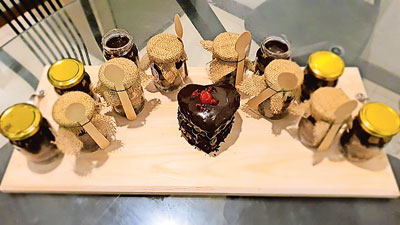 Buzz Bakes
Buzz Bakes was launched by former banker and mother of three Azhara Kamil. Azhara's Buzz Bakes has a range of goodies including gooey brownies, chocolate chip oatmeal cookies, chocolate éclairs, milk toffee, marshmallows, love cake and of course desserts like Baked Alaska, biscuit pudding, pavlova, cheesecake jars and Nutella mousse and brownie jars. She also sells DIY cookie packs – where kids get the opportunity to decorate cookies themselves.
"My children have been my inspiration to start this. They often told me I should start a baking business, as people would definitely buy my yummy food. I had loads of support from my husband, family and friends who encouraged me as they too liked my food," Azhara told the Sunday Times Magazine.
"My greatest critics are my kids. My mother has been my backbone when it comes to cooking and I still hear wonderful stories about what a wonderful cook my grandmother was," she added.
Buzz Bakes has delivery and pick up options, and customers place their orders via phone or WhatsApp (077 238 7988), Facebook (Buzz Bakes) and Instagram (buzz_bakes). Even though Azhara only operates online at the moment, she hopes to expand her business in future, by opening a physical store.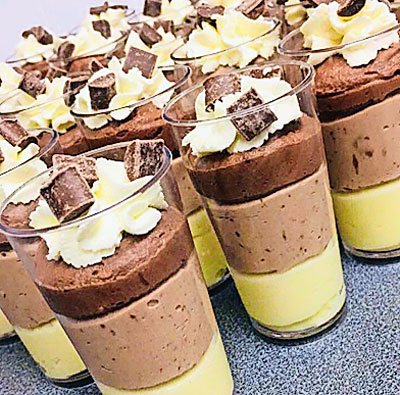 Chocobeezzz
Chocobeezzz is a home business and dessert shop based in Watarapola Road, Mount Lavinia. They make and sell desserts and baked goodies like cake jars, chocolate mousse in jars, chocolate biscuit pudding, doughnuts, brownies, cupcakes and different varieties of cakes.
Chocobeezzz's dessert specialities include Nutella cake jars, chocolate cake jars, chocolate mousse topped with Ferrero Rocher and triple chocolate mousse made with white, milk and dark chocolate.
They also cater for events like weddings and birthday celebrations, with themed doughnuts, cakepops, cakesicles, cupcakes, cakes and dessert jars, and have a menu for "savouries" as well, with short eats like rolls, mini pizzas, patties and sausage pastries. Chocobeezzz can be found on Instagram (chocobeezzz) and orders can be placed through direct messages or through phone call on 076 6643 124 or 076 665 3124.