Dharmasiri pleads for protection of Landmark films
By Susitha Fernando
View(s):
Kala Keerthi Dharmasiri Bandaranayake  is much relieved as he was able to protect his first two directions 'Hansa Vilak' and 'Thunweni yamaya'–landmark films in Sri Lankan cinema history . He has urged that programme be started to protect other important films too by digital restoration.
Dharmasiri Bandaranayake, who is regarded as the senior most filmmaker after Dr. Lester James Peiris, Dr. Dharmasena Pathiraja and Vasantha Obeysekera, spoke to Sunday Times, and gave a narration of his cinematic journey.
"I started with the theatre. I produced plays like 'Ekadipathi, Makaraksha and Dhawala Bheeshana. Then only I realsied that I should used the cinema as a medium of expression. For this I was greatly influenced by the filmmakers like Dr. Lester James Peiris, Dharmasiri Pathiraja and Wasanth Obeysekera and how they used cinema as a powerful medium of expression. For me they were great teachers. From the time I got in to this subject I started watching films. And most of these films were those that many Sri Lankans have watched. I got interested in Eastern European cinema. I bought a projector, fixed it at my home and started watching them. By watching these films I started learning about cinema.
I was greatly influenced by these filmmakers and they guided me to do good films,".
Speaking about the influence to make a story like 'Hansa Vilak', Dharmasiri Bandaranayake said, "we daily comes across incidents related to extra-marital affairs and the problems created as a result. Rather than finding fault with anyone, I looked with empathy, love and affection on how it affected men, women and children. I did not want to criticise them or laugh at them but focus how to avoid situation like that".
After 'Hansa Vilak', I made Thunweni Yaamaya. In all these films similar qualities were there.
Bandaranayake's next two films 'Bawa Dhuka' and 'Bhawaka Karma' exposed negative dimensions of
Sri Lanka's social, political and religious history and the mistakes we repeatedly make.
"We are following religions while standing on a compete and diametrical opposite positions of all religious teachings. Instead of healing the society through religion we are creating chaos. It could be religious leaders or the caste system and they have immensely hurt me. It was these sorrow I expressed with these two films"
Two documentaries depicting what exactly happened over the Sri Lankan history 'Paradise in Tears' I and II were Bandaranayake's last cinematic ventures. "Over the history by trying untie social, political and economical issues what we have done was making them more complicated. Even right now we are making the present situation more complicated. There is a massive pressure in the society and among its people.
"The values of the human lives have been ignored and this is why social progression has been prevented in our society.
Bergman and many filmmakers who were deeply disturbed by these pathetic state of society used the celluloid medium to change their societies. I hope at least to a some point I did the same.
'I almost lost two of my films. 'Thunweni yamaya" was taken by someone who left it in a place to be destroyed.  'Hansa Vilak' , black and white film was gradually getting destroyed. The film was getting discoloured and I was searching for a way to protect it.
Thanks to digital technology, I was able to protect both these films. I should thank former President Maithirpala Sirisena who intervened in this and helped me. If not for the National Film Corporation (NFC) I would not have been able to save them.
It is not only these two films but there are number of other important that need to be saved immediately. These are  land mark films in the history of our cinema. We can protect them through digital technology.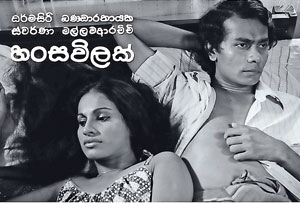 Plans area underway to released digitally restored 'Thunweni Yamaya' following the release of 'Hansa Vilak'.
Digitally modified 'Hansa Vilak' in theatres

More than 40 years after it was made, a digitally restored version  of Dharmasiri Bandaranayake's debut film 'Hansa Vilak' (Swan Lake) is now being screened  at theatres around the country.

'Hansa Vilak' stars Swarna Mallawarachchi, Henry jayasena, Wasanthi Chathurani, G. W. Surendra, Denawaka hamine along with Bandaranayake himself.

Originally released on October 24, 1980, the digitally upgraded version is now being screened  at Amity Lite maharagama, Maxx Lite Moratuwa, Osaka Lite Nittambuwa, Vista Lite ja-ela and several other theatres around the country. Hansa Vilak dealt with facets of a society at odds with itself. His other films like Thunveni Yamaya (1983), Suddilage Kathaawa (1984), 'Bawa Duka' and 'Bawa Karma' (1997) followed similar themes. Two films Bawa Duka and Bawa Karma challenged the repressive dogma of Buddhism in Sri Lanka.