'Amba Yahaluwo' Best true to life story on friendship
View(s):

Amba Yahaluwo (Best Friends) is a great, heart-warming story by popular novelist T.B. Ilangaratne, a great author of Sri Lanka. It is about two kids, Sunil and Nimal, who have a very strong friendship, but are kept apart because of their places and castes in the society. Sunil comes from a family of people in a higher caste, thus is kept away from Nimal, whose father is a daily wage earner. But no matter how hard their elders try to keep them away, they'll always find a way to see each other every day. And their fates also seem to collide a lot, too. For example, Nimal is Sunil's classmate, and when Sunil moved to another province, Sunil's heartless grandma brought Nimal as a slave. At least they got to be with each other.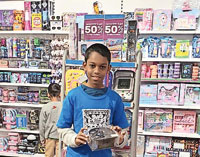 Before I get on with the review, I will give a summary of the story in short. It starts when Sunil steals a mango that Nimal picked up, and they fight over it. Later Sunil realises his mistake, feels ashamed, and becomes best friends with Nimal. Then Sunil notices how poor Nimal is and starts giving him food. That's how their strong friendship formed. But then Sunil moves to Nuwara Eliya, and Nimal is brought along as a servant, which makes Sunil rebel against his family. They run away, because Nimal is treated badly, but gets caught. Nimal is sent to a child prison and Sunil sent home. Then Sunil's father loses his job because he illegally got money. Sunil's dad tries to commit suicide, but Sunil's mom stops it happening. They because poor after that, Nimal, meanwhile, behaved well at the prison and got top marks in his school subjects. He gets a scholarship, but declines it, gives the money to his school's principal, his former teacher, and goes back to his town, ending the story.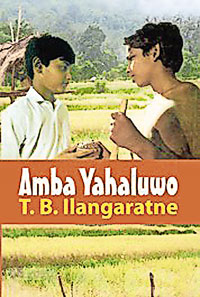 As I mentioned above, this is a touching story, but other than that there are plenty of other traits that make Amba Yahaluwo 'unaffected'. One such thing is the curiosity it builds up in the reader. That curiosity is like the condiments of the book, keeping you flipping the pages like asking for more and more of that delicious food you love. The other thing is the suspense. First starting in the middle of the book, the suspense really makes your heart beat faster, and ensure that you keep the pages turning. Also, the characters are great, and are not noble heroes, but make all the mistakes humans tend to make, thereby giving a feeling that the story and characters were real. Other than that, the mere way it is written is just splendid.
But, as in any work of humans, there's a spot or two that could do with improvement, I believe. In this paragraph, I'll point out some of them, and I'll write a bit of an alternative. So the first part I think could be some change in the part where Sunil and Nimal run away. They make their escape from the bungalow, where Sunil's family lies, because Nimal – as the worker there – is often mistreated. Nimal jumps onto a train, and because of their friendship, so does Sunil. They get away until they reach Colombo, but before they could leave the train someone notices their guilty looks, and hands them over to the police. But I think it would have been better if they got out of the train, had a little hike around Colombo city, got into trouble (such as being robbed of their money by a hooligan) and handed themselves over to the police, crying to go home. However, that really depends on the reader; but still, getting caught before getting out of the train is a bit dull. The next bit is here Sunil's family goes poor. I think the author should have added an inside view of their life.