SLC condemns another legend into a 'traitor'
By Champika Fernando
cricket
View(s):
Chaminda Vaas isn't the type to give up. His non-controversial career defines his character. Committed, self-disciplined and patriotic — they are the hallmarks of Vaas who has taken 761 international wickets in over 15 years.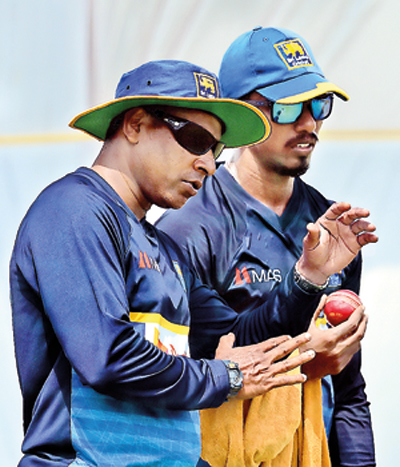 But, suddenly, he is "not disciplined, not committed and not even patriotic". Such is the public vilification he is facing from his own employer Sri Lanka Cricket (SLC) after he pulled out from the West Indies tour and offered his resignation. Sports Minister Namal Rajapaksa has also pitched in with similar views to that of SLC. Being a sportsman himself, he should have spoken with Vaas before condemning him in Parliament.
Vaas is now a 'traitor', a card often played by Sri Lankans. Anyone who dares challenge the system is one.
"He was holding the administration, the cricketers and, indeed, the game at ransom by handing in his resignation at the eleventh hour, citing the administration's refusal to accede to an unjustifiable demand for an increased USD remuneration, in spite of being a contracted employee of Sri Lanka Cricket, already receiving remuneration that is in keeping with his experience, qualifications, and expertise, in addition to which he would have been entitled to the usual USD per diems offered to all members of a travelling squad," an SLC statement issued following Vaas' resignation stated.
But did Vaas really hold the Board to ransom by making an 'unjustifiable' demand as claimed by the SLC? The facts argue otherwise.
David Saker, an Australian who was Sri Lanka's national fast bowling coach, left to Australia at the conclusion of the England series. As he had other plans, he gave up the job for good. This is common in the world of sports. In 2014, Sri Lanka hired Paul Farbrace as head coach. Four months into his job, he accepted a lucrative position with the English team. Foreigners come, add value to their professional careers and leave for greener pastures. No one questions their loyalty to the Board, to cricketers or to the game.
SLC knew Saker's decision before but only announced it on February 19, just four days before team's scheduled departure to West Indies. Did the Board react with the same feeling of "shock and disappointment" as it shows now? Did they publicly question Saker's commitment by going into the nitty-gritty of his exit? No. There were no derogatory statements aimed at tarnishing his image. They claimed Saker resigned over personal reasons.
On the same day, the Board announced Vaas would take Saker's position for the tour. This was hailed by the local fans and media. While there had been no formal discussion with Vaas of his possible elevation to the national team, he had a feeling what was coming. Five days before the announcement, SLC's official travel company had called and asked for his passport.
Vaas was happy with the appointment, not the way it was made. He is also not happy with how the Board expects local coaches to accept whatever they are proposed, leaving no room for negotiations.
Board had offered him US$ 75 a day for the entirety of the tournament. Vaas wanted it increased to US$ 200 a day, given the responsibility on his shoulders. The Board president refused to even listen — the reason for Vaas' resignation. The two sides could have resolved the matter amicably as Vaas would have accepted a counter-offer with valid reasons. But it was "our way or no way" for the Board. Now, Sri Lankans are without a fast-bowling coach in West Indies, which was the situation, too, with the England series where they had no spin bowling coach when they badly needed one.
There has been a pattern of SLC applying different, much lower, standards to their local coaches than they do their international experts.
Take the case of Rangana Herath – the most successful left arm spinner in the world. SLC negotiated with him for a short coaching assignment as a spin consultant for the Bangladesh tour in September. The tour was cancelled. So was his contract. The Board made no attempt to use his expertise for the England series where both matches were played at the spin-friendly track in Galle. There were inquiries by third parties to see whether he was available, but the Board has shown no interest. Sri Lanka lost the series comprehensively. Surely, they would have done better with a spin coach.
The case of Chandika Hathurusingha is another clear example. Luckily, he had an iron-clad contract that has put him in a strong position to claim compensation for his sacking months before his term ended. If he has failed in his duty, the Board could have handled it more professionally without tarnishing his hard-earned reputation as one of the top coaches. .Hathurusingha is unlikely to come within sight of the Board even if he is offered the sun and the moon.
Marvan Atapattu, Asanka Gurusinha, Thilan Samaraweera, and Anusha Samaranayake have all gone through the same.
Atapattu, who was Sri Lanka's head coach for less than a year from 2014, has kept away from SLC ever since he left in 2015.
Thilan Samaraweera, who was batting coach under Hathurusingha, was sacked a few months after being enlisted. The Board offered no support to Sri Lanka 'A' team coach Avishka Gunawardena who is fighting with International Cricket Council over an alleged anti-corruption rule violation. Avishka was doing a fantastic job with the A team when he was suspended by the ICC. The case is ongoing and Avishka is battling his own case all along.
Asanka Gurusinha, who was heading the High Performance Centre, was asked to leave few months after he was offered a two-year extension.
Vaas is not the first and will not be the last to be treated like this by SLC which has been steeped in corruption allegations over the years.
A body that was governed by men of repute has turned into a haven for malpractice. Unless it is turned into a professional body with men of integrity in top positions, local coaches will largely distance themselves, delivering a death blow to the game.