Making of an extraordinary shuttle talent
By Allaam Ousman
Sri Lanka's badminton legend Niluka's dream is to 'produce a better champion than him'
View(s):
The saying some are born great, some achieve greatness and some have greatness thrust upon them is a famous line from Twelfth Night by William Shakespeare. Most legends in the sporting arena such as Michael Jordan, Muhammad Ali, Diego Maradona to name a few icons displayed considerable talent in their childhood itself. Sri Lanka could also boast of sporting legends such as Arjuna Ranatunga, Sanath Jayasuriya, Susanthika Jayasinghe and Hisham Abdeen, who have adorned the field of play with great aplomb. However, just because someone is born with a certain talent, it does not mean that they will achieve success in that field. They have to hone their skills like everyone else.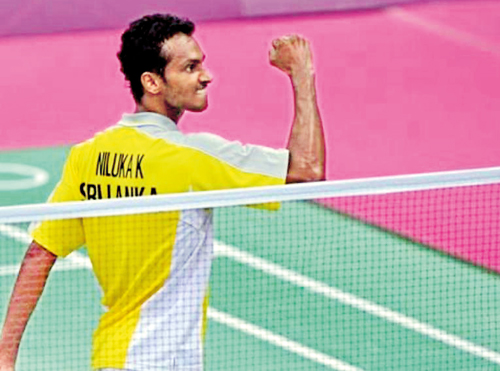 Niluka Karunaratne could have chosen the easy path to success by playing cricket instead of badminton. But he gave an identity to the sport of badminton to reign supreme for nearly two decades since the new millennium. Sri Lanka's youngest national badminton champion at the age of 16 in 2001, Niluka called time on his domestic career after winning an unprecedented 17th national men's singles title. The 36-year-old two-time Olympian still has ambitions of a final hurrah by representing the country in the Tokyo Games.
There is no doubt that he is an extraordinary talent but still there are some who view his local and international achievements with cynicism instead of granting him the due respect he deserves for his passion, dedication and commitment to the game over a long period of time.
"My first Open win was in 2000 when I was 15 years. My first national title in 2001 was when I was 16. When you win something at a very young age, that is a sign you have potential to go far in this sport," said Niluka whose guiding influence in life has been his father Louie Karunaratne, a former national badminton player, first class cricketer and coach.
"That was the time my father said 'you have to take the sport very seriously since you have a lot of talent. If you can bring a lot of commitment and discipline to the game you can go a long way'. That was the moment I became very serious," he said.
Having represented the Royal College Under-15 team as an all-rounder and also being an athlete, he had to make a choice after becoming national badminton champion. It was not difficult because he had started playing badminton since the age of eight and had fallen in love with the sport. The other reason was because his father was away in the UK on a coaching stint with Surrey County.
"That was the year I started playing good cricket at Royal but my father wasn't there to support. Badminton is an individual game. I thought I had more passion in badminton," recalled Niluka whose only regret is not continuing to play cricket.
"My coach at Royal Mr (Sumithra) Warnakulasuriya used to say that I would have been a fine cricketer if I had continued," he said. But cricket's loss was badminton's gain.
Yet how does he explain his dominance and by extension his brothers Diluka, Dinuka and Chamika in the sport.
"We do have a very strong local competition. Is there something wrong with the local standard? That is not the issue. If you take other sports, you can't still find an athlete to match the likes of Cristiano Ronaldo, Lionel Messi or Mike Tyson. Even if they have the best facilities, financial support you still can't find. Their characters are different. When you have a sporting talent for that character, that person goes a long way," said Niluka who is chairman of the Athletes' Commission in the National Olympic Committee of Sri Lanka.
"It's not easy to substitute or find another person like our own Ranatunga or Jayasuriya. Not only in our country but be it in Spain, Serbia or Switzerland where they have the best facilities, system, infrastructure and even academies. If you take tennis, can you produce another Roger Federer? I don't think you can find another Rafael Nadal or Novak Djokovic," he explained.
"Talent also varies from person to person as well as their capacity. I might be talented to achieve at national level, another person may be talented to go beyond national level. Also I might have the capacity to sustain for five years, another person might go on for 10 years. There is a lot of science involved, motivation, in-born talent, character, upbringing, how you were trained since you were child," he said analytically.
"When I won the national badminton title it was not a highly recognised sport. I was able to go beyond local and started winning internationally. My first international final was when I was just 18 years old. My motivation was to give 100 percent, both locally and internationally. Every time I represent my country, what I wanted to do is give my 100 percent no matter what my situation," he said.
His longevity and resilience also boils down to his strong mentality and ability to face challenges being the eldest in a family of four. For instance, his sibling Dinuka won the national title in 2010, 2016 and 2017, the years which Niluka missed out.
"Dinuka also plays really good badminton but the problem is his mentality. He is not consistent sometimes. He is also talented and strong physically but not mentally. Sometimes he plays really well and beats a tough player but loses to an unknown player. That is the part he has to improve to develop," he said.
"The talent I had, I realise more now because of the atmosphere we have. The main reason is I loved playing the game. After winning nationals it doubled – the passion, the number of hours I trained, motivation. I took it very seriously because I didn't want to lose my momentum," he said.
Former Sri Lanka Badminton president Eraj Wijesinghe was another great influence in his career.
"He was the first president who came and talked to me and said 'you have to take the game very seriously'," said Niluka who won the Under-15 boys singles, boys doubles and mixed doubles title at the South Asian Junior Championships in Maldives in 2000.
Niluka leaves behind a legacy which is unparalleled in the history of badminton in Sri Lanka. For the record, he became the youngest national champion which he won in his maiden appearance at the National Championship, holds the record for the most consecutive national singles titles of nine from 2000 to 2009, most number of national singles titles (17), won nine men's doubles and five mixed doubles titles.
He also has 21 international medals comprising nine golds, nine silver and four bronze medals. Ranked 34 in the world at one time, he caused one of the biggest upsets at the 2012 London Olympics where he was captain of the Sri Lanka contingent when he defeated world number 8 and Japanese number 1 Kenichi Tago. He is also the only Sri Lankan athlete to win gold medals in all five continents.
Apart from aiming to qualify for the Tokyo Olympics, his ambition after he retires completely is to give back to the sport technically using his vast experience.
"I have travelled to more than 70 countries representing Sri Lanka. I have worked with the world's best coaches, played against the world's best players, trained at best academies in the world in India, Korea, Germany, the UK, Poland under a lot of good coaches. My dream is to share my knowledge and one day to produce a better champion than me. That is my ultimate target. Then I can say I have done my job for the country," said Niluka.
INTERNATIONAL CAREER HIGHLIGHTS
GOLD MEDALS

Puerto Rico International Challenge 2011 – men's singles
Miami International Series 2011 – men's singles
Welsh International Series 2011 – men's singles
Uganda International Series 2012 – men's singles
Iran International Challenge 2012 – men's singles
Uganda International Series 2016 – men's singles
Portuguese International Series 2016 – men's singles
Brazil International Challenge 2017 – men's singles
Benin International Series 2019 – men's singles

MAJOR UPSETS

Defeated world no. 8, Japanese no. 1 Kenichi Tago at the 2012 London Olympics
Defeated world no. 18 Robert Milroy (Canada) at the 2006 Melbourne Commonwealth Games
Defeated world no. 13 Chan Yan kit (Hong Kong China)

at the Austrian International Challenge 2013

Defeated world no. 9 Nan Wei (Asian Games bronze medallist )

from Hong Kong China at the Austrian International Challenge 2014

SILVER MEDALS

Welsh International Series 2003 – men's singles
Australian International Series 2004 – men's singles
Iran International Series 2007 – men's singles
Uganda International 2008 – men's singles
Bahrain International Challenge 2012 – men's singles
Brazil International Challenge 2012 – men's singles
Dutch International Series 2014 – men's singles
Uganda International Series 2020 – men's singles

BRONZE MEDALS

Bangladesh International Series 2002 – men's singles
New Zealand International Series 2004 – men's singles
New Zealand International Series 2005 – men's singles
Bahrain International Series 2007 – men's singles
Pakistan International Challenge 2010 – men's singles
Maldives International Challenge 2010 – men's singles
Estonia International Series 2012 – men's singles
Dutch International Series 2012 – men's singles
Austrian International Challenge 2013 – men's singles
Peru International Challenge – men's singles
Iran International Challenge 2015 – men's singles
Romanian International Series 2016 – men's singles
Tahiti International Challenge 2016 – men's singles
Egypt International Series 2019 – men's singles
Sydney International Series 2019 – men's singles
Ivory Coast International Series 2019 – men's singles