A definite page turner of murder and intrigue set in Sri Lanka
View(s):

A shot on the beach- by David Cooper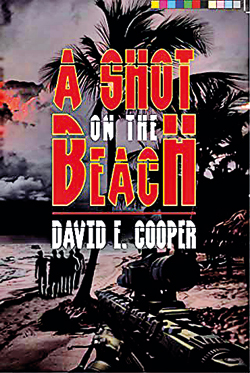 Reviewed by Dr. Rajiva Wijesinha
A year or two back I was sent, out of the blue, a novel called 'Street Dog'. It was by a man called David Cooper whom I did not know of previously, but I subsequently found out that, having qualified at Oxford, he had ended up as a Professor of Philosophy at Durham University. It seems that, having retired in 2008, he spends much time in Sri Lanka, on charitable work while also writing about the place.
I enjoyed his first novel, and I gather that there was a sequel after that, which I have not seen. But then a few weeks back there arrived in the post 'A Shot on the Beach', with only the publisher's card enclosed within.
This is Jeremy Muller, I presume a connection of Carl's for the book has been put out by The Jam Fruit Tree Publications. It is very different from the first book for this is a thriller, which was an interesting companion to the various thrillers I have read from other countries during the time of coronavirus.
The book is set in Sri Lanka though the main protagonist is a British lecturer, Sally, whose brother Roge has been shot on a beach in Matara. She had not been close to him, but as his only close relation she came out to arrange the funeral and also to see what had happened. She was also keen to see a former boyfriend Mark who had suddenly upped sticks and moved to a rural retreat near Tissamaharama.
There are several fascinating characters apart from these too, three of whom help her with arrangements and inquiries: a Sri Lankan academic who is a friend of a colleague of Sally's in England, the local director of the NGO Roger worked for in Thailand, and a female journalist who keeps discovering unusual facts about the killing.
Roger had been killed at a conference about animal rights, and two animal rights activists who had been walking with him on the beach when he was shot are also subsequently killed. The other two persons there, an American attending the conference and her shady husband, survive, though the latter's involvement in what may or may not have been a case of mistaken identity gradually emerges.
The plot is convoluted, though immensely readable and one is anxious throughout to know what will happen next, and to find out what really happened and why. Sally herself seems under threat at one stage, and in fact she is at the mercy of the killer who has been stalking her, when she and Mark leave his deserted house to get into town.
What seems the professional efficiency of the police may cause some suspension of disbelief, but since what they do is scarcely germane to the plot, that is not really a problem. And though the final explanations are based on bizarre motivations, the conclusion in which uncertainty continues makes up for any implausibility.
All in all, I was pleased the book had reached me, and I am glad Cooper is devoted enough to this country to continue to write about it, not least because he does so lovingly convey the beauty of the landscape.