Tom and Jerry battle in the big screen
View(s):

Having enjoyed never-ending battle between Tom and Jerry on miniscreen for years as children and adults, 'Tom & Jerry' live action computer animated comedy movie is now being released on the big screen. Based on the cartoon characters originally created by William Hanna and Joseph Barbera, film with ever popular cat and mouse was released internationally on February 26. The movie is now being released at the Scope cinemas, Colombo City Centre and other theatres in and around Colombo.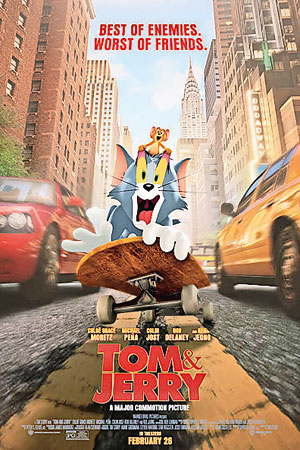 Produced by the Warner Animation Group and distributed by Warner Bros. Pictures, the film is directed by Tim Story and written by Kevin Costello.
Tom is kicked out by his owners, due to failing to do his job as a house cat and no longer has a place to live along with his long time rival Jerry, who is also left without a source of food. Now homeless, the cat and mouse duo are left wandering in the streets and decide to call a truce to their rivalry, and then go their separate ways to have a fresh start in their lives. The two later cross paths in Manhattan, NYC, where Jerry has taken up residence in the city's largest, most exquisite, and finest Royal Gate Hotel, causing all sorts of trouble while the staff is preparing for the "wedding of the century" between Ben and Preeta.
Kayla, a young, newly employed staff member, is tasked by the hotel manager Mr. DuBros with planning the event and getting rid of Jerry. Kayla later finds Tom and hires him to catch Jerry, reigniting their never-ending fight. However, chaos unfolds when the cat-and-mouse slapstick battle, with Spike later taking part in it, threatens to destroy Kayla's career, the wedding, and possibly even the hotel itself as the chase causes widespread mayhem. But soon, an even larger problem arises as the rivals may have to put their differences aside when they uncover a diabolical conspiracy that involves the deputy hotel manager Terrence.
The film stars Chloë Grace Moretz, Michael Peña, Colin Jost, Rob Delaney, and Ken Jeong in live-action roles. Nicky Jam, Bobby Cannavale, and Lil Rel Howery also feature in voice roles, with the titular characters are voiced by William Hanna, Mel Blanc and June Foray, via archival recordings, alongside Frank Welker.