Sulara; Classical violin teacher who dreams to create a world class next generation
By Susitha Fernando
He says the more he teaches more learns
View(s):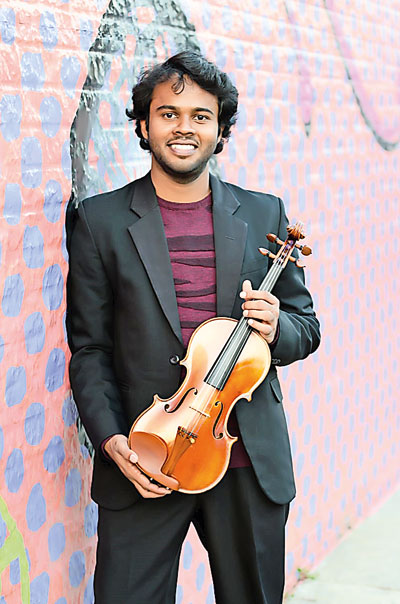 Sulara Nanayakkara who started to play the violin at the tender age of five has now became a master violinist playing for international orchestras. He is also a teacher and has inspired a large number of classical violinists.
Though he has received international fame reaching world standards as a Grammy nominated recording artiste, Sulara's dream is not to be a star and reach the sky but to create a several generations of violinists who would shine in this country and worldwide.
Having started to learn the violin from Lal Perera, the son of the late J. K. S. Perera who composed a large number of hymns in the Catholic Church, Sulara was trained under Sri Lanka's leading violinists  Lakshman Joseph de Saram and Ananda Dabare.
In 2001, at the age of eight, Sulara won a Gold Medal and was adjudged the overall, "All Island", winner at the finals in the "Violin" category at the Sri Lanka Festival of Music, Dance and Speech. This was conducted by the British and International Federation of Festivals for Music. Sulara held this title for ten consecutive years, from 2001 -2010 obtaining ten God medals and All-Island awards. In 2006 at the "Young Musician of the Year" competition (organized by the Institute of Western Music and Speech), he won the Intermediate category, in playing the violin. He was awarded special trophies for "Best Strings Performance" All Island, in 2007, 2008 and 2009, by the Sri Lanka Festival for Performing Arts. Sulara is an Associate and a Licentiate (ATCL, LTCL) in Violin Performance of the Trinity College of Music, London.
In 2012, Sulara was chosen, by the Symphony Orchestra of Sri Lanka, to go on a musical study-tour to the United Kingdom. There he played First Violin in the Sidcup Symphony Orchestra for "Symphonic Americana", conducted by Dr. James Ross at St. John's Smith Square in London.
One of the youngest music lecturers in the country, Sulara was invited to be a visiting lecturer for Violin performance at the University of Visual and Performing arts from 2012 – 2017. He was a Co-leader of the Symphony Orchestra of Sri Lanka (SOSL), and was the Principal Second Violinist of the Chamber Music Society of Colombo (CMSC).
In 2019, Sulara, earned a Master of Music Degree (M.M) in Violin performance from the Esther Boyer College of Music and Dance at Temple University at Philadelphia in the United States. He was studying under Professor Meichen Liao-Barnes (the associate Concertmaster of the Chamber Orchestra of Philadelphia) who was a student of the great violin pedagogue Ivan Galamian and Dorothy DeLay. He also studied under Dr. Eduard Schmieder, a student of the great Russian violinist David Oistrakh. Dr. Schmieder is the Laura H. Carnell Professor of Violin, Artistic director of Strings at the Esther Boyer College of Music and renowned juror of many International violin competitions.
Under Dr. Eduard Schmieder,  Sulara studied Violin Pedagogy,Performance and Chamber music and under Professor Lambert Orkis he studied chamber music. Prof. Orkis is a multi-Grammy award winning renowned collaborative pianist of the famous violin soloist, Anne-Sophie Mutter.
In his letter of recommendation Dr. Schmieder wrote about Sulara, "Mr. Nanayakkara has presented himself as an attentive, intelligent, highly motivated and active participant. I am confident about his ability to share his acquired knowledge in position of a teacher.  He will be an outstanding teacher as he has a great and a pleasant character."
Sulara specliased in analytical techniques of pieces of music, research of music covering various periods of music.  Dr. Alexander de Varon who taught Sulara analytical techniques stated "Sulara was far and away the best student in my graduate theory class. Whether we were analysing a fugue, sonata form movement or anything else, he consistently ventured deep into the piece, thoroughly examined it and accurately described it".
Having realised inborn talent for violin performance, Sulara got  opportunities to participate in master classes conducted by luminaries such as Prof. Gottfried Schneider, Professor for Violin and Chamber music at the Düsseldorf Musikschüle, Andrew Sherwood, Professor for Violin at the Trinity Laban Conservatoire of Music and Dance in London, Leo Phillips, ex-Leader of the London Philharmonic Orchestra[LPO],Stefan Milenkovich, Associate Professor for Violin at the University of Illinois at Urbana-Champaign and Ashan Pillai, professor for Viola at the Escola Superior de Música de Catalunya (ESMUC) and the Conservatoire Superior del Liceu in Barcelona.
While in the US, Sulara was able to participate in violin performance and  masterclasses conducted  by David Kim (Concertmaster of the Philadelphia Orchestra) and American violin soloist Stefan Jakiw and chamber music masterclasses by the famous Harlem String Quartet, American String Quartet, Dover String Quartet, Takács Quartet and the Horszowski Trio.
Sulara recently recorded a composition that was dedicated to himself by the Sri Lankan young composer Sachiththa Fernando. 'Memories from a diary', the piece of music composed based on Anne Frank's diary and it is now available on all international music streaming services like spotify, apple music, amazon music and others.
However while being a performer; Sulara's main aim is to share his knowledge and gift a new generations of classical violinists to Sri Lanka.
"To be frank, as a teacher more I teach more I learn. As a teacher I am satisfied if I could produce both talented students and help students who have potential to reach high standard,".
"I want a next generation of violinists of international standard.  Where I could humbly say that he or she is a student of mine," says Sulara with an unassuming smile.
Sulara volunteered to work as a teaching assistant at Esther Boyer College of Music and Dance at Temple University in Philadelphia. "It was not compulsory but I wanted to understand their mentality and potential. More students you teach more you understand," he said.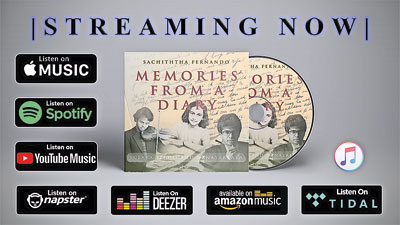 "I want to see that my students excel in violin and bring honour and glory to their teacher and country by winning in the musical world. I want them to be better than me," said Sulara.
This internationally qualified violinist says the biggest challenge in teaching classical violin to students in Sri Lanka is mainly due to the little exposure they have for western classical music. "It is only limited to the people in the capital city and it was often difficult for me to make them understand the style of playing western classical music. Sometimes they mix it with just Western music (playing English songs of popular genres)," said Sulara. He said live classical music was not available and we hardly hear of it through the media.
He lectured at the university and has been privately teaching students of ages  ranging from six to 50 years. Sulara has been a violin teacher for more than ten years now.  A renowned teacher of classical violin himself now, Sulara is grateful to all his teachers and specially three teachers from whom he started learning violin in Sri Lanka; Lal Perera, Lakshman Joseph de Saram and Ananda Dabare.
"As a teacher I believe students need a lot of discipline and patience to learn western classical violin. This is an art which needs detailed work, hours of concentration when practicing and lot of focus. I advise students to practice daily, for at least three to four hours. Some students are keen to practise for more hours but I do not recommend that because I feel there should be more time to appreciate and admire the nature and surrounding and also they should have more time with their families and loved ones," says Sulara stressing that music should help us to enjoy life deeply.
With the aim to promote classical violin, Sulara has plans to start masterclasses for advance violinists who want to learn important tips, give advice on pieces of music and certain styles of playing classical violin. He said that masterclasses could be done in few hours and if properly organised could go for few days.
Sulara also wants to teach young beginners as it is important to inculcate the habit of enjoying classical music. He teaches individually as he thinks an instrument like the violin needs closer attention of the teacher.
Sulara could be contacted on 0779935625.