Senon: A star in the making
View(s):

Feedback can be heard emanating from the amps as the guitarist tunes his axe. The notes echo beautifully as he plays them, casting an almost magical reverence over the empty auditorium. His licks scream joyfully as he nails them, his intense concentration creating life through sound. Hearing this young man perfect his art gives great hope for the future of Sri Lankan music in Sydney.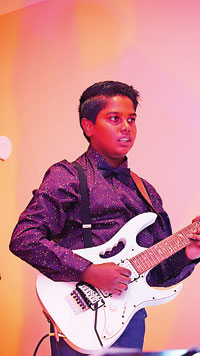 Many Sri Lankan musicians, singers hit the high note in Australian soil for the past few decades. But this young guitarist seems to be the most outstanding Sri Lankan talent that could tip to hit the highest not in Down Under.
This young guitarist's name is Senon Zenith Ranasinghe. He is an Australian born Sri Lankan and, at just 12 years old, has shown great potential as an up-and –coming guitarist. Having Sri Lankan heritage, he is poised to bring his culture through the music he plays on to Australian soil.
His magical journey began at the tender age of seven years, which is the first time he ever touched or held a guitar. He began taking lessons at primary school, where his talent was quickly noticed, and joined the school guitar group, which has helped him further tremendously.
Senon has an intense passion and desire for guitar, traits that have been carefully nurtured by his father who continues to give him guidance. It was his father who helped steer him towards his cultural roots, to help cultivate his love for Sri Lankan music and to share that with others. This is supported by his innate talent; his ability to listen and pick up the rhythm and tempo of Sinhala songs is simply outstanding. Since Sinhala is his second language, his fluency has no doubt helped these talents to flourish.
A few of his favourite Sri Lankan artistes include Clarence Wijewardena, Priya Sooriyasena, Henry Caldera and Milton Mallawarachchi.
Currently, Senon is the lead guitarist in the band formed by his father and he is enjoying every minute of it.
To complement this, he is also studying for his rock music exams, some of the pieces he will be performing from renowned artistes such as Queen, Steve Vai, Chuck Berry and the Australian titans AC/DC.
Senon is a young talented individual, who could one day be a shining star for Sri Lankan music.