Can the Asus ROG Chakram redefine what a gaming mouse can do?
By Mahesh De Andrado
View(s):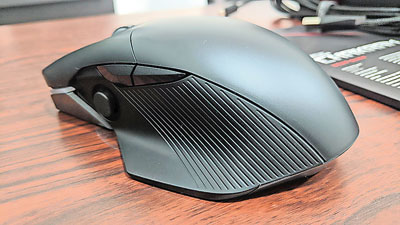 If you're not already familiar with them, gaming mice offer an entirely different experience when compared to a traditional regular mouse. These differences include a much better sensor (ofr tracking across multiple surfaces), higher polling rates (the higher the rate, the more the mouse can communicate with your PC), more buttons (so that you can assign them to your in-game commands or other applications). Gaming mice also look different. They can be stealthy and almost go unnoticed, or they can be in your face and light up like a Christmas Tree. Then you have the Asus ROG Chakram.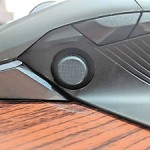 So what's with this mouse?
At first glance, there's no denying that the Asus ROG Chakram looks like a gaming mouse. It looks futuristic, it has the Asus ROG logo and it has a bunch of buttons. But if you look closer, you will also see that the ROG Chakram also has a fully functional joystick. Yep, you read that right. This is a gaming mouse that also wants to be a controller as well. But why would you need/want a controller on your mouse?
Well, the answer lies in the eyes of the beholder, or in this case, just the holder. If you're gaming on a PC, your default peripherals would be a keyboard and mouse. If you're on a Console, then you would use a controller. But this doesn't mean you're limited to just this. You can use a keyboard and mouse on a console and you can use a controller on a PC. But the thing is, that's still another piece of hardware you have to use. With the ROG Chakram, you get the best of both worlds (sort of). So how well does the ROG Chakram pull this off? Well, let's take a look.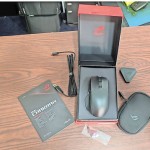 In terms of packaging, Asus doesn't skimp out. Opening the box, you're greeted to the mouse sitting snugly inside. Under the mouse you will find an assortment of accessories such as a carrying case, a metallic ROG sticker, a USB Type-C cable and a user manual. In terms of connectivity, the ROG Chakram offers the full spectrum (no pun intended). You can use the included cable to use it as a regular wired mouse, or you can use the included wireless adapter or go bluetooth for a full cable-free gaming experience. If you're using the Chakram via bluetooth, some features of the mouse may be unavailable so it's recommended that you use the mouse in wired mode or via the wireless adapter. Additional configurations of the mouse such as sensitivity, lightning effects and custom profiles for games can be done via Asus Armoury Crate.
The Asus ROG Chakram also comes with user replaceable switches. These have been Asus's thing for a while ever since the ROG Pugio and offer the user the ability to swap out the left and right mouse button switches if they become faulty. The process is fairly straightforward. You open up the mouse, and take out the relevant switch via the included tweezer that comes in the box and you're good to go. The switches are also available on eBay so you can even stock up on them if needed.
Using the ROG Chakram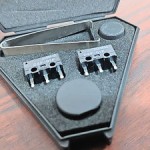 Apart from the joystick on the mouse, the ROG Chakram is just like any other gaming mouse from Asus. It's aimed at right handed folks so if you use your left hand, you're in for a bit of trouble. The tracking on the mouse is quite good and the mouse uses a PixArt 3335 sensor, offering up to 16,000 dpi peak sensitivity and an accuracy of upto 400 inches per second.
At almost 127 grams, the mouse certainly has some weight to it. Compared to something like a Glorious Model O (weighing in at almost 67 grams), the Chakram feels like a boat in compoarision. So if you're looking for a lightweight mouse, then the ROG Chakram is not for you.
In terms of battery life, the mouse will charge automatically when plugged into the Type-C cable and has a battery life of about 79 hours with the RGB lighting turned off. With lighting enabled, the battery life drops to a rated 48 hours and about 52-53 hours on bluetooth. It should be noted that these are figures that Asus provides and your mileage will vary. Another trick that the CHakram has up its sleeve is wireless charging. So if you happen you have a Qi enabled Wireless charger lying about, just plop the Chakram onto it and the mouse will begin to charge (charging time will depend on the output power of your charger).
I tested the ROG Chakram across a number of games including Apex Legends, Ark: Survival Evolved, GTA V and Borderlands 2. While I admit I haven't used a controller for these games, the combination of the joystick along with the ability to use the mouse to track movements meant that my overall accuracy did improve. Thanks to the earlier mentioned PixArt 3335 sensor, the mouse tracks really well. The buttons feel very clicky and satisfying thanks to the Omron switches rated at almost 50 million clicks.
The lighting effects provided by Asus's Armory Crate application are also fun to play around with. You can even set it to light up according to the battery percentage remaining so that you know at what point the mouse should be plugged in to charge. The bad news is that if you get too reliant on the joystick, you will have a difficult time adjusting to another mouse.
So is the Chakram worth it?
Therein lies the important question. Priced at LKR 23,000, this is by no means a cheap mouse. While it does tick off all the checkboxes that a gaming mouse should have, you have to ask yourself if you really want to fork over almost half of your salary just for a joystick. To be quite honest, it feels like a gimmick. Yes, the joystick has its uses but i don't see it becoming an industry standard or the next best thing to have. If you're into competitive esports titles, you're going to need a mouse that's lightweight and fast. The Chakram is fast, yes, but it's also heavy. So while using a wireless mouse does help in that area but again, at what cost?
I'm not saying that the ROG Chakram is a bad mouse. In fact, it's a really good one. It does its job flawlessly and has a ton of cool and nifty features. But at the end of the day, it's all about the person using the mouse. But the thing is, for the price that Asus places the Chakram at, you can get a considerably better mouse in terms of performance, if you're willing to let go of features such as user-replaceable switches, and a joystick. RGB lighting and wireless connectivity are available from other brands such as the Razer Mamba Wireless and the Logitech G305 for significantly cheaper prices. However, if you think that having a joystick on a mouse can help you in some way, then by all means, do check out the ROG Chakram.