Why Sri Lankan students are attracted to Sydney
How UTS Sri Lanka prepares the way.
View(s):
While Sri Lankan students who aspire to international study may have found the last 12-months discouraging, they should not lose sight of their goal. Local students have an excellent opportunity to keep their options open without delaying their study pathway. They can prepare for an exciting and formative life experience by beginning their Australian university journey now, at the UTS Sri Lanka campus in the heart of Colombo. They will be on their way to completing their studies at the University of Technology Sydney (UTS) when borders reopen.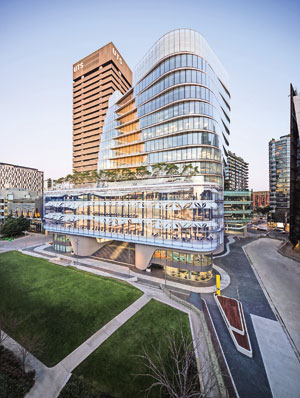 Why choose Sydney?
UTS is Australia's top ranking young university, located in the centre of one of the world's most vibrant and welcoming cities. With its natural beauty and many famous attractions, Sydney has always been a popular travel destination, but for international students, it offers many other benefits. It's an accessible city, on the doorstep of Asia, with a cosmopolitan, multicultural atmosphere. While in Australia, students develop tangible skills like fluent English, and the ability to negotiate the challenges of a different culture. It's a safe and friendly place, with good support available. In addition to a highly regarded degree from UTS, students come away with an expanded world view, a fresh perspective on life, and a network of friends all over the world.
The student body at UTS is made up of approximately 30 percent international students – both undergraduate and postgraduate – creating a stimulating and diverse environment. Sri Lankan students are often delighted to discover that the city's Western suburbs are home to a large and lively Sri Lankan community, so Sri Lankan culture, especially good Sri Lankan food, is never far away. It's also reassuring to know that Sydney has been named Australia's safest city, and the fifth safest in the world in The Economist's Safe Cities Index.
The pathway from Sri Lanka to UTS
The degree pathways (diplomas) on offer at UTS Sri Lanka are designed in collaboration with UTS, which means the educational outcomes are the same as for first-year undergraduate students at UTS. It also means that students at UTS Sri Lanka enjoy the same world-class university standards from day one, while becoming well-versed in the UTS style of teaching and learning. On successful completion of a diploma in Engineering, Business, or Information Technology, students are guaranteed* entry to the corresponding UTS degree. In many cases, students can move directly to the second year of their UTS degree. So, even when travel plans are delayed, there's no need to put dreams of studying abroad on hold.
Opportunities for talented students
UTS Sri Lanka is proud of its talented students and is committed to educating our future leaders. It offers a selection of scholarships for new students, and those continuing to UTS. Diploma graduates are eligible for the UTS Sri Lanka Pathway Fee Scholarship – a $7000 AUD per year fee scholarship for the remainder of their degree at UTS. For a business student with four semesters remaining in their degree, this is a saving of $14,000 AUD, and for an engineering student with six semesters remaining, it's a saving of $21,000 AUD. Another generous scholarship is awarded to the top performing diploma student going to UTS in Semester One and Semester Two of each year. The Sri Lanka to UTS Pathway Scholarship provides 25% off fees for the remainder of the student's first degree at UTS.
Developing a global mindset
Ms Alison Hiscox, Principal of UTS Sri Lanka, says, "Studying in Australian gives our students an opportunity to develop a global mindset. It's enriching educational, cultural and personal experience. The skills, knowledge and confidence our graduates acquire at UTS will enable them to build exciting careers, and as highly qualified professionals, we're confident that they will make a significant contribution to their country when they return."
Enrol based on pending results
Students who have completed their A-levels are eligible to apply for the UTS Sri Lanka Diploma of Engineering, Diploma of Business, or Diploma of Information Technology. Pending results are sufficient for enrolment, so there's no need to wait for official results. Similarly, students who have completed their O-levels can use their grade-point average to enrol in high quality English language programs and UTS Foundation Studies. Students who successfully complete UTS Foundation Studies can gain entrance to many UTS undergraduate degrees, including Health Sciences, Nursing, Business, IT and Engineering.
Enrolments now open
UTS Sri Lanka has already opened enrolments for the March intake, (students can apply for diploma courses with pending A-levels) and there are advantages for those who make an early start. Early birds are entitled to a guaranteed 25 percent scholarship and a registration fee waiver. UTS Sri Lanka also offers academic merit scholarships up to 100 percent. These include the Sri Lanka to Sydney Scholarship for academically gifted students who want to transfer from UTS Sri Lanka to UTS.
To find out more about the range of courses available at UTS Sri Lanka, and how to take advantage of scholarship opportunities, visit utscollege.edu.lk/experience or call 0774 775 774.
About UTS
UTS is a dynamic and innovative university, ranked as Australia's top young university, and 133rd in the world in the QS World University Rankings 2021, reflecting its strength in employability, research, teaching, and internationalisation.
UTS Sri Lanka prepares students for entry to all UTS undergraduate courses though the UTS Foundation Studies Program and offers a Diploma of Business, a Diploma of Engineering and a Diploma of IT. When students complete their first year at UTS Sri Lanka, they are ready to complete their UTS degree in Sydney. After successful completion of a diploma, students can often fast-track to the second year of the corresponding degree. *
* Subject to successful completion of a diploma with no more than 2 subject fails and depending on course chosen.