Start a globally recognised UK Degree right after O'Levels at AMDT School of Creativity
View(s):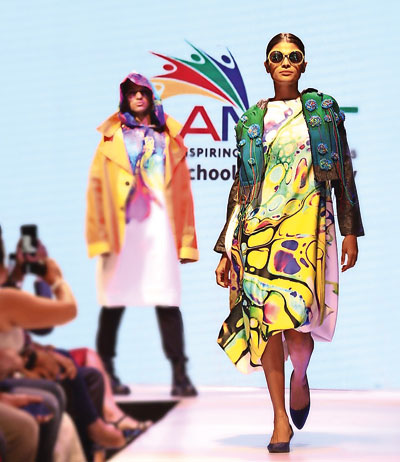 Students with O'Level can choose from popular Creative degree-level qualifications ranging from Graphic Design, Animation & Visual Effects, Fashion Design, Interior Design, Creative Advertising, Photography, Creative Multimedia, to Web & App Development, (more courses updated at www.amdt.lk).
AMDT School of Creativity: the globally recognised Creative School in Sri Lanka.
AMDT School of Creativity, being the pioneering institution for Creativity in Sri Lanka, offers undergraduate courses in some of the most popular Creative disciplines in the world. These courses are awarded by the UK's Falmouth University (a university that's recognised as one of the top 50 Creative schools worldwide) and Pearson (UK's most recognised awarding body).
Through its presence in the Creative education sector in Sri Lanka for the past 15 years, AMDT School of Creativity has built its reputation in the Creative industry for shaping young talent to meet industry standards through modern strategic thinking and applying Creativity to solve real-world problems for people, communities, and brands.
The real problem – What stops youngsters from graduating early?
Most Sri Lankan students start their A 'Levels expecting to enter state university degree programmes. But as only a little percentage as 10% gain entrance, students who drop out either re-do their A 'Levels or join private degree programmes. This behaviour has been almost common and considered a practice in the local education system. Not forgetting the fact that students starting their degrees after A'Levels graduate and typically start their career at the age of 24.
As Sri Lanka's pioneering Creative institution, AMDT School of Creativity has found this to be a reason for the existing recess of trainable qualified young blood in the Creative industries. Identifying the need to train the younger generation who are passionate about Creativity from the very start and expose them to their dreams by helping them step out to the Creative industries and expose them to careers at a very early age, AMDT has transformed its popular 'Foundation Diploma in Art & Design' into a method where students start can now start studying their degree from their O'Levels. They will enter into the 'Year-Zero' (Year 0) which is the foundation year and further their studies respectively to Year 1, Year 2, and then Year 3 (final year).
The new universal solution – 'Year Zero' – Saving time and learning for the future careers
With its new offering of the 'Year Zero" concept, AMDT School of Creativity now allows students right after O'Levels to enroll for Falmouth University's Creative UK degrees. With this offering, students are now able to save a good 2-3 years of their time and focus on following their Creative dreams and building their skills and thinking process to become leaders in the Creative industry. And most of all, build a career on what they love doing the most.
As most companies prioritise "Degrees" over A'Levels when hiring new blood, AMDT's year zero combined with the industry exposure it provides will ensure that students are open to stable employment opportunities globally even before they complete their degrees. Guiding their students from the very basics of Creative thinking to the most advanced techniques and processes in the relevant field they choose, AMDT provides students with the opportunity to engage with real-world learning, solve problems, and work on projects that can shape up the future.
The opportunity to learn from the finest minds in the Creative industries – flexibly!
AMDT's teaching techniques focus on improving the practical application of Creative thinking in addition to its internationally recognised course content delivered by some of the finest minds working in today's Creative industries with numerous years of experience collaborating with many brands and projects. This makes learning very relevant to what's out there in real life. Students will be guided to develop talent, obtain skills, and build-up their personality to face their future careers confidently. The courses are available to study in both part-time and full-time options where classes are held during weekdays and weekends that allow you to study the courses without disconnecting from your work or family.
Custom-Designed courses to bring out the best in every child
The courses are well planned and custom-designed to fit every career in the respective Creative discipline; which is also a major reason why AMDT's students get hired by companies even before they graduate! With a good focus on helping build their best portfolios of work through individual and group projects, AMDT's students get exposed to a competitive learning environment that prepares them to harness the best of their skills and abilities.
To learn more about AMDT School of Creativity, visit www.amdt.lk or call or WhatsApp 114-381-981. You can visit the premises at 317A, Galle Road, Colombo 04.