Canadian Education Fair 2021 by Flex Institute was a massive success
View(s):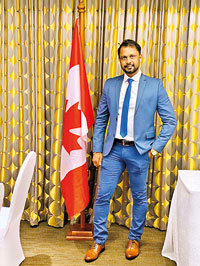 The Canadian Education Fair 2021 organised by Flex Institute, was successfully held on 21st of February 2021 at Cinnamon Grand Colombo with the participation of many enthusiastic applicants who were looking forward to make their Canadian dream a reality. As a reputed Canadian consultation center, Flex Institute has a good command in assisting you with your Student Visa, Business Visa, Open work permit, Visitor Visa, Family Visit Visa and most importantly in getting your refused visas to be successful while providing you with ample clarifications regarding your visa process.
We were glad to see the excitement within our applicants who eagerly took part in consulting our members in selecting their desired academic qualifications while seeking for employment opportunities further after completing their required study period. The applicants had the chance to choose within a wide variety of 30 leading universities and colleges from Canada to purse their higher studies as we represent them with utmost good faith while guiding you throughout your academic process.
We would like to make this an opportunity to thank everyone who placed their valuable trust on us and visited to consult us at Canadian Education Fair 2021.
Flex Institute No.6A, Parakumba Place, Colombo-06
077776134